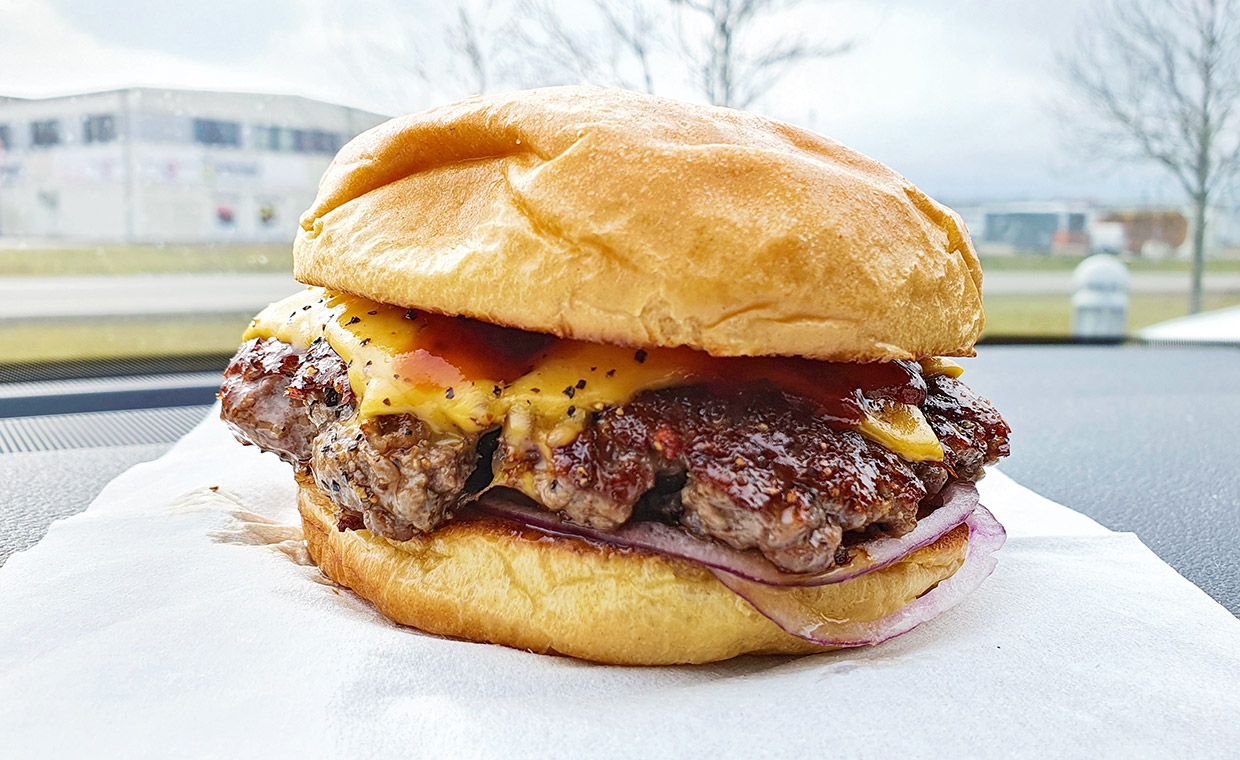 Mister York öppnade sin foodtruck under 2020 och fick snabbt ett rykte om att servera en av de bästa hamburgarna på Östkusten. De tillhörde våra favoriter under SM i hamburgare 2020, så det var verkligen hög tid att vi besökte deras anläggning i Kalmar. Vid vårt besök erbjöds två hamburgare med kött och en halloumiburgare, och valet föll på en enkel "The Yorker" för 95 kronor. Hamburgaren gjord på hängmörat kött serverades i ett briochebröd, och dressades med jalapeñomajonnäs, ost, egengjord barbecuesås och tunt skivad rödlök.
Vår burgare såg väldigt inbjudande ut när den serverades, även om det mjuka brödet blivit lite tilltryckt. Och det var uppenbart redan efter första tuggan att Mister York vet vad de håller på med. Köttet hade en rejäl stekyta och var föredömligt medium-rosa på insidan, vilket lyfte fram den där köttsmaken som bara riktigt bra kvalitetskött har. Barbecuesåsens lätta sötma balanserade dessutom ut hettan från jalapeñomajonnäsen på ett föredömligt sätt. Den tunna rödlöken tillförde lite krispig textur, men vi hade gärna sett lite mer syra (antingen från löken eller kanske från pickles) för att bryta av smakerna något. Brödet var fluffigt och gott som Garants briochebröd brukar vara, men det var aningen för mjukt och kanske lite förglömligt jämfört med de andra ingredienserna.
Mister York serverar hamburgare av riktigt hög kvalitet, och är helt klart en av våra nya favoriter på östkusten. Nu när de även har öppnat i Oskarshamn så ser vi verkligen fram emot att följa deras resa.
In English
Mister York opened their food truck in 2020, and quickly made a name for themselves as one of the best burger joints on Sweden's east coast. We ranked them among our favourites during the annual 2020 Swedish Burger Championship, so we really needed to pay their container in Kalmar a visit. When we stopped by they served two meat burgers and a halloumi burger, and we opted for a single "The Yorker" for 95 SEK (11 USD). The single dry-aged beef patty came served in a brioche bun, with jalapeño mayo, cheese, homemade BBQ sauce and thinly sliced red onions.
Our burger looked really tasty and inviting, even though the soft bun was a bit squished. And after just one bite we could clearly see that Mister York know what they're doing. The dry-aged patty had an excellent crust and was nicely medium pink on the inside, which really enhanced the deep beef flavours that you only get from really high-quality meat. The barbecue sauce had a bit of sweetness to it that balanced out the heat from the jalapeño mayo nicely. And the red onions added some crunchiness, even though we could have done with a bit more acidity in our burger (either from the onions or perhaps from some pickles) to mellow out the deeper flavours. The brioche bun was nice and fluffy, but perhaps a bit soft and a bit forgettable against the other ingredients.
Mister York serve really high-quality burgers, and are definitely one of our new favourites on Sweden's east coast. And we're eager eager to follow their journey, especially now that they've also opened in Oskarshamn.