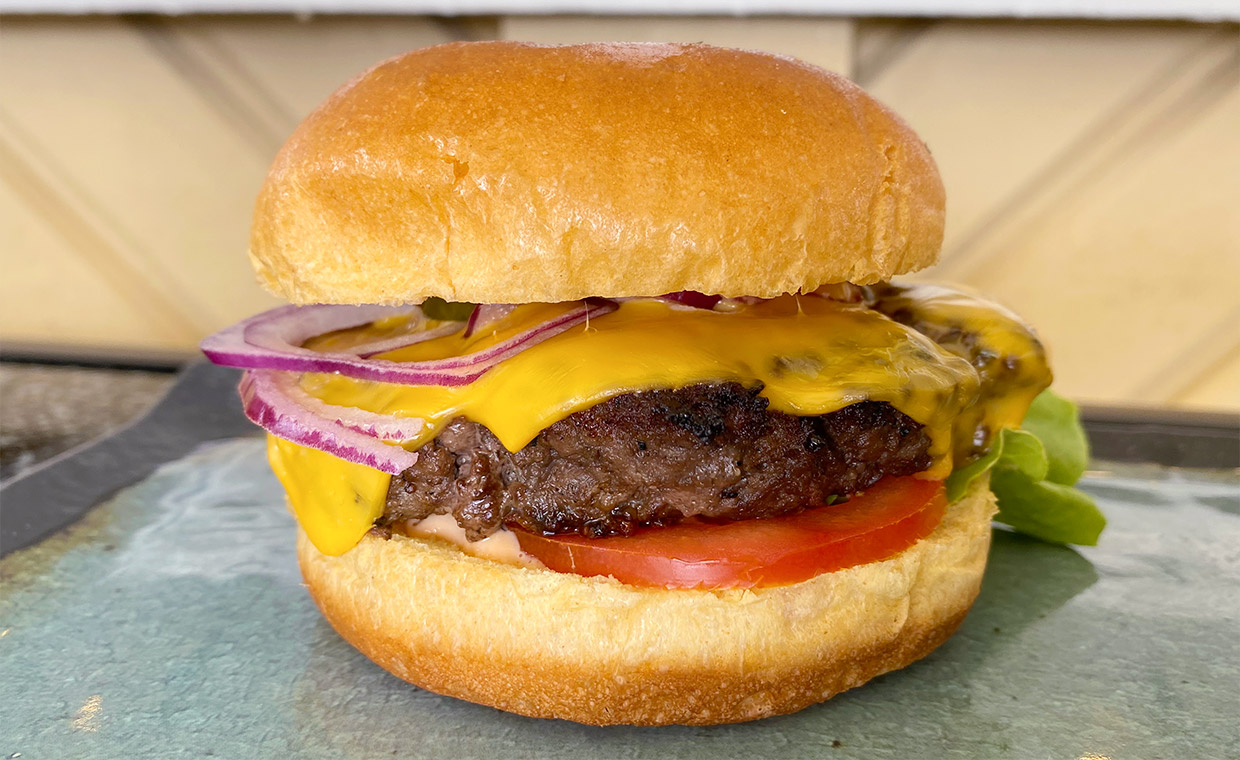 Kanalkrogen Delimo stoltserar med en stor restaurang med en minst lika stor uteservering utmed Göta kanal, vid Bergs slussar strax norr om Linköping. De titulerar sig "Sveriges första glass- och gourmetburgarrestaurang" och lyfter gärna fram sin meny bestående av 20 burgare gjorda på hängmörat kött. Såväl beställningen som betalningen sköttes via deras surfplattor, vilket fungerade okej tills vi hade några frågor. Då fick vi försöka få svar från den trevliga men i slutändan handfallna personalen.
Vi beställde en Linkan, som enligt menyn var en cheeseburgare med "riktigt smält ost", men som även innehöll sallad, tomat, rödlök, pickles och dressing. Den kostade 189 kronor, inklusive en portion pommes frites. Burgaren serverades i ett klassiskt briochebröd, men redan vid första anblick kunde vi se att köttet såg torrt och kompakt ut. Detta visade sig tyvärr stämma, och den 180 gram stora köttpucken var tuggig och hade knappt kryddats, vilket krossade vår dröm om smakrikt hängmörat kött. Den plastiga osten var på gränsen till osmält och bidrog inte heller med någon krämighet, utan det var den klassiska och söta burgardressingen som stod för detta. Briochebrödet hade inte värmts upp och var blött på insidan av just dressingen, men det fanns ändå några förmildrande omständigheter, som de färska och krispiga grönsakerna. Pommes fritesen var klart godkänd med en krispig yta och god potatissmak, men dippsåsen var ganska stabbig.
Det som talar mest för ett besök på Kanalkrogen Delimo är faktiskt deras många glasskreationer och utsikten över Göta kanal, för deras burgare var ganska dyra och inte särskilt goda. På somrarna när TK Burgers matvagn står på andra sidan kanalen så rekommenderar vi helt klart ett besök hos dem istället.
In English
Kanalkrogen Delimo have a large restaurant with an equally large outdoor seating area just by Bergs Lock's in Göta Canal, just north of Linköping. They call themselves "Sweden's first ice-cream and gourmet burger restaurant", and proudly present their menu with 20 burgers made with dry-aged beef. Both the ordering and payment processes are done with tablets that they provide, which worked alright until we had a few questions, at which point we had to try to get some answers from the friendly but somewhat uninformed staff.
We ordered a Linkan burger, which according to the menu was a cheeseburger with "loads of melted cheese". But it also turned out that it included lettuce, tomato, red onions, pickles and a burger sauce. It cost 189 SEK (21.5 USD) including an order of french fries. The burger came served in a classic brioche bun, but it was immediately obvious that the beef was dry and compact. The 180-gram patty was chewy and had hardly been seasoned at all, shattering our hopes of a tasty dry-aged beef burger. The cheese was artificial and had hardly melted at all, and it was actually the classically sweet burger sauce that stood for any creaminess. The brioche bun hadn't been heated, making it soggy on the inside from the sauce. Thankfully there were some positives, such as the fresh and crispy vegetables. And the french fries tasted nice, and had a crispy shell. We didn't like the stodgy dip sauce though.
The best thing that Kanalkrogen Delimo has going for it is actually their many ice-cream creations and the great view of Göta Canal, because their burgers were quite expensive and not very tasty. In the summertime when TK Burgers' food wagon is located just on the other side of the canal, we highly recommend that you visit them instead.