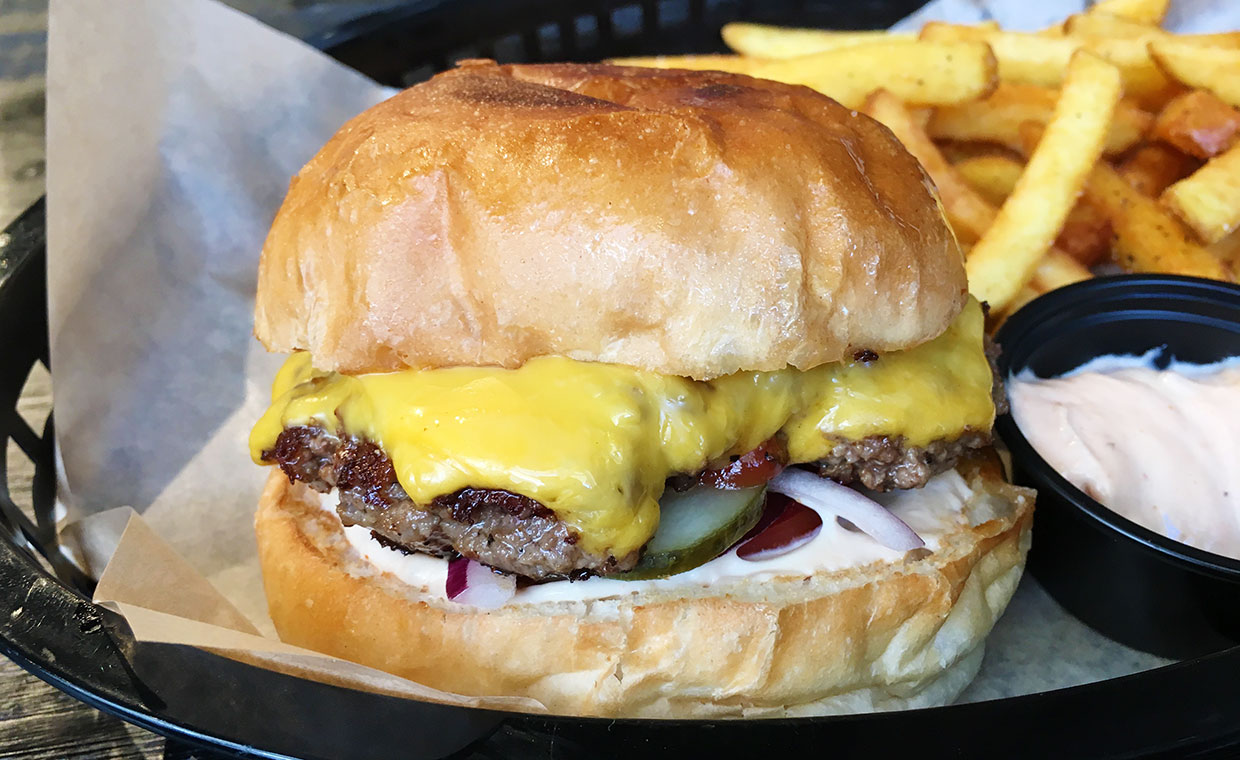 Förra året öppnade Lingonfabriken sin systerrestaurang Lingon Food & Friends med fokus på en avslappnad miljö med högkvalitativ snabbmat. Med facit i hand kan vi konstatera att de har lyckats riktigt bra. Restaurangen är belägen i centrala Norrköping, ett stenkast från sitt äldre syskon, med en fräsch lokal som har gott om utrymme och bra ljusinsläpp. Förutom sina burgare har de även ett utbud av olika pastarätter och pizzor.
Burgarmenyn består av åtta mer eller mindre klassiska hamburgare. Här kan du även få information från vilken lokal gård dagens burgarfärs kommer ifrån, en transparens som vi uppskattar väldigt mycket. Vi valde deras Friends Burger med cheddarost, lök, tomat, gurka och dressing för 89 kronor. Till detta ingick även en rejäl portion pommes frites med aioli-dipp.
Vår burgare var inte bara estetiskt tilltalande utan passade även bra i handen, och höll ihop bra under hela måltiden. Hamburgaren var saftig, mjuk och sådär härligt lagom kladdig. Alla ingredienserna smakade gott och passade väl ihop, även om vi hade föredragit lite mer tuggmotstånd i själva köttet. De grillkryddade pommes fritesen som ingick var även de riktigt bra med en tillfredsställande krispighet och god potatissmak. Den krämiga aiolin gjorde även den sitt jobb.
Sammanfattningsvis var vi väldigt nöjda med vårt besök. Lingon Food & Friends serverar en riktigt bra burgare till ett utmärkt pris, och vi kan återigen konstatera att burgarna från Norrköping fortsätter att imponera.
In English
Last year Lingonfabriken opened a new restaurant called Lingon Food & Friends a few blocks away in the Swedish city of Norrköping. This new restaurant focuses on serving high quality streetfood (mainly burgers, pizza and pasta) with a relaxed atmosphere. We chose their "Friends Burger" with cheddar cheese, onion, tomato, pickles and dressing for 89 SEK, including fries during lunch hours. The burger was really nice assembled and we had no problem eating it with our hands. The bun was really fluffy and did a great job of absorbing all the juices. The patty had a good flavour, but it could have had a better crust, and our only real compaint is that the meat lacked texture. Besides this, the fries were great as well with the right balance of crispiness. Overall, Lingon Food & Friends serve a great burger, and have once again proven that Norrköping can offer yet another high quality burger joint.