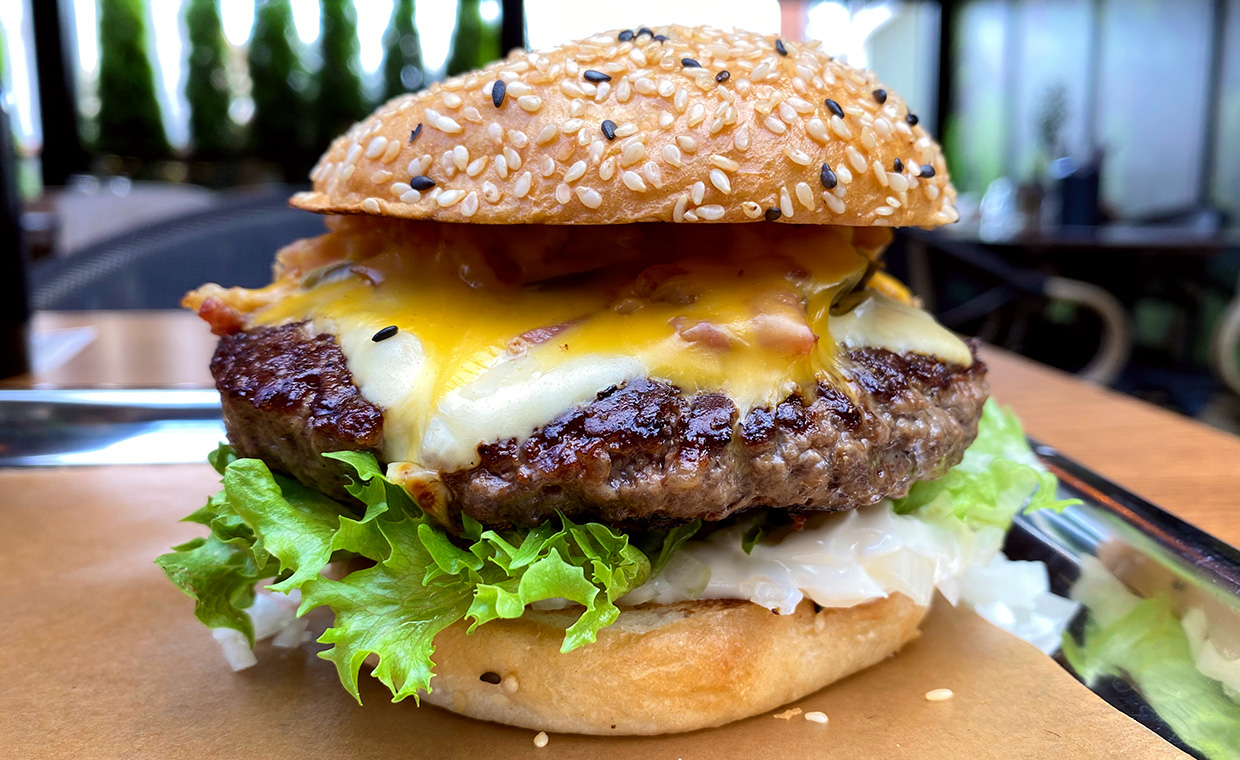 Mat o Prat på Norrmanska i Sala drivs av samma ägare som har Bra Hak i Västerås, och mycket går igen i stilen. Inredningsstilen är rustik med mycket trä, och den största skillnaden är att Mat o Prat har en mer varierad meny. Men de har såklart burgare också, och vid vårt besök beställde vi in en Stammis, som innehöll cheddarost, bacon, pickles, jalapeños, sallad och majonnäs. Den kostade 179 kronor och serverades med coleslaw och en portion pommes frites.
Det första vi noterade var det snygga brödet. Det kändes bra i handen, var utmärkt rostat på båda sidor och hade ett spännande lager av sesamfrön på ovansidan. Det var färskt och omslöt burgaren galant. Men det som märktes mest i den första tuggan var den för stora mängden majonnäs i bottenbrödet, den var av det oljigare slaget och konsistensen tog över lite för mycket vilket gjorde måltiden svåräten. Köttet på 190 gram var mjukt med en lätt stekyta på båda sidor. Den var förformad och hade mått bra av att smashas lite hårdare för lite mer crust och för att försegla safterna lite bättre. Den var god, om än något för salt. Vårt bacon var tjockt och finhackat, vilket gjorde det lite tuggigt och tillförde inte så mycket rent smakmässigt. Normalt sätt brukar vi inte gilla kombinationen av både pickles och jalapeños, då de är ganska lika i konsistensen, men i detta fall fungerade det ganska bra då själva picklesen var ganska söt. Kombinationen av hetta och sötma gifte sig faktiskt riktigt bra med de andra smakerna. Den medföljande pommes fritesen var lite underfriterad, men vi uppskattade den goda cheddardippen.
Mat o Prat når kanske inte nya höjder, men de serverar ändå en god burgare och är helt klart värda ett besök om du befinner dig i Sala.
In English
The restaurant Mat o Prat på Norrmanska in Sala is owned by the same people who run Bra Hak in Västerås, and they share a lot of similarities. The interiors have the same rustic feeling with a lot of wooden details, and the main difference is that Mat o Prat has a more varied menu. But they have burgers as well, of course, and we ordered a "Stammis". It contained cheddar, bacon, pickles, jalapeños, lettuce and mayo, and cost 179 SEK (21 USD) including some coleslaw and an order of french fries.
The first thing we noticed was the really tasty looking bun. It felt great in our hand, had been toasted nicely on both sides and had an intriguing layer of sesame seeds on top. It was fresh and held all the other ingredients together nicely. But our first bite also revealed that they'd used far too much mayonnaise in the bottom part of the bun. It was quite greasy and the consistency took over, making the meal rather difficult to eat. The 190-gram beef patty was soft, with a light crust on both sides. It had been pre-formed and would have benefited from being smashed a bit harder on the griddle for a deeper crust and to contain all the juices. But it tasted nice, even though it was a bit too salty. The bacon was thick and had been finely chopped, making it a bit chewy and boring. We're not huge fans of having both pickles and jalapeños, seeing as they share similar consistencies, but in this case it worked well seeing as they used a sweet pickle. The combination of heat and sweetness really lifted the other flavours. We found the french fries to be a bit undercooked, but the cheddar dip was a real hit.
Even though Mat o Prat don't reach any new heights, they still serve a tasty burger and are well worth a visit the next time you're in Sala.