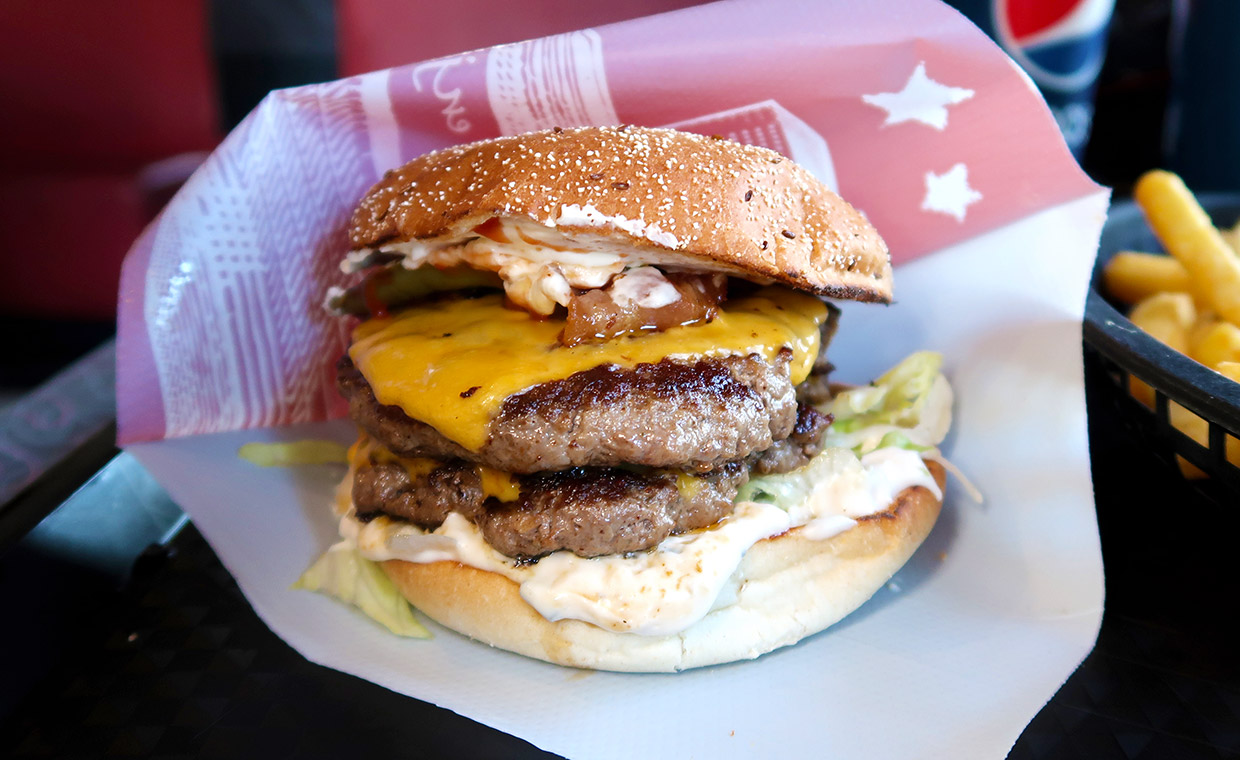 Monroes i Sandviken, utanför Gävle, är lite av en institution, med många stammisar som har gett dem varma rekommendationer. Och det första vi slogs av var inredningen, som var överväldigande jämfört med den avskalade designen som är populär hos många nyöppnade burgarhak. Den diner-inredda lokalen rymde bland annat stora statyer av Marilyn Monroe, Elvis Presley och Bluesbröderna. Personalen var trevlig och välkomnande och hjälpte oss igenom den omfattande menyn som bestod av burgare, pizza och en tacobuffé.
Själva burgarmenyn var gigantisk med 45 alternativ, varav fyra var med färskt kött och resten med frysta köttpuckar. Personalen var dock snabba med att påpeka att alla burgare kunde fås med färskt kött. Vi testade en dubbel Ring of Fire för 99 kronor som bestod av 200 gram kött, ost, bacon, grillade jalapeños, färskost och färsk chili. Det snålades inte med toppings, vilket tyvärr gjorde burgaren väldigt kladdig och rinnig med många blandade smaker utan fokus. De två köttpuckarna var rejäla, men saknade någon nämnvärd stekyta. Smaken var åtminstone okej, men det hade behövts bättre textur för att sticka ut.
Monroes serverar en rätt gammaldags typ av hamburgare, där mängden mat på tallriken har fått högre prioritet än själva kvaliteten. Vi blev i alla fall väldigt mätta, och vi kan såklart se charmen med den här typen av restauranger också. Men det är tyvärr inte vad vi är på jakt efter när vi är sugna på en riktigt bra burgare.
In English
Monroes have been serving burgers in Sandviken, a Swedish locality just outside Gävle, for many years now, and they have many fans that rate them highly. The first thing we noticed was the interior design, which was a far throw from the minimalistic interiors we are used to seeing in most burger joints, and the diner inspired restaurant was packed with large statues of Marilyn Monroe, Elvis Presley and The Blues Brothers. The staff was nice and welcoming, helping us navigate the extensive menu that consisted of burgers, pizza and a taco buffet.
The burger menu was absolutely huge, with 45 options – with 4 of them with fresh beef and the rest made from frozen patties. But the staff were quick to point out that all 45 burgers could be ordered with fresh meat. We opted for a double Ring of Fire burger for 99 SEK (10 USD), with 200 grams of beef, cheese, bacon, grilled jalapeños, cream cheese and fresh chilies. Our burger came served with a serious amount of toppings, which unfortunately made the burger extremely sloppy and gooey. It was difficult to discern any real flavours because of this, and the two large patties could also have done with more crust. Taste-wise they were alright, but they really could have done with some more char in order to make an impact.
Monroes serve a classic type of burgers, where the portion size plays a larger role than the actual quality. Sure, we left the restaurant with a full belly and we definitely see the charm in this type of restaurant, but this isn't what we're after when we're in the mood for a quality burger.