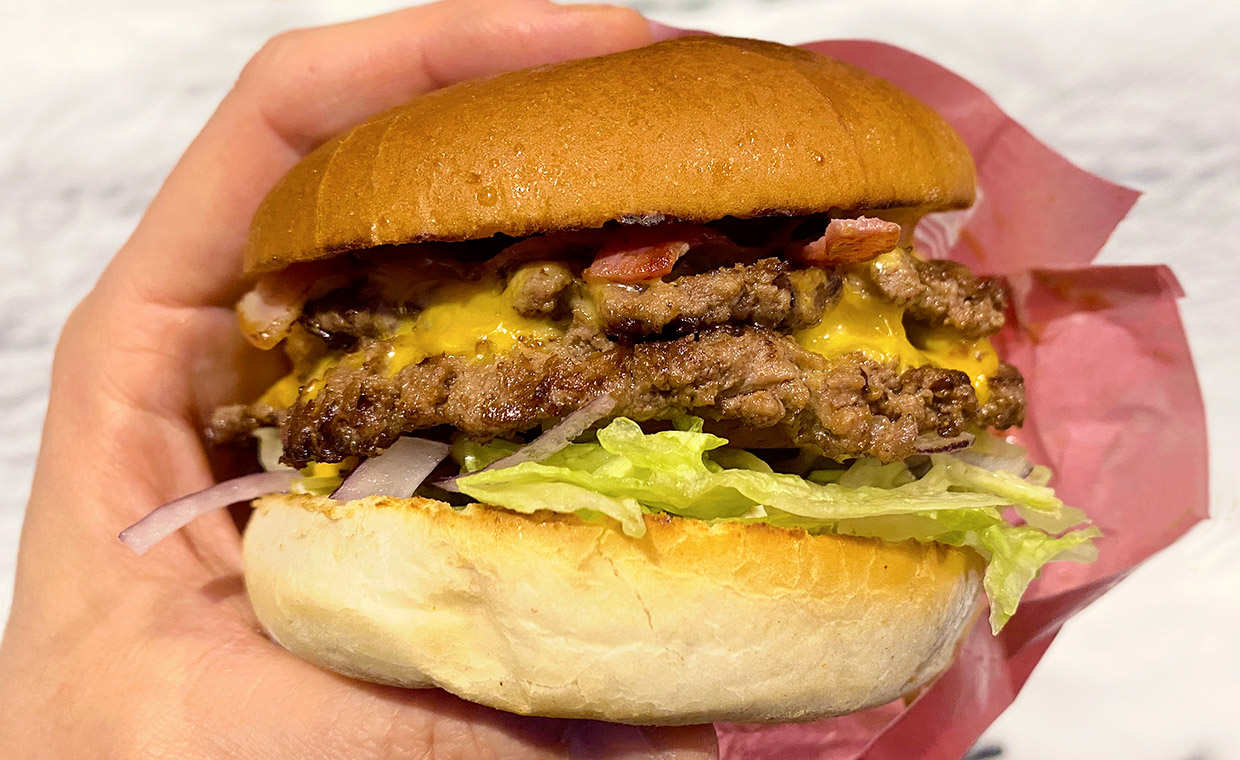 Kärrtorps 08 Burger & Kebab ligger precis intill Kärrtorps tunnelbanestation i södra Stockholm. De öppnade i början av 2021, och har samma ägare som Bandhagens Grill & Kebab. Likheterna är många, men de skiljer sig ändå åt en del – inte minst namnmässigt.
Vi beställde en 200-grams ost- och baconburgare med pommes frites och läsk för 109 kronor. Den innehöll två högrevspuckar à 100 gram, ost, sallad, rödlök, pickles, senap och ketchup. Köttet var riktigt gott och välkryddat, och osten hade verkligen smält ordentligt så att smaken maximerades. Baconet var ganska mjukt, men hade ändå en rejäl rökig sälta som lyfte smakerna. Brödet var dock lite torrt och tråkigt, och var smuligt i kanterna. Grönsakerna var krispiga, men isbergssalladen var lite kall och sänkte temperaturen på burgaren. Och precis som på sin syskonrestaurang så använde de vanlig gatukökssenap, vilket verkligen sänkte smaken och upplevelsen. Som tur var så handlade det om ganska små mängder här, så det märktes inte i varje tugga. Pommes fritesen var av vanlig grillkioskkvalitet, men den lyftes ändå av den medföljande chilibearnaisesåsen, som tillförde lite härlig hetta.
08 Burger & Kebab serverar en klart godkänd hamburgare, och kvaliteten är ungefär i paritet med deras andra gatukök. De är i alla fall klart bäst i Kärrtorp just nu, och ett enkelt val nästa gång du är i närheten och är sugen på en burgare.
In English
Kärrtorps 08 Burger & Kebab are located just next to the Kärrtorp subway station in the south parts of Stockholm. They opened in the beginning of 2021, and have the same owners as Bandhagens Grill & Kebab. There are several similarities between the two grill kiosks, but there are also a few differences, other than the name.
We ordered a 200 gram Cheese and Bacon Burger with fries and a soft drink for 109 SEK (13 USD). It contained two 100-gram chuck patties, cheese, lettuce, red onions, pickles, ketchup and mustard. The beef was really good and nicely seasoned, and the cheese was properly melted and really brought out the flavours. The bacon was quite soft, but had a satisfying smokey saltiness that really lifted the flavours. The bun was quite dry and boring though. We liked the crispy vegetables, but the iceberg lettuce was a bit too cold for our liking. And just like in their sibling restaurant they used regular grill kiosk mustard, which messed up the overall flavour of the burger. Thankfully there wasn't that much of it, so we didn't notice it in every bite and it didn't ruin our meal. The French fries were of the regular grill kiosk fare, but were livened up by the included chili bearnaise sauce that added some nice heat.
08 Burger & Kebab make a pretty decent burger, and the price-point and quality was about the same as we'd experienced at their other location. They're definitely the best alternative in Kärrtorp right now, and are an obvious choice next time you're close and hungry for a burger.