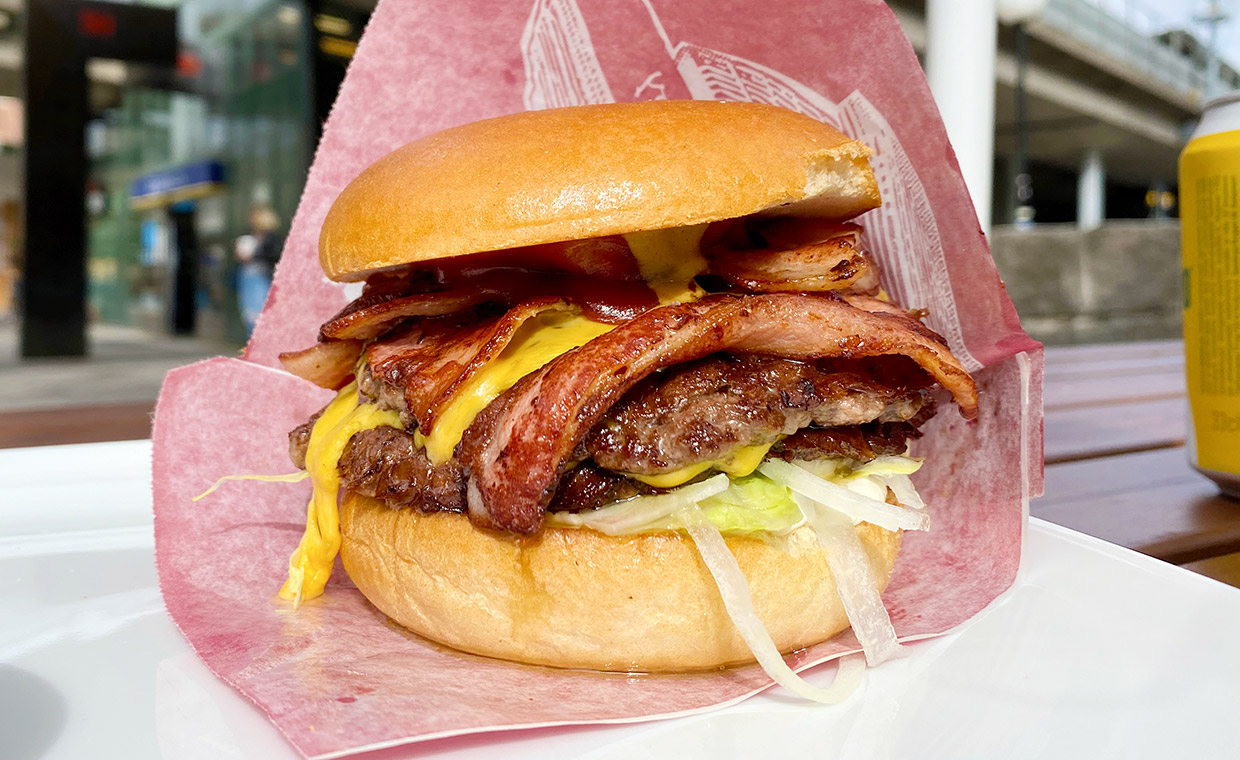 Det är sällan som vi recenserar gatukök här på Burgerdudes, och skälet till detta är främst att de sällan har samma ambitionsnivåer som renodlade hamburgerrestauranger. Men efter att ha mottagit flera läsartips om Bandhagens Grill & Kebab i Stockholm bestämde vi oss för att ge dem en chans. Gatuköket ligger precis intill Bandhagens tunnelbanestation (bara några minuter ifrån närmaste konkurrenten Burger Mansion), och menyn innehåller allt från burgare och kebab till korv och sallader. Hamburgarna görs på färsk högrev och kan fås med 100 respektive 160 gram stora köttpuckar.
Valet föll på en 200 grams ost- och baconburgare för 99 kronor inklusive pommes frites och läsk, som bestod av dubbla 100-gramsköttpuckar, ost, bacon, sallad, lök, senap och ketchup. Och vi blev försiktigt optimistiska när den serverades, för den såg faktiskt riktigt trevlig ut. Köttet var smashat tunt och hade en ganska fin stekyta, men var alldeles för klent kryddat. Osten var dock utmärkt smält och tillförde en härlig krämighet. Vi gillade även det salta baconet, som var lättuggat trots att det var ganska tjockt. Deras pickles var lite för salta för vår smak, men den lätta chiliinläggningen livade upp rätten något.
Tyvärr så var brödet ganska torrt och smuligt, men det största misstaget var att de hade använt vanlig korvkiosksenap och inte gul senap, vilket fick vår hamburgare att smaka som en glorifierad gatuköksburgare. Det var verkligen supertrist, men det tydliggjorde ambitionsnivåerna ganska väl. Det gjorde även pommes fritesen som var av klassiskt gatukökssnitt och mest smakade papp, och de var dessutom dränkta i grillkrydda. Däremot tyckte vi att den tillhörande chilibearnaisen var god.
Vi hade gärna sett lite mer genomtänkta menyval och bättre hantering från Bandhagens Grill och Kebab, men de lyckas ändå servera en godkänd burgare. Nästa gång beställer vi i alla fall våra burgare utan vanlig senap.
In English
We seldom review classic Swedish grill kiosks here at Burgerdudes, mainly because they seldom have the same ambitions and attention to detail as real burger joints. But after receiving several tips from our readers about Bandhagens Grill & Kebab in Stockholm we decided to give them a shot. The grill kiosk is located just next to the Bandhagens subway station (just a few minutes away from their closest competitor Burger Mansion), and their menu consists of everything from burgers and Swedish kebab (shawarma) to salads and sausages. The burgers are made with fresh chuck and come in the 100 and 160 gram patty variety.
We ordered a 200 gram cheese and bacon burger for 99 SEK (11 USD), including fries and a soft drink, and the burger included double 100-gram patties, cheese, bacon, lettuce, onions, ketchup and mustard. And we felt cautiously optimistic when our food was ready, seeing as our burger looked pretty good. The patties were really thinly smashed and had a nice crust, but were under seasoned. The melted cheese was really creamy and we enjoyed the bacon that was easy to chew despite being thickly cut. The pickles were a bit too salty for our taste, but the hint of chili livened our meal a bit.
Unfortunately the bun was quite dry and crumbly, but the biggest mistake was that they'd used regular Swedish sausage mustard and not a yellow mustard, which gave our burger an unmistakable grill kiosk taste and feel. A real waste of a burger, and somewhat symptomatic of how ambitious they are. The French fries were equally uninspired, with a cardboardy taste and covered in barbecue seasoning. We did enjoy the chili bearnaise sauce though.
With a bit more attention to detail, we're sure that Bandhagens Grill & Kebab could be really good, rather than just OK. Next time we'll order our burgers without regular mustard, that's for sure.