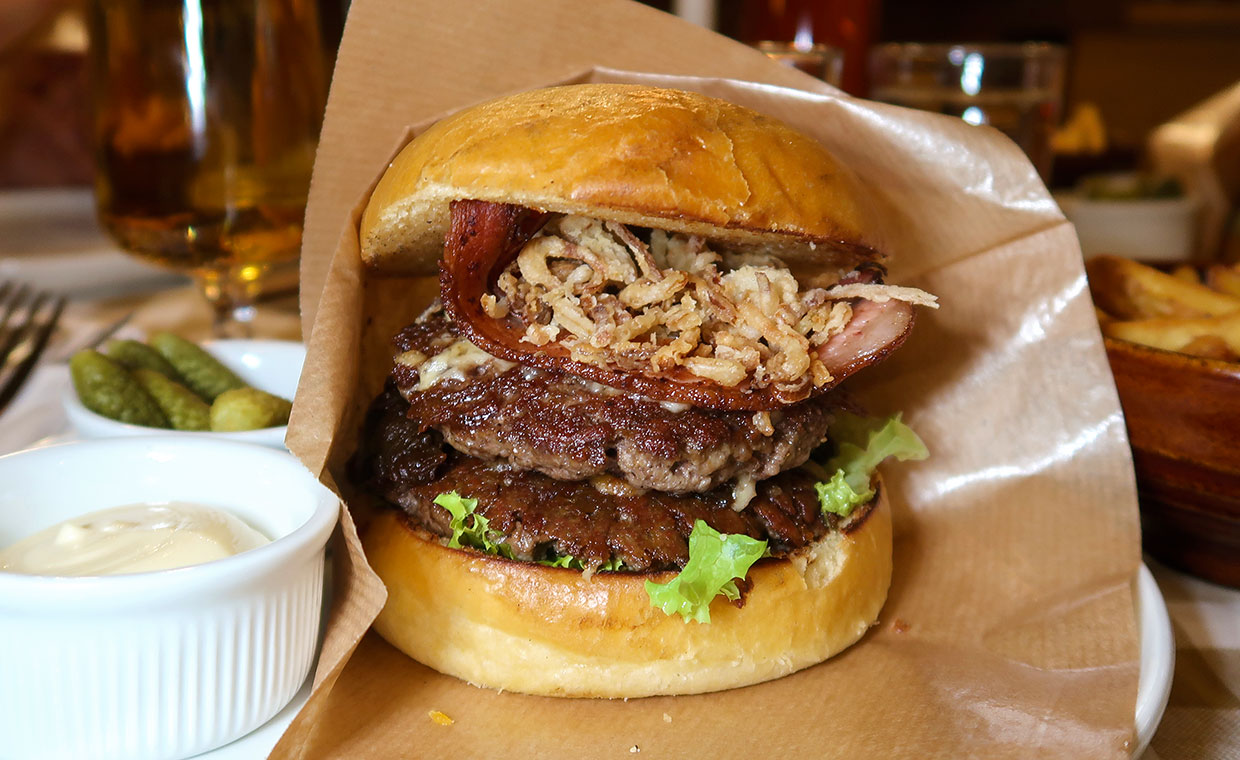 Bianchi Café & Cycles har stängt.
Bianchi Café & Cycles i Stockholm är ett koncept från cykeltillverkaren Bianchi som kombinerar restaurang och café med verkstad och cykelbutik. Menyn är fokuserad på italiensk mat, men de har nyligen lagt till ett par burgare också.
Vid vårt besök fanns fyra olika burgare på menyn – tre lite vanligare med högrev och olika toppings samt en med plockad oxbringa med koreanska tillbehör. Vi beställde in deras Italian Burger med en högrevspuck, bacon, majonnäs, rökt cheddar, rostad lök och karamelliserad lök. Denna kostade 225 kronor inklusive pommes frites.
Burgaren såg riktigt snygg ut, men redan vid första tuggan slogs vi av hur torr den var och hur vi sträckte oss efter vattenglaset. Kombinationen av väldigt finmalet kött och ett ganska degigt bröd fick burgaren att växa i munnen. Det finmalda köttet var nästan smuligt, och brödet hade behövt rostas lite mer för att få mer pondus. Den lilla mängden majonnäs hade inte en chans, och lökarna stack inte ut heller. Kombinationen av rökt cheddar och bacon lät god, men tillförde knappt något rent smakmässigt utan bidrog endast med en lite annorlunda textur. Och till och med den tunna pommes fritesen var mjölig och tråkig.
Med ett så här högt pris kommer man inte undan med en medelmåttig burgare, och vi rekommenderar i stället någon annan av deras maträtter på menyn om du förärar dem ett besök. För med burgarna är de tyvärr helt ute och cyklar.
In English
Bianchi Café & Cycles in Stockholm is a concept from the bicycle manufacturer Bianchi, combining a restaurant and café with a workshop and a showroom. Their menu is focused on Italian food, but they have recently added a few burgers.
They had 4 of these during our visits – three with a regular chuck patty and various toppings and one with pulled beef and korean toppings. We ordered their Italian Burger with a chuck patty, bacon, mayo, smoked cheddar, roasted onions and caramelised onions. It cost 225 SEK (22 USD) including an order of french fries.
The burger actually looked really good, but after our first bite we were overwhelmed by how dry it was and quickly reached for our water. The combination of very finely ground meat and almost doughy bread made it hard to swallow. The patty felt almost crumby, and the bun should have been toasted much more to have something to say for itself. The small amounts of mayo couldn't handle the dryness at all, and the onions didn't have much of a chance either. We liked the sound of the bacon with smoked cheddar, but they didn't taste very much either and only really changed the texture of our meal. Even the french fries were quite dry and bland.
If you charge this much for a burger we expect something much better than this, and we'd definitely recommend that you order something else from their menu instead if you pay them a visit.