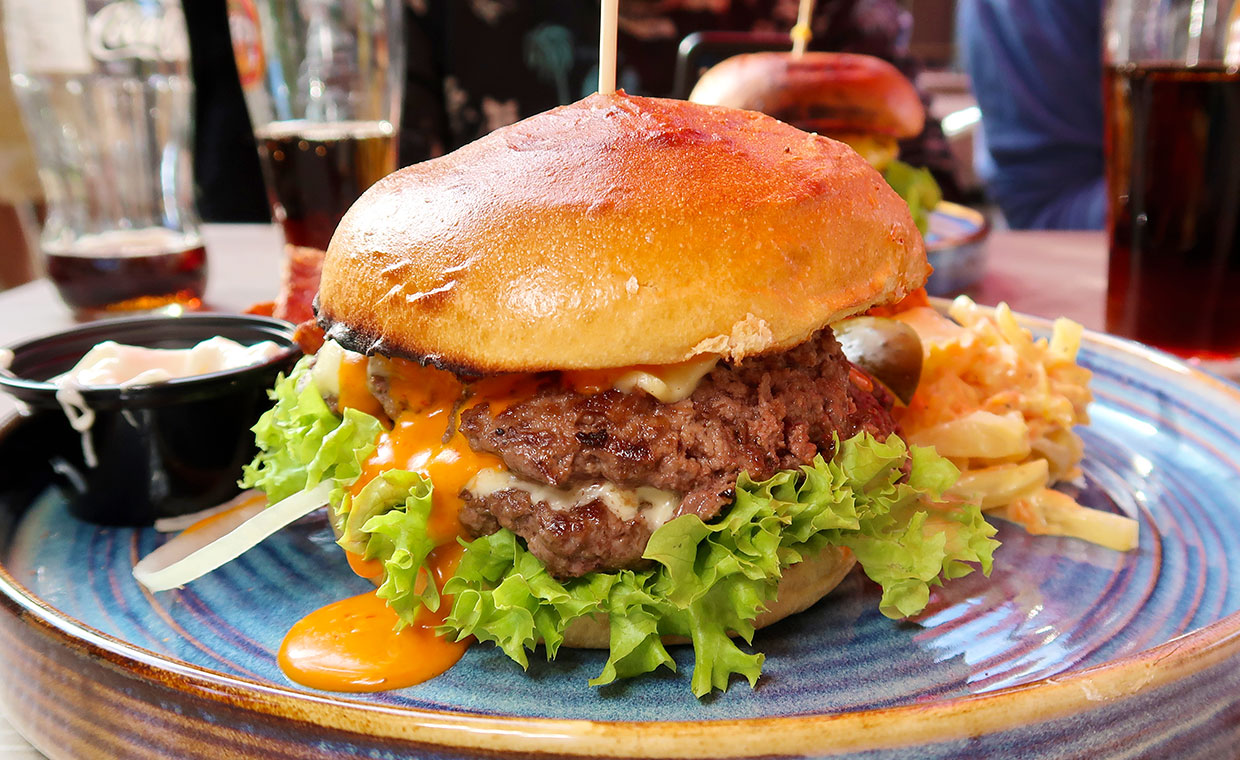 Buffalo Bill Burgers & Steaks ligger i Solberga i södra Stockholm, inklämt mellan Telefonplan och Älvsjö. Här finns inte mycket alls, även om burgarveteraner ibland minns E4-barens glansdagar. Men nu har Solberga fått ett nytt burgarhak värt att nämna, beläget mitt på det sömniga Kristalltorget.
Vi besökte Buffalo Bill under sommaren och fick sitta på deras trevliga uteservering. Burgarmenyn innehöll en del udda val, men deras Burnout lockade oss med dubbla 100-gramspuckar på högrev, med cheddar, sallad, lök, tomat och srirachamajonnäs. Alla burgare kostar 120 kronor styck (100 kronor på lunchen), inklusive pommes frites. Vi bytte även ut pommes fritesen mot sötpotatispommesfrites i en av menyerna för 20 kronor extra.
Vi var lite skeptiska när burgarna serverades, då de var lite hafsigt hopbyggda med en pinne utstickandes högst upp. Men det räckte med en tugga för att inse att det här var riktigt bra. Köttet var supersaftigt och välkryddat med en rejäl stekyta, och srirachamajonnäsen hade en härlig styrka. Brödet var också saftigt och höll ihop väl, och även om det var lite bränt i kanterna så hade det rostats snyggt på insidan.
Allt annat runt omkring, som den konstiga apelsinsmakande coleslawen och de tråkigt torra pommes fritesen och sötpotatispommesen, var lite av en besvikelse. Och deras vanliga burgardressing som återfanns på nästan alla andra burgare var alldeles för söt för oss. Men själva burgaren var förvånansvärt bra och prisvärd, och det är ändå det som är huvudsaken.
In English
Buffalo Bill Burgers & Steaks are located in Solberga, in the south of Stockholm in between Telefonplan and Älvsjö. There isn't much to do here at all, even though long-time burger lovers usually remember the classic E4-barens grill. But now Solberga residents can get a great burger again.
We visited Buffalo Bill during the summer months and got to sit on their nice patio. Their burger menu had a few strange options, but their Burnout stood out with double 100 gram chuck patties, cheddar, lettuce, onions, tomato and sriracha mayo. All of their burgers cost 120 SEK (12 USD) and 100 SEK (10 USD) during lunch hours, including french fries. We also upgraded to sweet potato fries for one of our meals for an additional 20 SEK (2 USD).
When the burgers arrived we weren't blown away visually, since they looked a bit sloppy and were skewered with a stick. But one bite was all it took to realise that this was a really good burger. The patty was super-juicy, excellently seasoned and had a nice crust, and the sriracha mayo added some great spicyness. The bun was soft and squishy on the outside and toasted on the inside. And despite it having some burnt edges, it held together really well.
Everything else, such as the strange orange tasting coleslaw and the dry and bland fries (and sweet potato fries) was a bit of a letdown. And their regular burger sauce on most of their other burgers was a bit too sickly sweet. But the actual burger itself was surprisingly tasty and well worth the price, and at the end of the day that's what counts the most.