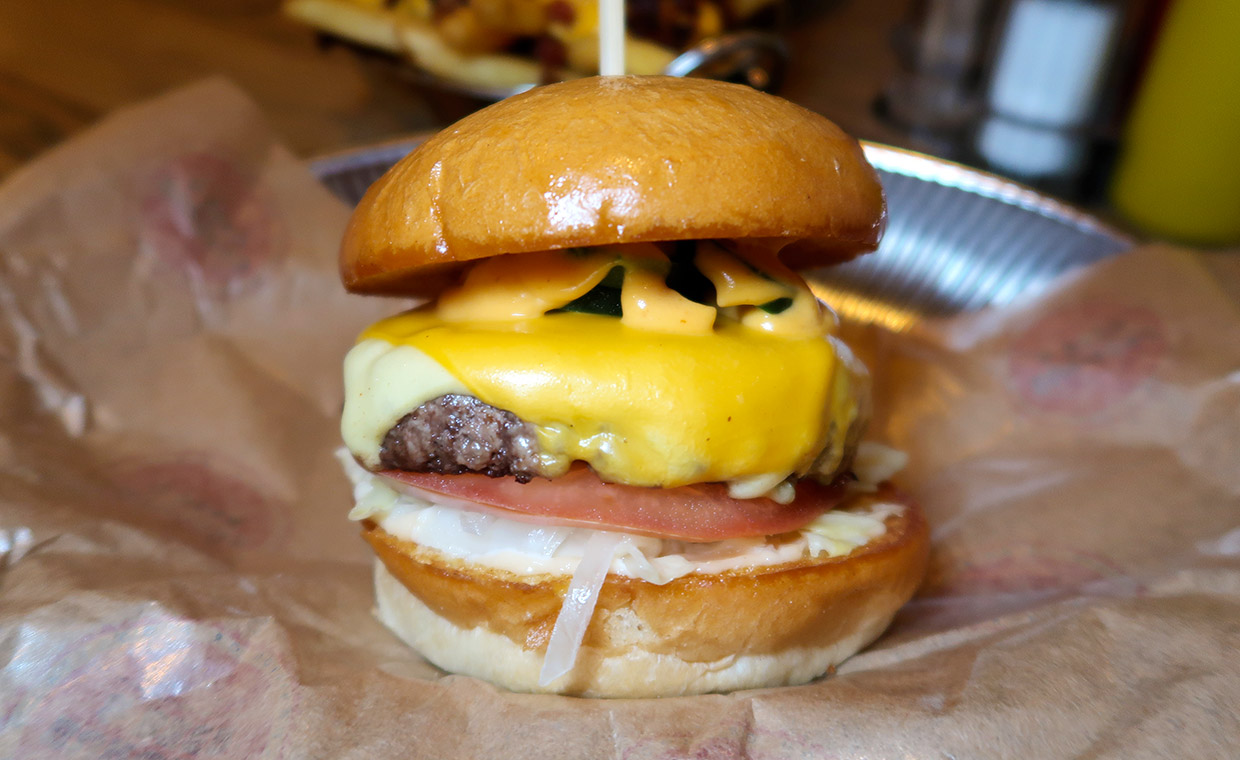 Vi recenserade Burgers & Beer för första gången redan 2015 när de var relativt nyöppnade, och då gav vi dem 3/5 i betyg. Nu har det gått fem år sedan dess, och vi kände vi att det var dags att se om något har förändrats. Lokalerna var identiska med vårt tidigare besök, med väggar dekorerade med ospecificerad Amerikana-memorabilia. Menyn var också bekant med sin diner-stil, med fler tillbehör att välja på än burgare. De flesta burgarna var fortfarande i klassisk restaurangstil, med en tjock köttpuck med blandade tillbehör staplade högt. Vi beställde deras Cheeseburger för 105 kronor, som innehöll ost, vitkål, tomat och lök.
Burgaren serverades på det där sättet som alltid gör oss lite misstänksamma – spetsad på en pinne istället för att hålla ihop på egen hand. Proportionerna var också lite konstiga med ett väldigt stort bröd, men som tur var så var det både fluffigt och färskt, med en bra studs. Köttet var definitivt det bästa med burgaren. Den rejäla köttpucken på grovmalen högrev och bringa var mediumstekt, med en tydlig köttsmak och en struktur som lät den falla isär på rätt sätt. Men det fanns vissa problem, bland annat den väldigt stora tomaten, samt att de hade strimlad vitkål på alla sina burgare i stället för sallad. Smakmässigt så var det ingen katastrof, men det kändes rätt coleslaw-aktigt och störde upplevelsen.
På ytan så hade inte mycket förändrats sedan vårt första besök, då både burgare och lokal kändes igen. Men vissa ansträngningar har gjorts för att hålla jämna steg med marknaden, och vi kan konstatera att betyget kvarstår.
In English
We first reviewed Burgers & Beer back in 2015, when they were new in the game, and awarded them a 3/5 score. Five years have passed since then, and so it was time to pay them another visit to see if anything had changed. The restaurant itself still looked the same, with walls decorated with random Americana memorabilia. The menu's diner esthetic remained the same, with more sides than actual burgers. Most burgers were still of the classic restaurant variety, with a thick patty and loads of assorted ingredients stapled on top of each other. We ordered their Cheeseburger for 105 SEK (11 USD) with cheese, cabbage, tomato and onions.
The burger came served with a skewer keeping everything in place, which always leaves us with a feeling of dread. The ratios were a bit off as well, with an oversized bun. Thankfully the burger bread was both fluffy and fresh, and had a nice bouncy feel to it. The meat was the star here; a nice and large medium fried patty made from coarsely ground chuck and brisket. The beefy flavours were in place, and its soft texture worked great. However, we noticed a few problems, such as the oversized tomato and the fact that they use cabbage instead of lettuce in all of their burgers. Sure, it didn't ruin the flavours, but it reminded us a bit too much of coleslaw for our liking.
So at first it didn't really feel like much had happened with Burgers & Beer, seeing as both their restaurant and burgers seemed familiar. But we did also notice that they've made an effort to keep up with the other burger restaurants in Stockholm, and their 3/5 grade still remains.