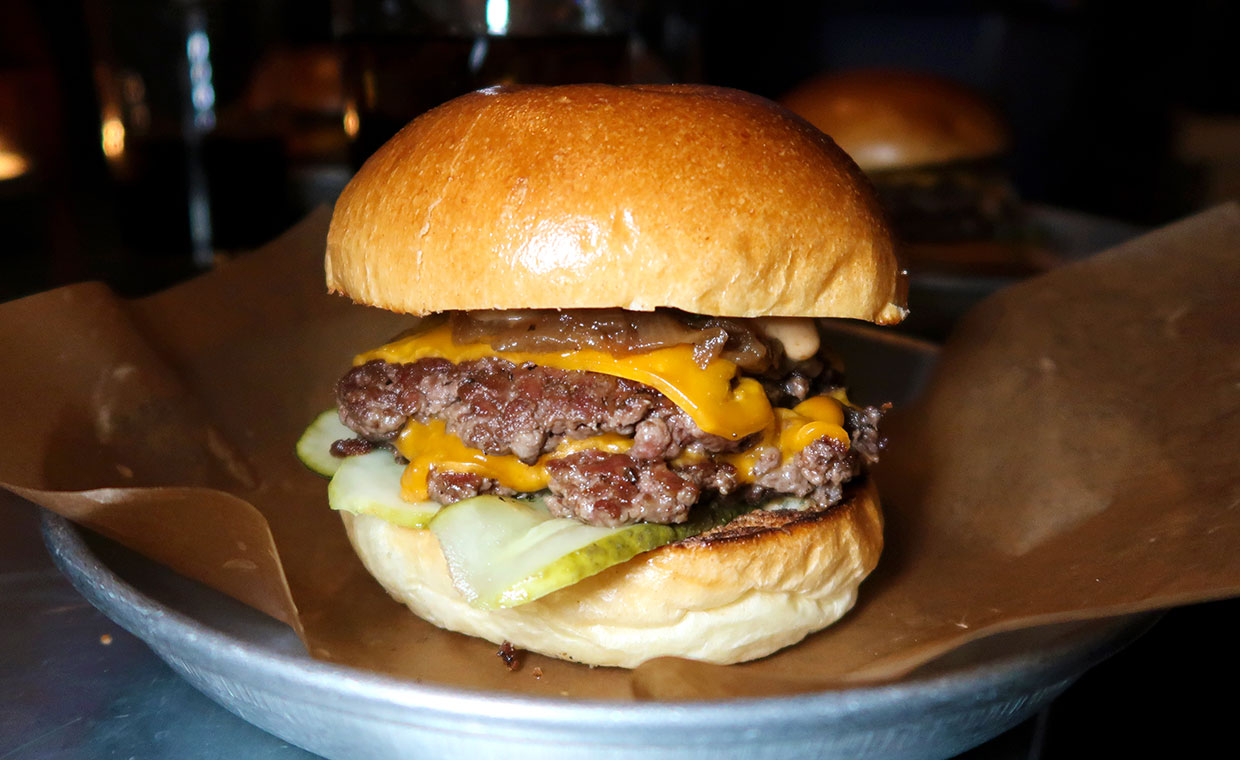 Folkparken öppnade i slutet av augusti 2019 på Sveavägen i Stockholm, precis vid Rådmansgatans tunnelbana. Den stimmiga industrilokalen har nu fått upp en cheeseburgare på bar- och takeaway-kioskmenyn. Burgaren är gjord på högrev, ekologisk burgarcheddar från Väddö gårdsmejeri, chipotlemajonnäs, saltgurka, karamelliserad lök, picklad chili och egenbakat bröd, och kostar 95 kronor i deras kiosk.
Det var en snygg hamburgare som serverades, men vi märkte snabbt ett par problem. Brödet var färskt men tyvärr så var den övre skorpan lite tjock och seg, samtidigt som insidan av brödet gärna kunde ha rostats en stund till. Resultatet blev ett svårtuggat bröd som inte höll ihop särskilt väl. Köttpucken var något torr, utan att för den sakens skull vara seg, men den hade ingen riktigt märkbar köttsmak och borde ha kryddats lite mer. Chipotlemajonnäsen, cheddarn, den picklade chilin och den karamelliserade löken vägde som tur var upp, och tillförde såväl sötma, krämighet och kryddighet utan att ta över.
Vi har testat Folkparkens övriga meny flera gånger tidigare, och har varit väldigt imponerade av hur de får smaker och texturer att samspela. Därför kändes det lite tråkigt att deras burgare inte höll samma nivå, då varken brödet eller köttet levde upp till våra förväntningar. Vi hoppas att de lyfter hamburgaren i framtiden, särskilt med tanke på att de är omgivna av några av Sveriges bästa burgarhak.
In English
Folkparken opened in the end of August 2019 on Sveavägen in central Stockholm, just by the Rådmansgatan subway station. And now the packed industrial-styled restaurant has added a cheeseburger to their bar and takeaway kiosk menu. Made from chuck, it also contains organic burger cheddar from Väddö Gårdsmejeri, chipotle mayo, pickles, caramelised onions, pickled chili and their own buns, costing 95 SEK (10 USD).
Our hamburger looked pretty great, but we quickly uncovered a few problem areas. The bun was fresh, but the top crust was a bit thick and chewy. In addition, the inside could have done with some sear. This made it a quite hard to eat, and it didn't hold together very well. The patty was also a bit dry (without becoming chewy) and underseasoned, and lacked that beefy goodness we love so much. Thankfully, the chipotle mayo, cheddar, pickled chili and caramelised onions did a great job of counteracting these problem areas, adding sweetness, creaminess and a bit of heat without taking over.
We have tried other dishes from Folkparken's regular menu several times before, and we've always been impressed with how well they manage to make flavours and textures work together. So when their burger didn't achieve this we must admit that we felt a bit let down, especially when both the bun and the patty underdelivered. We hope that they step their game up, especially seeing as they're surrounded by some of the best burger joints in Sweden.