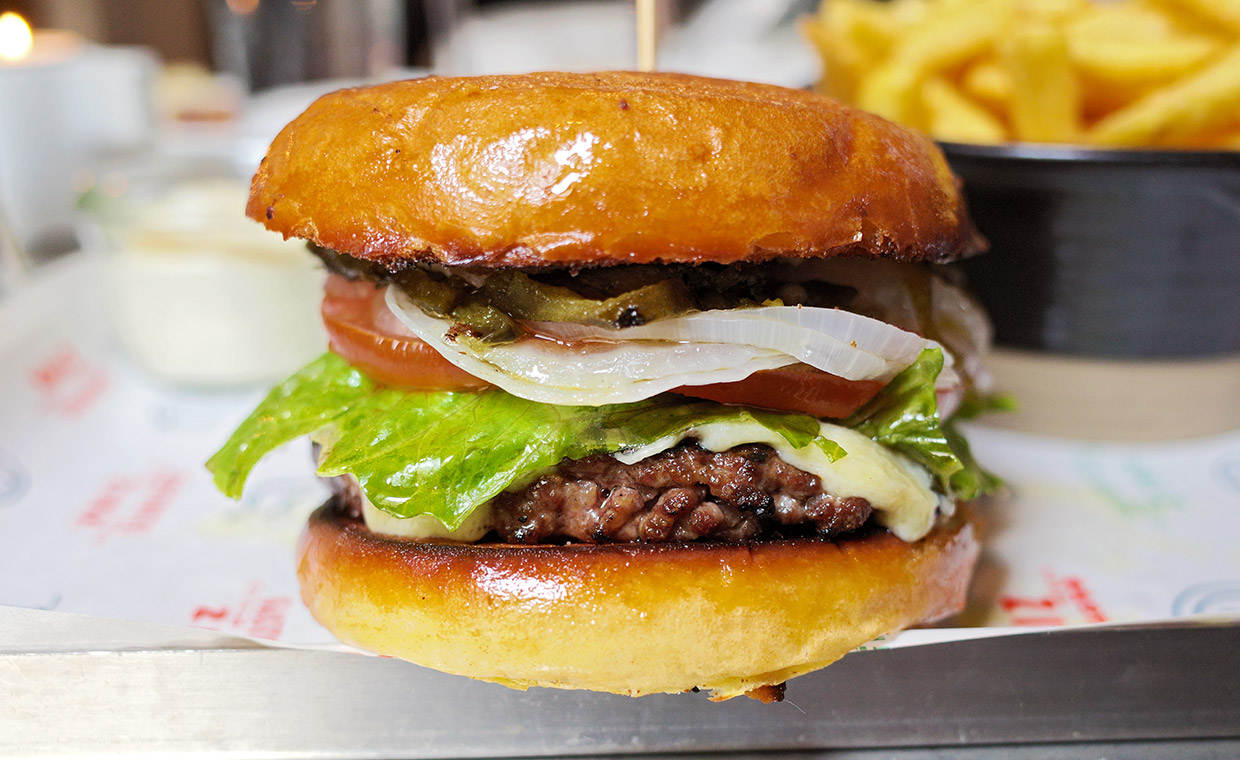 Gastrotek Zink öppnade sina dörrar i slutet av 2019 på Grev Turegatan i centrala Stockholm, och kan ses som en spirituell återfödelse av den nu nedlagda restaurangen Zink Grill. De fokuserar på kvalitetsråvaror och har en helt egen mörningskyl, så vi var såklart förväntansfulla inför att få sätta tänderna i en riktigt fin och gedigen restaurangburgare. Skulle vi äntligen hitta Sveriges motsvarighet till Minetta Tavern här hemma i Stockholm?
Hamburgaren kostade 225 kronor och serverades med pommes frites och en tillhörande dipp. Efter en ganska lång väntan serverades burgaren äntligen på en stilig metallbricka. Den var omsorgsfullt monterad, men pinnen som hade tryckts genom hela burgaren och det faktum att salladsbladen droppade av olivolja skvallrade om en del skavanker.
Köttpucken på 200 gram var utan tvekan måltidens höjdpunkt med en gediget rökig och tillfredställande köttsmak. Den var dessutom väldigt saftig och hade tillagats riktigt fint med en nästintill perfekt rosa kärna. Men utöver det goda köttet fanns det dessvärre inte så mycket mer vi var positiva över. Det största problemet var att burgaren fullständigt droppade av olivolja från salladsbladen, vilket förstörde det mesta med måltiden. Strimlade inlagda jalapeños bidrog med en trevlig hetta, men de var för alldeles för kalla och oljiga för spela snyggt ihop med resten av ingredienserna. Dessutom var kanterna på brödet bränt, och kändes inte följsamt nog i handen. Pommes fritesen var däremot goda, med en fin krispighet och en angenäm potatissmak.
Att ha bra råvaror räcker inte om man inte vet hur man komponerar en bra burgare. Vi hade ungefär samma synpunkter när vi besökte Zink Grill under 2016, och det känns tråkigt att de inte har kommit längre än så här efter ett halvt årtionde. Vi får helt enkelt fortsätta att leta med ljus och lykta efter en restaurangburgare i världsklass även här hemma i Europa.
In English
Gastrotek Zink opened at the end of 2019 on Grev Turegatan in central Stockholm, and are a bit of a spiritual successor to the now defunct Zink Grill. Seeing as they focus on high quality ingredients and age their own meat, we were filled with hope. Would we finally find a great restaurant burger in Sweden, that perhaps could compete with the legendary Minetta Tavern?
The burger cost 225 SEK (27 USD) and came served with French fries and a dip. It took quite a long time for it to be served, but it finally arrived on a stylish metal tray. It had been carefully assembled, but the wooden skewer and the olive oil drenched lettuce leaves put up two immediate warning signs.
The 200-gram patty was without a doubt the highlight of our meal, with a deeply smoky and satisfyingly beefy flavours. It was super juicy and excellently prepared with an almost perfectly pink centre. But apart from the tasty patty we couldn't find much else that we liked. The main problem was that the burger was seeping with olive oil from the lettuce, which just about ruined our meal. The shredded jalapeños added some nice heat, but they were far too cold and oily to work with the other ingredients. The bun was also burnt along the rim and felt a bit too hard for our liking. We did however like the French fries, which were crispy and had a nice potato flavour.
It's clearly not enough to just have fine ingredients; you also need to know how to make a great burger. We had similar qualms when we reviewed Zink Grill back in 2016, and it feels a bit sad that they haven't made any improvements in half a decade. So we'll just have to continue our tireless search for a world-class restaurant burger in Europe.