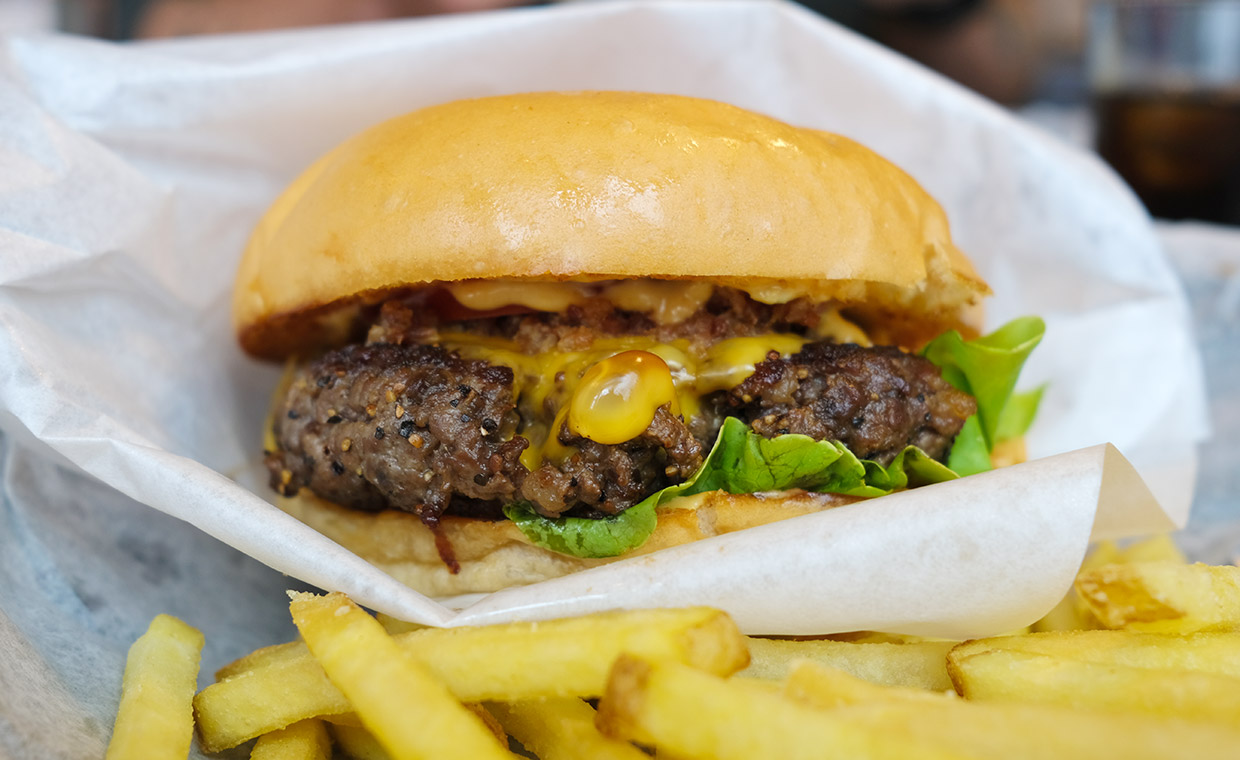 Hamburgerhuset är en reinkarnation av Burger Bistron som har funnits på flera platser i Stockholm under åren i Märsta, Upplands Väsby och Kista Centrum. Nu har de flyttat tillbaka sitt nya restaurangkoncept till ursprungsområdet Märsta, och har även utökat konceptet till att servera gelato.
Deras hamburgermeny innehåller åtta burgare med tillhörande pommes frites som är prissatta mellan 119 och 159 kronor. Vi beställde flera olika burgare, bland annat deras Original Cheese Burger, Bacon Burger och Spicy Burger. Precis som tidigare så serverades burgarna med säker hand i prydliga pappersfickor. Köttpucken på 150 gram hade en härligt god smak och en tillfredsställande kryddning. Vi hade gärna sett lite mer stekyta, då hela burgaren kändes rätt mjuk. Men i baconburgaren räddades åtminstone detta av det krispiga baconhacket. Det mjuka och följsamma brödet var bekvämt att hålla i, men hade svårt att hålla ihop under hela vår måltid och borde ha rostats aningen längre. Vi tyckte även att dressingen var lite för söt och inte samspelade särskilt väl med de andra smakerna, men med det sagt så kände vi alla att detta var riktigt bra burgare med fokus på kvalitativa ingredienser. Pommes fritesen var dock smaklösa och kändes rätt trötta, men de ingick i måltiden så det fanns inte så mycket att göra åt dem.
Hamburgerhusets burgare påminner väldigt mycket om burgarna från Burger Bistron, vilket såklart är väldigt positivt då vi alltid har gillat deras burgare. Det känns därför extra roligt att de återigen har satt Märsta på kartan över högkvalitativa burgarhak.
In English
Hamburgerhuset is the new name of the classic hamburger restaurant Burger Bistron, who have had several restaurants in Stockholm over the years in Märsta, Upplands Väsby and Kista Centrum. Now they have returned to their home area in Märsta under a new name, and this time they're also serving gelato.
Their burger menu contains 8 burgers with fries included, costing between 119 and 159 SEK (13-18 USD). We tried several burgers on their menu, including their Original Cheese Burger, Bacon Burger and Spicy Burger. And just like before the burgers came neatly served in a paper pocket. The 150 gram patty had a nice and beefy flavour, with great seasoning. We would have preferred a better crust, seeing as the burger was pretty soft, but this was at least saved by the crispy, chopped bacon in the bacon burger. The soft and squishy bun felt great in our hands, but had problems keeping everything in place and could have been toasted a bit more. We also felt that the burger sauce was a bit sweet and that it stood out against the other flavours, but we were all in agreement that this was a really good burger made from high quality ingredients. The bland fries were a bit of a non-event though – but they were included in the price so there wasn't much to do about them.
Hamburgerhuset's hamburgers remind us a lot of the food from Burger Bistron, which is good of course seeing as we've always liked their burgers. And we're extra happy to see that they've placed Märsta on the burger map once again.