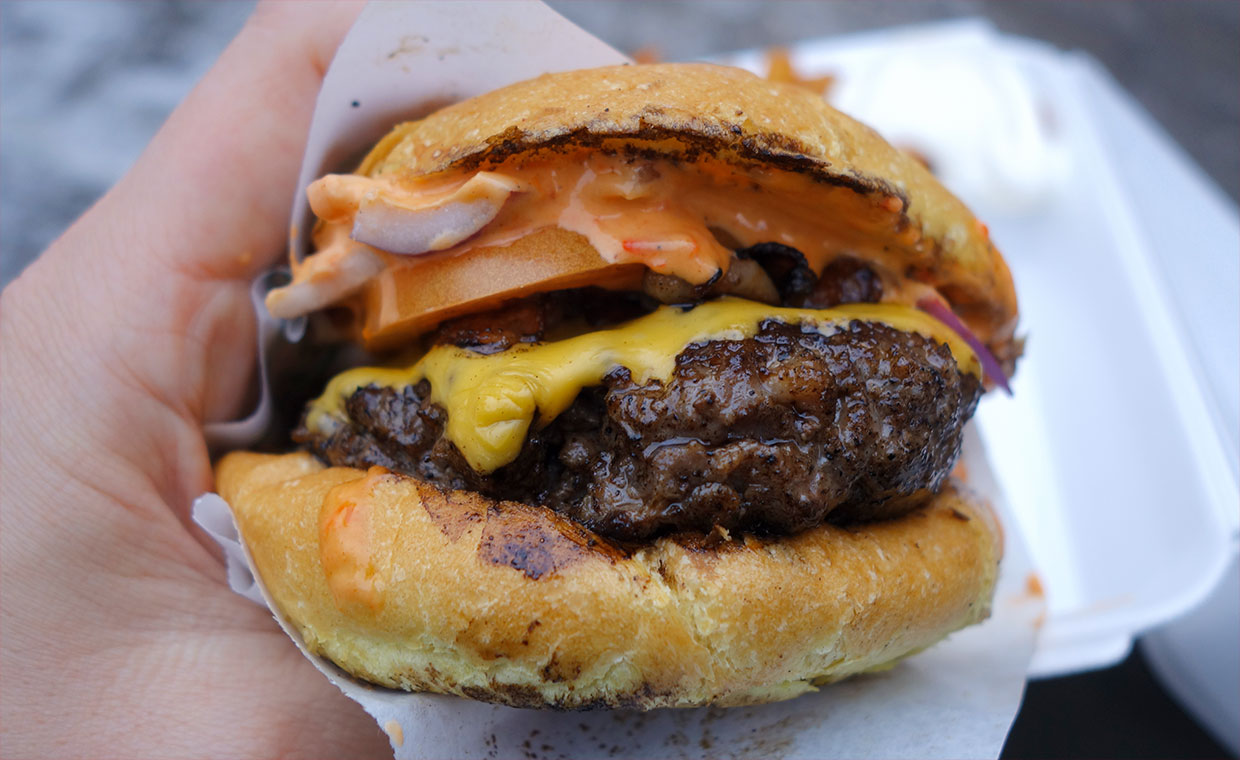 Foodtrucken Heaven Street Food hette tidigare Fast Food Specialisterna, och har sedan namnbytet vunnit flera mattävlingar, bland annat Foodtruck-SM 2017. Vi besökte deras foodtruck en krispig vinterdag och beställde en American Dream med pommes frites och dryck för 109 kronor (enbart burgaren kostar 84 kronor). Burgaren, som innehöll 180 gram kött, cheddar, bacon, dressing, tomat och rödlök, serverades kort därefter, och vi skyndade oss att sätta tänderna i den.
Tyvärr så genomsyrades hela måltiden av ett ord, och det var "tuggigt". Den rejäla köttpucken var tuggig. Den hade en välkryddad köttsmak som lös igenom, men den var helt genomstekt och inte särskilt saftig. Brödet var segt och tuggigt, men hade åtminstone värmts på inuti och höll ihop ganska väl. Baconet var också tuggigt, vilket gjorde burgaren rätt svåräten och kladdig – något vi inte uppskattar när det kommer till foodtruckburgare. Dressing är något vi brukar ha svårt för, men denna var kryddstark och inte särskilt söt, och var nog måltidens höjdpunkt.
Nästa gång skippar vi nog pommes fritesen, då den var överfriterad och till stora delar oätlig. Men priset på 84 kronor för en rejäl burgare är faktiskt riktigt bra. Inte mycket verkar ha förändrats sedan namnbytet, då detta fortfarande är en godkänd burgare till ett helt okej pris – varken mer eller mindre.
In English
The Stockholm based food truck Heaven Street Food used to trade under the name Fast Food Specialisterna, and have won several awards since their name change. We visited them during a crispy cold winter's day and ordered an American Dream burger with fries and a drink for 109 SEK (about 12 USD). The burger (costing 84 SEK, about 9 USD on its own) contained a 6 ounce patty, cheddar, bacon, sauce, a slice of tomato and red onions.
If we had to sum up the burger with one word it would be "chewy". The thick patty was chewy. It was nicely seasoned, but completely cooked through and not very juicy at all. The bun was chewy as well, but had thankfully been heated up and wasn't soggy at all. The worst part was the chewy bacon, which made the burger difficult to eat and quite messy – something we really don't appreciate in a food truck meal. We're usually not too fond of burger sauces, but this one was nice and spicy, and not very sweet. To be honest, it was probably the highlight of the burger.
Next time around, we'll probably skip the overcooked french fries, which were greasy and unappetizing. Not much seems to have changed since they changed their name to Heaven Street Food, since they still serve a decent burger at a more than decent price.