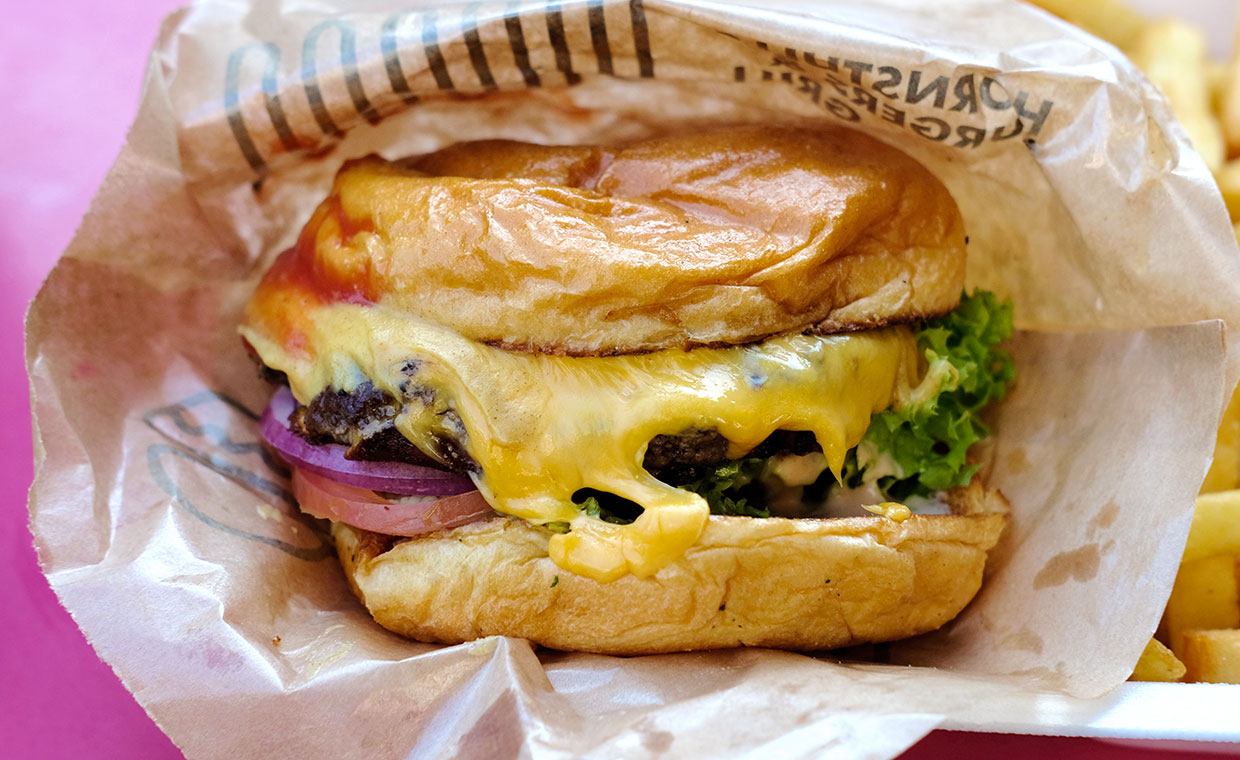 Hornstulls Korvkiosk har serverat korv långt in på natten till Stockholmare i flera decennier, men nyligen tog en ny ägare över verksamheten på torget vid Hornstull. De renoverade kiosken och bytte namn till Hornstulls Burgers & Grill. Menyn innehåller fortfarande korv och burgare till rätt låga priser. En enkel ostburgare med en 100-grams högrevspuck kostar endast 69 kronor, vilket är samma pris som för kycklingburgaren och de tre vegetariska alternativen. BBQ-burgaren och Tryffelburgaren kostar 74 kronor vardera, och högrevsburgarna finns i 200-gramsvariant för ytterligare 30 kronor. Du kan även få en meny med dryck och pommes frites för 30 kronor till.
Vi beställde deras cheeseburgare med ost, sallad, tomat, rödlök, senap, ketchup och egenlagad hamburgerdressing. Presentationsmässigt så var den slarvigt ihopbyggd, men den höll ihop mycket tack vare briochebrödet som fångade burgaren i ett färskt och mjukt grepp. Det hade dock ingen studs, så det blev lite kompakt i handen.
Köttpucken hade en fin och lätt krispig stekyta, och var saftig på insidan och bjöd på en tydlig köttsmak. Ovanpå köttet låg rikligt med ost som hade fått smälta ordentligt till en krämig massa. Men både tomaten och salladen var tyvärr kylskåpskall och lökskivan var i tjockaste laget. Burgaren innehöll även alldeles för mycket söt ketchup, som inte blev bättre av den ganska tråkiga burgardressingen.
Hornstulls Burgers & Grill bjuder på en väldigt kladdig men ändå klart kompetent snabbmatsburgare. Det finns en del detaljer som borde finslipas, men detta är ett utmärkt bevis på hur man kan uppgradera en klassisk korvkiosk genom att sätta grunderna med kött, bröd och tillagning.
In English
Hornstulls Korvkiosk was a classic grill kiosk that served hungry Stockholmers for decades at their prime Hornstull location, but recently a new owner took their place. They renovated the premises and renamed it Hornstulls Burgers & Grill. The menu still consists of sausages and burgers at reasonable prices. A single cheeseburger with a 100 gram chuck patty costs 69 SEK (7 USD), which is the same price as their chicken burger and the three vegetarian varieties. The BBQ and Truffle burgers cost 74 SEK (just under 8 USD) each, and the meat burgers can also be ordered with double patties for 30 SEK (3 USD). A meal deal with fries and a drink also costs an additional 30 SEK.
We ordered their cheeseburger with cheese, lettuce, tomato, red onions, mustard, ketchup and their house sauce. It was pretty messy, but held together very well thanks to the brioche bun that caught the contents in its fresh and soft grip. But it lacked squishiness, forcing us to hurry up and eat it.
The patty had a nice and crispy char, and was juicy with a distinct meat flavour. It was covered with a nice amount of melted cheese that really worked well with the burger. Unfortunately, both the tomato and the lettuce were uncomfortably cold, and the onion slice was far too thick. There was too much sweet ketchup as well, and the bland burger sauce didn't really help matters.
Hornstulls Burgers & Grill serve a competent but sloppy fast-food burger. We'd like to see a few tweaks here and there, but this is a great example of how the old grill concept can be upgraded by focusing on high quality ingredients and getting the basics right.