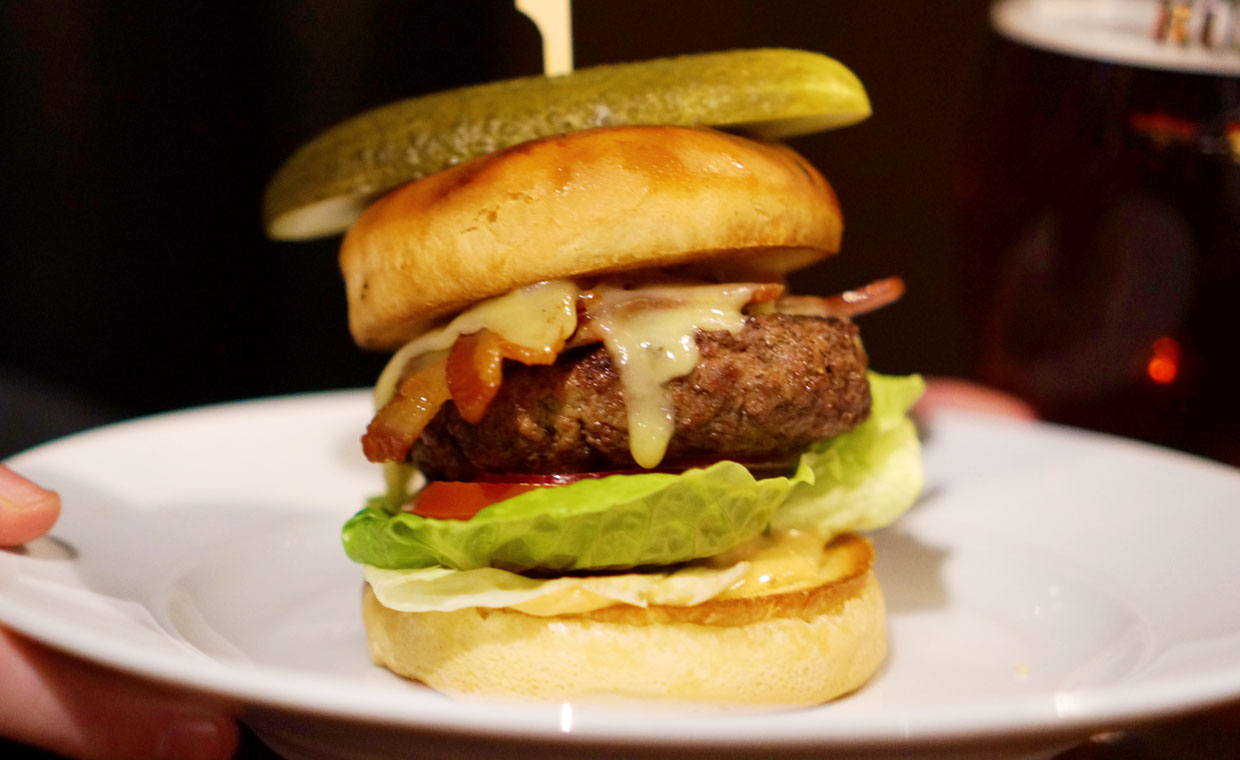 John Scott's på Kungsgatan är den nyaste innehavaren av den gamla biolokalen som en gång i tiden hette Royal, men som nu i merparten av ett decennium varit kombinerad restaurang och bowlinghall. I denna senaste utformning så är det engelskt pubtema som gäller, det vill säga brunt trä och läder med mässingsdetaljer.
Menyn var fylld med det man brukar hitta på restauranger med pubstil, inklusive den burgare vi var här för att testa. Burgaren hade bacon, lagrad cheddarost, tomat, rödlök, saltgurka och sallad på sig, och enligt menyn så serverar de alltid burgaren medium well. Till burgaren serverades vi pommes frites och tre olika dippsåser; tryffelmajo, cheddarost och chilidressing – allt för 179kr.
Det var tydligt att burgaren fanns på menyn bara för att de kände att de måste ha en burgare på menyn. Smakmässigt var allt ok, men köttet var så torrt att man måste skölja ner det med något om man råkar äta en bit separat. Brödet hade också hårda och torra områden, och grönsakerna var så klart kalla. Det var inte hemsk på något sätt, men det var tråkigt och dåligt genomfört. Vi rekommenderar att du håller dig till öl och bowling nästa gång du kommer hit.
In English
John Scott's is a chain of english pub themed restaurants that started in Gothenburg. In an old movie theatre on Kungsgatan in central Stockholm they offer beer, food and bowling in a dark brown setting. The menu contained the usual items for a place like this, including a burger for us to try. The mid-priced burger came with bacon, aged cheddar cheese, tomato, red onion, pickles and lettuce, and it was served with fries and three kinds of dip. The flavours of the meat, bun and toppings were okay, but nothing special. The medium well patty was dry, the bun had large dry areas for some reason, and the toppings were mostly cold. It wasn't terrible in any way, just boring and badly executed.