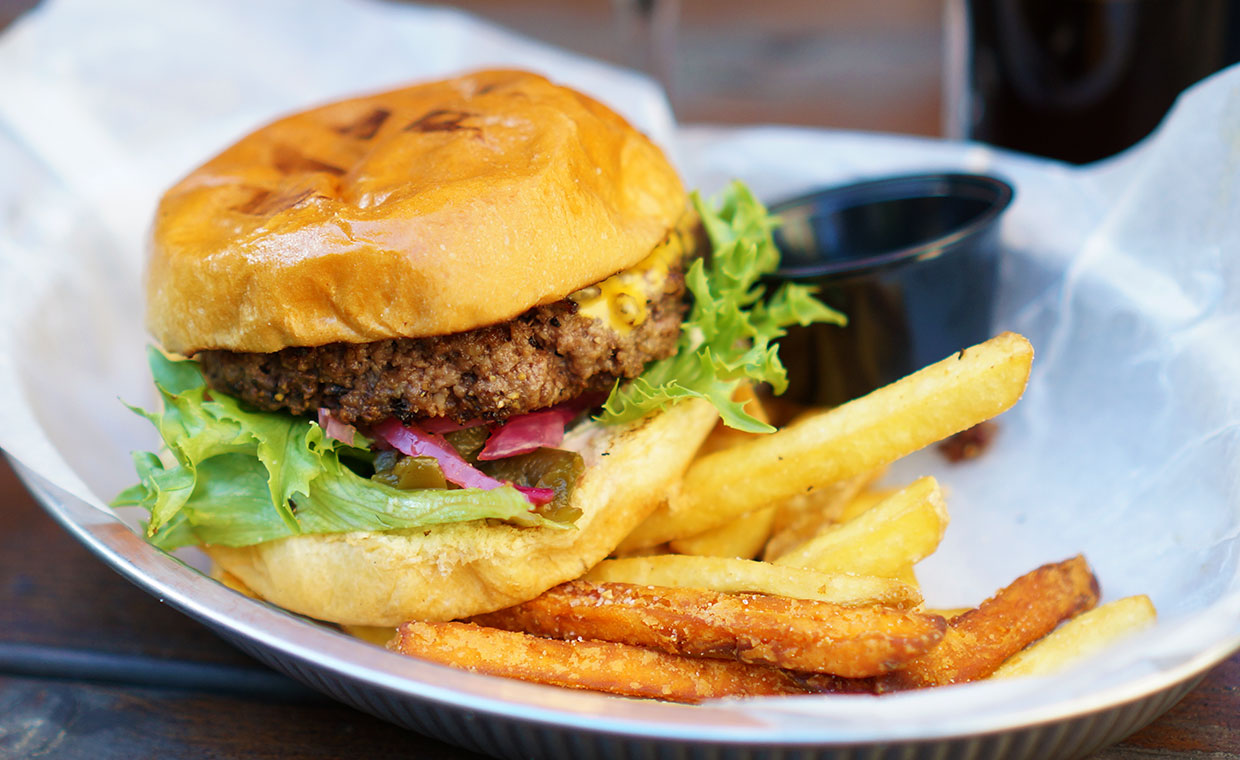 Krubb ligger på östra Kungsholmen i Stockholm, inte så långt ifrån Rådhusets tunnelbanestation. Det är inte så stort inomhus, men de har en stor uteservering som gör stället perfekt för en sommarburgare när vädret tillåter. Vi fick dessutom beställa vår mat och dryck via en app, och det fungerade oväntat smidigt att sköta beställningen själv vid bordet.
Vi beställde en Chili med jalapeños och inlagd rödlök samt en Smokey med BBQ-sås och bacon. Båda burgarna hade även ost, tomat, sallad och dressing. Till detta fick vi en mix av vanliga pommes frites och sötpotatis-pommesfrites, samt tryffelmajonnäs som dip. Trots att det var middagspriser vid vårt besök så gick maten bara på 100 kronor, vilket var klart imponerande på oss.
Brödet var bra rostat och höll ihop bra. Köttet var oväntat löst i konsistensen och lite för välsaltat, men det var också saftigt och gott. Det höll dessutom ihop under hela måltiden. Övriga delar kändes ganska ordinära. Den rätt lilla portionen pommes frites hade för mycket vanlig potatis och alldeles för lite sötpotatis för vår smak, och BBQ-såsen smakade mest bara sött.
Som helhet så tyckte vi dock att allt var gott och dessutom väldigt prisvärt, och vi kan inte göra annat än att ge Krubb en varm rekommendation.
In English
Krubb is located on the east side of Kungsholmen, not that far from Stockholm's Rådhuset subway station. It's small-ish, but they have a large outdoor area making it a perfect place for a burger when the weather is nice. We tried the Chili with jalapeños and pickled red onion plus the Smokey with BBQ sauce and bacon. Both burgers also came with cheese, lettuce, tomato and dressing. The bun was nicely toasted and held up well. The patty was unusually loose in it's texture and a tad bit too salty, but it was also juicy with good flavours and it didn't fall apart. The toppings were kinda standard, with a BBQ sauce that mostly just tasted sweet. The burger came with mixed fries; both ordinary and sweet potato (albeit not enough of the latter), plus a truffle mayo dipping sauce. A burger plus fries costs 100 SEK during dinner time, which is a great price. We warmly recommend a visit.