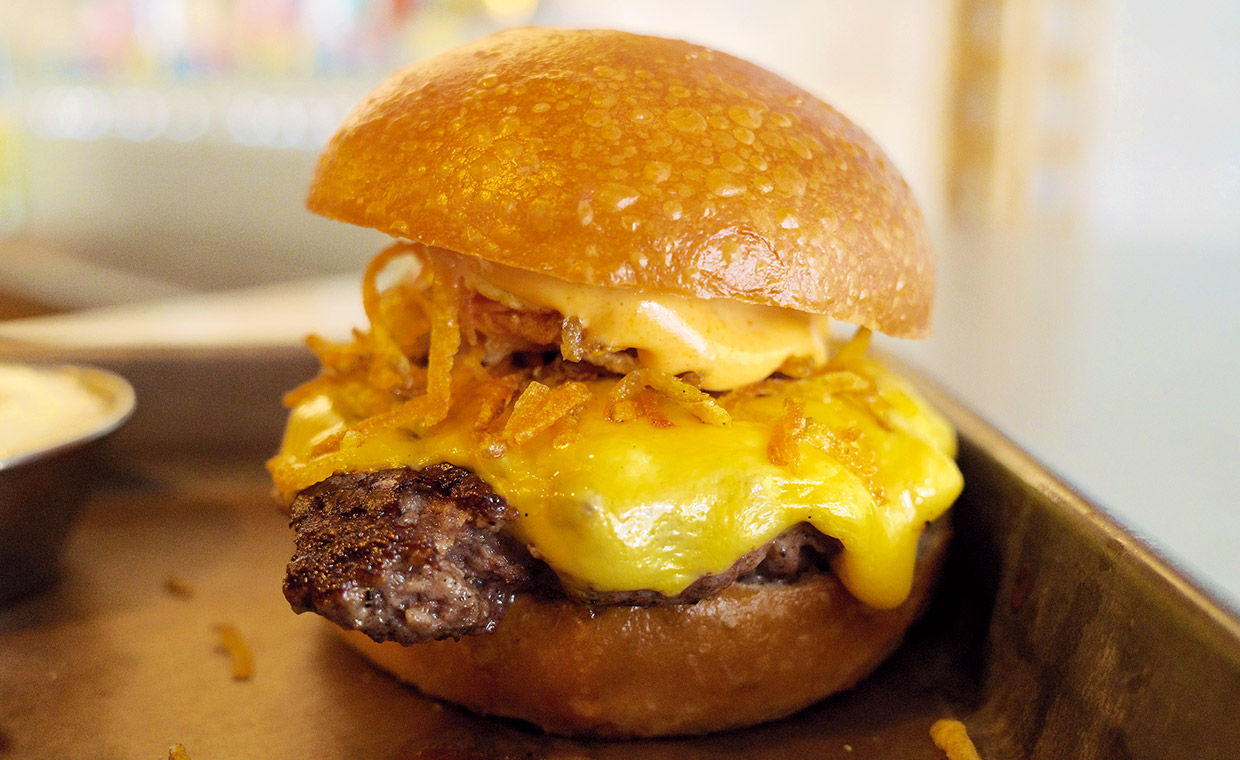 Burgarpionjärerna Flippin' Burgers serverar förmodligen de bästa burgarna i hela Sverige, och efter den senaste succén med foodtrucken Sliders är det nu dags för nästa steg. Lådan är en kombinerad foodcourt och ölhall vid Rådmansgatans tunnelbanestation i Stockholm, med ett gediget ölsortiment och flera spännande smårätter – däribland samma sliders som säljs i trucken.
Dessa miniburgare består av två små köttpuckar à 40 gram samt ekologisk ost, och menyn ändras ganska ofta. Under vårt senaste besök hade de tre olika sliders – originalvarianten Lådan Slider med två skivor ost, SNS med två skivor ost, chilimajonnäs och shoestring fries (supertunna pommes frites) samt Baconish med baconsylt och senap.
SNS-slidern var vår solklara favorit, med intressanta texturer i form av den knapriga och tunna pommes fritesen och den krämiga hettan från chilimajonnäsen. Baconish var helt okej med sin sötsalta och klibbiga baconsylt, men deras originalsliders har varit ganska torra och har krävt ett rejält lass senap och ketchup för att slinka ned.
Bland tillbehören hittade vi goda jalapeñobollar med ost som var ljuvligt goda men inte särskilt prisvärda (3 små bollar med en söt chutney för 55 kronor är rätt saftigt) och en helt fenomenal mac & cheese. Ölsortimentet är utsökt med massor av spännande öl på fat, och lokalens många långbord och rymliga nedervåning har gjort Lådan väldigt populärt för mat- och dryckessugna personer – även barnvagnsfamiljer – som bara vill umgås. Vi applåderar upplägget med dessa amerikanska tapas, och de många gästspelen från intressanta matkreatörer gör att vi gärna kommer tillbaka.
In English
Stockholm's burger pioneers Flippin' Burgers have placed their popular Sliders concept in the foreground of Lådan – their new food and beer hall venture. Located near the Rådmansgatan subway station, this large open-space restaurant offers a huge list of artisanal beers on tap and loads of different street food items – including their great sliders. Our favourite one was the SNS slider, with 2 small 40 gram patties, organic cheese, crunchy shoestring fries and a tasty chili mayo. We found their original slider to be a bit dry though, requiring loads of condiments. And some of the sides were a bit hit and miss (their mac n cheese was amazing, but the jalapeño poppers were yummy but a bit too expensive). However, we love the spacious venue and their many collaborations with other chefs and restaurants, and are already looking forward to our next visit.