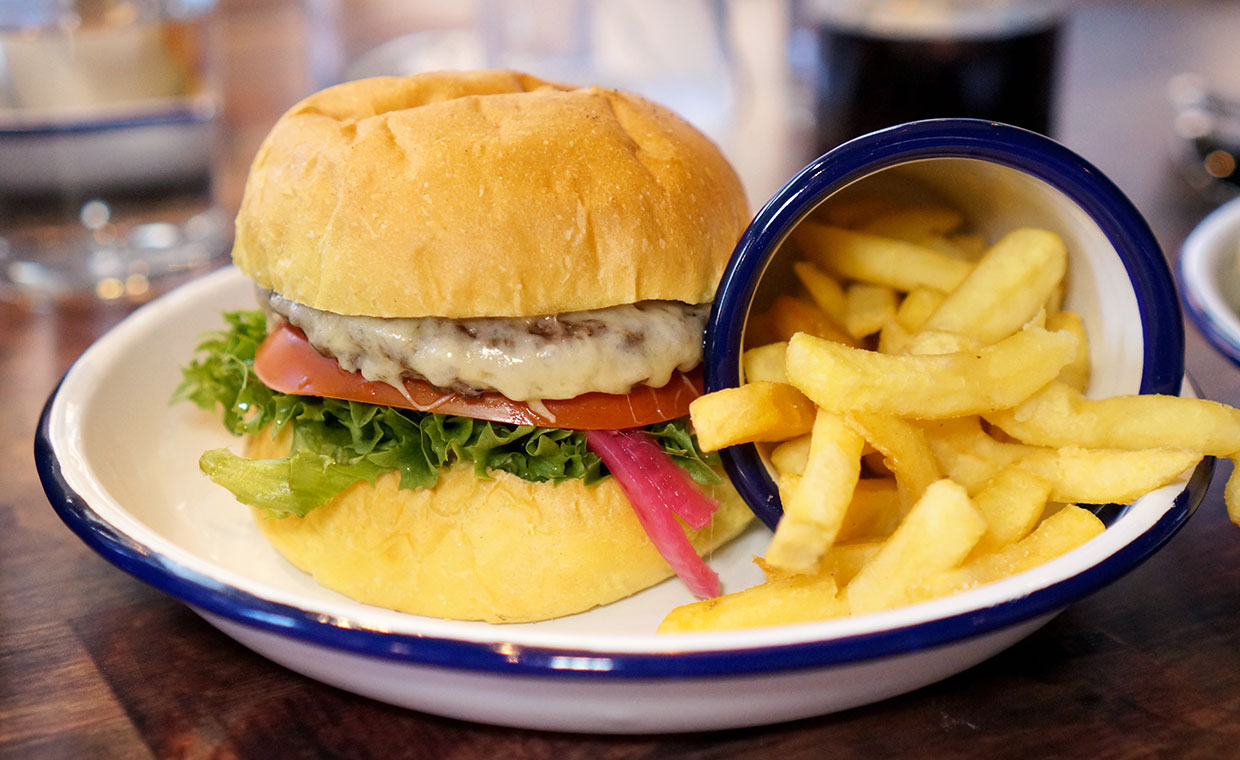 Lokal hade tidigare flera restauranger i Sverige, men har numera endast kvar den vid Hötorget. Det är stort, snyggt inrett och känns påkostat. Bakom satsningen står inte helt oväntat namn med lång erfarenhet av liknande ställen, inklusive en handfull befintliga "konkurrenter". Det är förmodligen ingen slump att de har tagit över Gnarly Burgers gamla Stockholmslokaler vid Hötorget.
Vårt första intryck var positivt, med gott om personal och avslappnad stämning. Vi beställde in deras Lokal Original (119 kronor) med burgardressing, picklad lök, sallad, tomat och cheddarost, samt Bacon BBQ (125 kronor) med burgardressing, rökt bacon, pepper jack-ost och barbecuesås. Problemen började tyvärr direkt när vi fick in våra burgare, för inga av våra Bacon BBQ hade något bacon på sig. När vi frågade personalen om baconet fick vi ett kort svar att det var slut i köket, men att de inte hade vetat om det förrän efter att beställningen hade "gått in". Så inget bacon, ingen ursäkt och inget avdrag på notan.
Burgarna i sig kom i stora och ganska torra bröd, med en tunn köttskiva som knappt smakade något. Lokal Original hade en söt dressing som gav viss smak, men i övrigt var det okryddat och allmänt tråkigt. Den andra burgaren hade aningen mer smak i sig, men var lika kärlekslös. Sötpotatispommesfritesen (40 kronor) var faktiskt riktigt goda, och även de vanliga pommes fritesen (30 kronor) var helt okej.
Det känns ironiskt att det mest positiva med besöket var just själva lokalen. Resten kändes betydligt mer kostnadsoptimerat än kvalitetsfokuserat. Hit går du för tillgängligheten och miljön, men om du är ute efter en god hamburgare så finns det mängder av bättre alternativ på kort promenadavstånd. Kolla in vår karta, så ser du själv.
In English
We visited Lokal's bright and nicely designed restaurant in Stockholm, centrally located by Hötorget.
We ordered the Lokal Original (119 SEK) with cheddar, dressing, pickled onions, lettuce and tomato, and the Bacon BBQ (125 SEK) with pepper jack cheese, dressing, BBQ sauce and bacon. We never got any bacon though, and when we asked why they just told us that the kitchen was out of it and that they didn't know that until after we had ordered. That was it. No bacon, no excuses and no compensation.
The burgers came with a large and slightly dry bun, and the beef patty was thin and hardly tasted of anything. It wasn't necessarily bad, but everything was just bland and loveless. The sweet potato fries (40 SEK) were pretty good though, as were the ordinary fries (30 SEK). All in all, Lokal just serve regular streamlined fast-casual meals in a pretty package with a slightly too high price tag. The atmosphere is nice, but there are lots of better burgers around.