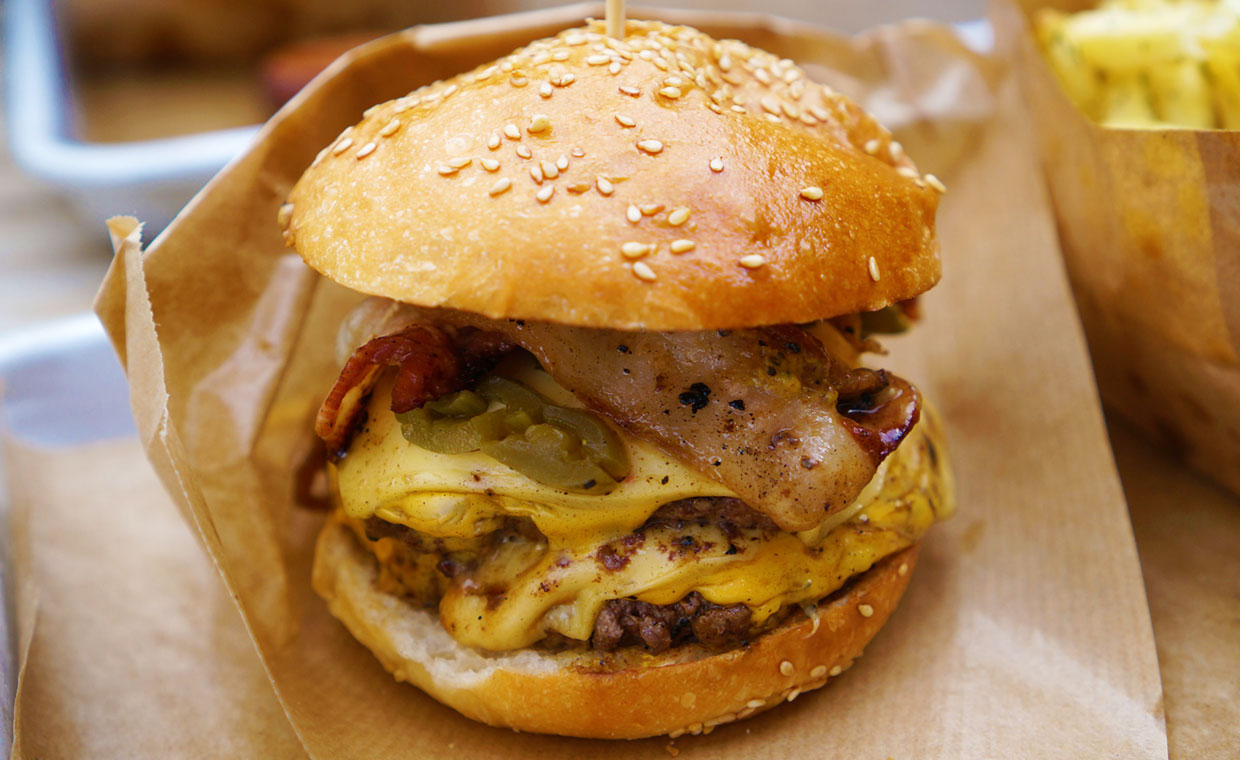 Höganäs är vida känt bland burgarfantaster för restaurangen Garage Bar, och vi blev extra glada när de bestämde sig för att öppna en restaurang i centrala Stockholm. Miss Behave Bar ligger i Tullhus 2 utmed Skeppskajen i Gamla Stan, och bjuder på en fantastisk utsikt över Skeppsholmen och Kastellholmen.
Menyn består av lyxig snabbmat och öl från Höganäs Bryggeri, men det är deras Garage Burgers som står i centrum. Högreven mals självklart enligt Blumenthalmetoden och serveras i ett lätt rostat och mjukfrasigt briochebröd. Vi valde deras Animal Style-burgare för 175 kronor inklusive pommes frites, som bestod av två senapsstekta köttpuckar, bacon, jalapeños och ost.
Själva burgaren var rätt liten, sina två köttpuckar till trots, men den var makalöst god. Den skulle egentligen vara mediumstekt, men vårt kött hade endast en antydan till rosa. Tur då att den ändå var väldigt saftig och smakrik. Osten var krämig och halvsmält och gav en hel del sälta tillsammans med den instekta senapen och det rökiga baconet. Hettan från jalapeñon bröt dock igenom och gav burgaren en härligt välbalanserad smak.
Den stora portionen välfriterade pommes frites gjorde oss dessutom mätta, och vägde upp den något underdimensionerade burgaren. Och trots att vi gärna sett att prisbilden varit något lägre kan vi helt klart rekommendera ett besök på Miss Behave Bar, även om den gör att vår Höganäslängtan växer sig ännu starkare.
In English
The newly opened Miss Behave Bar in Stockholm's Old Town district is a product of the almost mythical Garage Bar in the south of Sweden. Now they've gotten hold of some prime real-estate by the water overlooking the picturesque Skeppsholmen, where they're serving their signature burgers. We tried their "Animal Style" burger for 175 SEK (including fries), which consisted of two mustard fried patties, bacon, jalapeños and cheese. The Blumenthal ground chuck patties were slightly overcooked and the burger itself was a bit small, but it was juicy and the flavours were amazing. We definitely recommend a visit if you're nearby, for example before taking the ferry over to Djurgården.