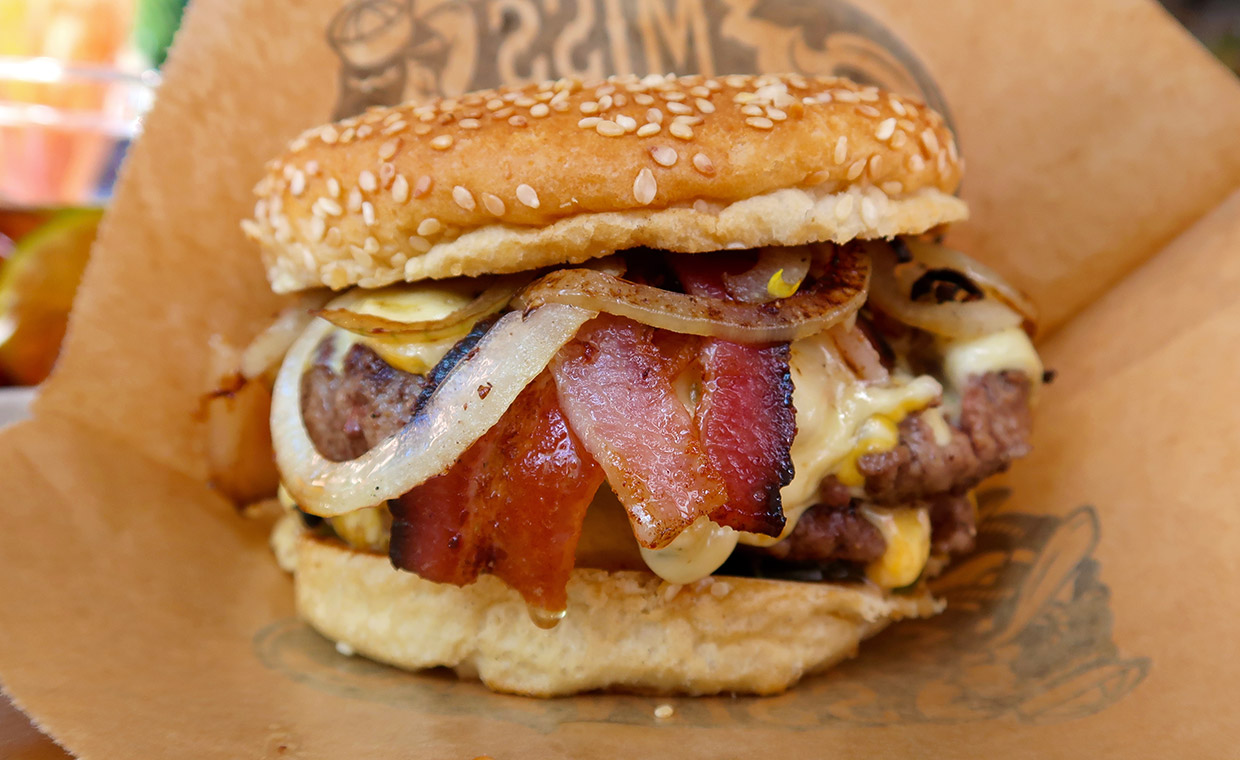 Miss Behave Bar i Stockholm är en syskonrestaurang till Garage Bar i Höganäs, som vi rankar som ett av Sveriges bästa burgarhak. Vi recenserade Miss Behave Bar redan under 2016, och även om vi gjort några återbesök under årens gång så började det bli dags för en ny recension. Restaurangens svårslagna läge vid Tullhus 2 utmed Skeppskajen i Gamla Stan bjuder på en fantastisk utsikt över Kastellholmen och Skeppsholmen, och även den smått kitschiga inredningen med nautiskt tema var sig lik sedan sist.
Burgarmenyn består av lite över en handfull olika burgare gjorda på färskmalen Angus-högrev som mals enligt Blumenthal-metoden, och precis som förra gången beställde vi deras Animal Style-burgare för 189 kronor inklusive pommes frites, som bestod av två senapsstekta köttpuckar, bacon, jalapeños, stekt lök och både cheddar- och pepperjackost. Våra burgare såg tyvärr inte lika snygga ut som förra gången. Vi är vana vid att få tajta och välkomponerade hamburgare här, men denna gång var allt ganska slarvigt komponerat. Men det fanns fortfarande mycket positivt här. Sesambrödet var fint rostat, och köttet var saftigt – fast inte mediumstekt som utlovats utan snarare well done. Vi hade gärna sett mer salt och peppar på burgaren också. Den stekta löken var lite intetsägande sett både till smak och konsistens, men baconet, osten och jalapeñon bidrog med smak och hetta. I slutändan så var vi ändå väldigt nöjda med vår måltid.
Den tillhörande pommes fritesen gjorde varken från eller till, vilket var lite av en besvikelse då den drev upp priset på måltiden. Miss Behave Bar serverar fortfarande en riktigt god burgare, men konkurrensen i Stockholm är stenhård och lågan har faktiskt falnat något.
In English
Miss Behave Bar in Stockholm is a sibling restaurant to Garage Bar in Höganäs (in the south of Sweden), which is one of our top burger places in Sweden. We first reviewed Miss Behave Bar back in 2016, and even though we've visited them again a few times since then it was time for a new review. They are located in the Tullhus 2 building by Skeppskajen in The Old Town, boasting an amazing view over Kastellholmen and Skeppsholmen, and the slightly kitchy and nautical interiors remained unchanged.
Their burger menu consists of a handful of burgers made from fresh Angus chuck, prepared in accordance with the Blumenthal method. And just like last time, we ordered their Animal Style burger for 189 SEK (20 USD), including french fries. It was made from two mustard fried patties, bacon, jalapeños, fried onions and both cheddar and pepperjack. Our burgers didn't look as appetizing as they did last time though. We are used to getting neat and tight burgers here, but our hamburgers this time were quite sloppy. But there were still a lot of positives to be had. The sesame bun was nicely toasted, and the patties were juicy (even though it was more well done than the medium we were promised). The beef could have done with a bit more seasoning too, and the fried onions didn't add much consistency or flavour. But all the other parts, such as the bacon, cheese and jalapeños added a lot of flavour and heat, and overall we were pretty happy with our meal.
The french fries didn't really add much, which was a pity seeing as they made the meal a bit expensive. Miss Behave Bar still serve a really tasty burger, but the competition in Stockholm is really tough and we don't really rank them as one of the best in town any more.