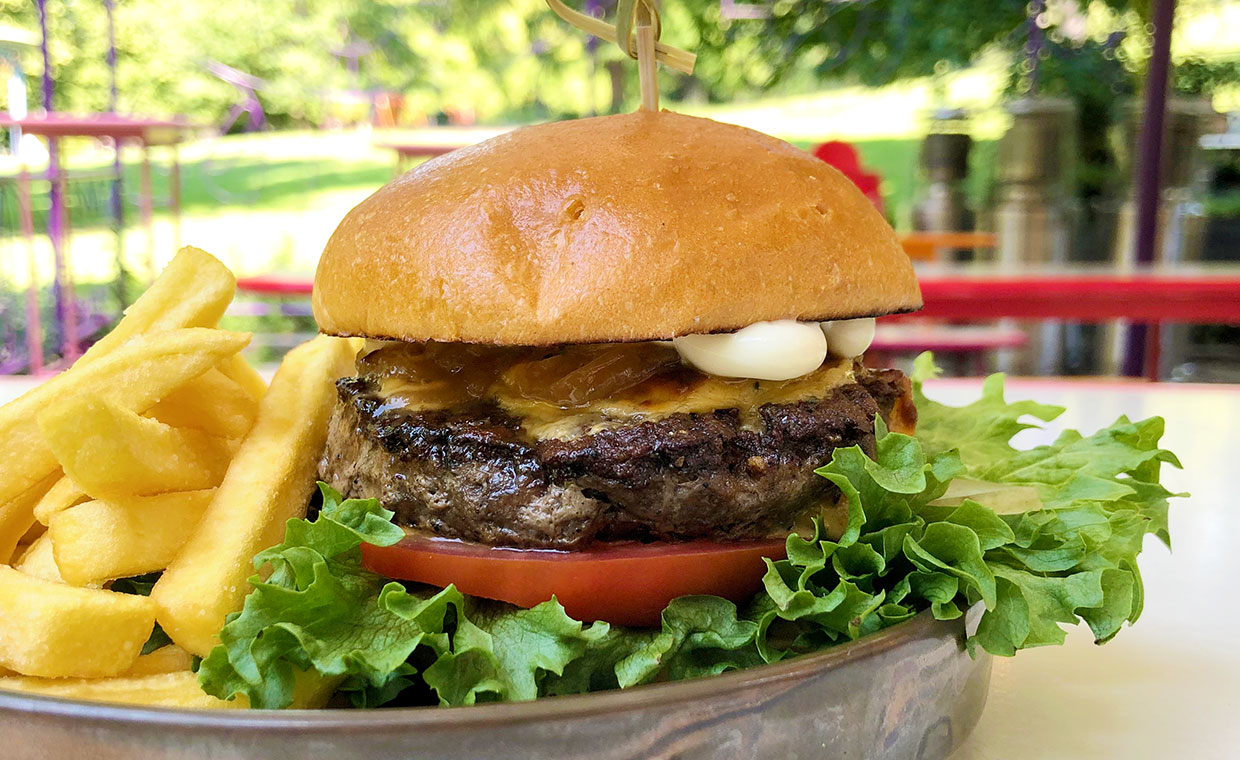 Fantombryggeriet Omnipollo har tagit ölvärlden med storm med sina fantasifulla och banbrytande öl. Under 2015 öppnade de sin allra första bar på Södermalm i Stockholm, och under våren 2019 öppnade de sin efterlängtade ölträdgård Omnipollos Flora, som har öppet under sommarsäsongen.
Omnipollos Flora är vackert beläget i norra Humlegården, omgiven av blommor och grönska. Det är verkligen mysigt att sitta under deras färgglada markiser och dricka ett par kalla öl. Förutom ett stort fokus på glass innehåller deras matmeny skaldjur, mackor och burgare, så vi beställde deras burgare med en puck av mald entrecôte tillsammans med inlagd gurka, majonnäs, havarti-ost, tomat, sallad och karamelliserad lök för 175 kronor.
Burgaren serverades prydligt på ett uppläggningsfat med en portion pommes frites, och allt var omsorgsfullt konstruerat, även om vi är starka opponenter mot att ha en pinne genomborrad genom burgaren. Men redan vid första tuggan kände vi dock att burgaren led av stora problem.
Brödet var mjukt med fin stuns och struktur, men det var också det bästa med hela måltiden. Köttet var ganska torrt och kändes tråkigt. Den krämiga osten jobbade frenetiskt tillsammans med majonnäsen för att göra burgaren saftigare, men räckte tyvärr inte till. Saltgurkan var för salt och dominerade smakupplevelsen, tomaten var överdrivet tjock och salladsbladet i botten var minst sagt gigantiskt. Även den stora mängden karamelliserad lök bidrog med en del problem då den var alldeles för blöt.
Detta är med andra ord en problematisk och dyr burgare som inte riktigt känns hemma i dagens Stockholm, och framförallt inte tillsammans med öl i världsklass. Vi kommer fortsätta att gå till Omnipollos Flora för att dricka öl, men burgaren kommer vi att äta någon annanstans.
In English
The phantom brewery Omnipollo has completely dominated the craft beer world with their imaginative and innovative beers. They opened their first bar in Stockholm's Södermalm district back in 2015, and in 2019 they opened their beer garden Omnipollos Flora in Östermalm.
Omnipollos Flora, is located in the north part of the Humlegården park surrounded by flowers, and is only open during the summer months. We love hanging out beneath their colourful canopies drinking a few cold beers. Apart from their focus on artisanal ice-cream their menu also contains shellfish, sandwiches and burgers, so we ordered their hamburger with a entrecôte patty with pickles, mayo, havarti cheese, tomato, lettuce and caramelised onions for 175 SEK (19 USD).
The burger came neatly served on a metal tray with an order of fries. It looked great, even though we really don't like skewers through our hamburgers. But the problems were immediately noticeable after just one bite.
Sure, the bun was soft and bouncy, but that was the most positive thing about our meal. The patty was dry and quite unappetizing. The creamy havarti cheese worked overtime with the mayo to make the hamburger juicier, but they weren't enough. The salty pickle overpowered most other flavours, and we weren't fans of the thick tomato and large piece of lettuce either. The large amounts of caramelised onions didn't help either, and were one of the contributing factors for our burger turning into a soggy mess.
Omnipollos Flora's burger is far too expensive to have this many problems, and doesn't feel at home in today's Stockholm – especially not paired with world-class beers. We'll keep on visiting them of course, but we'll be eating our burgers somewhere else.