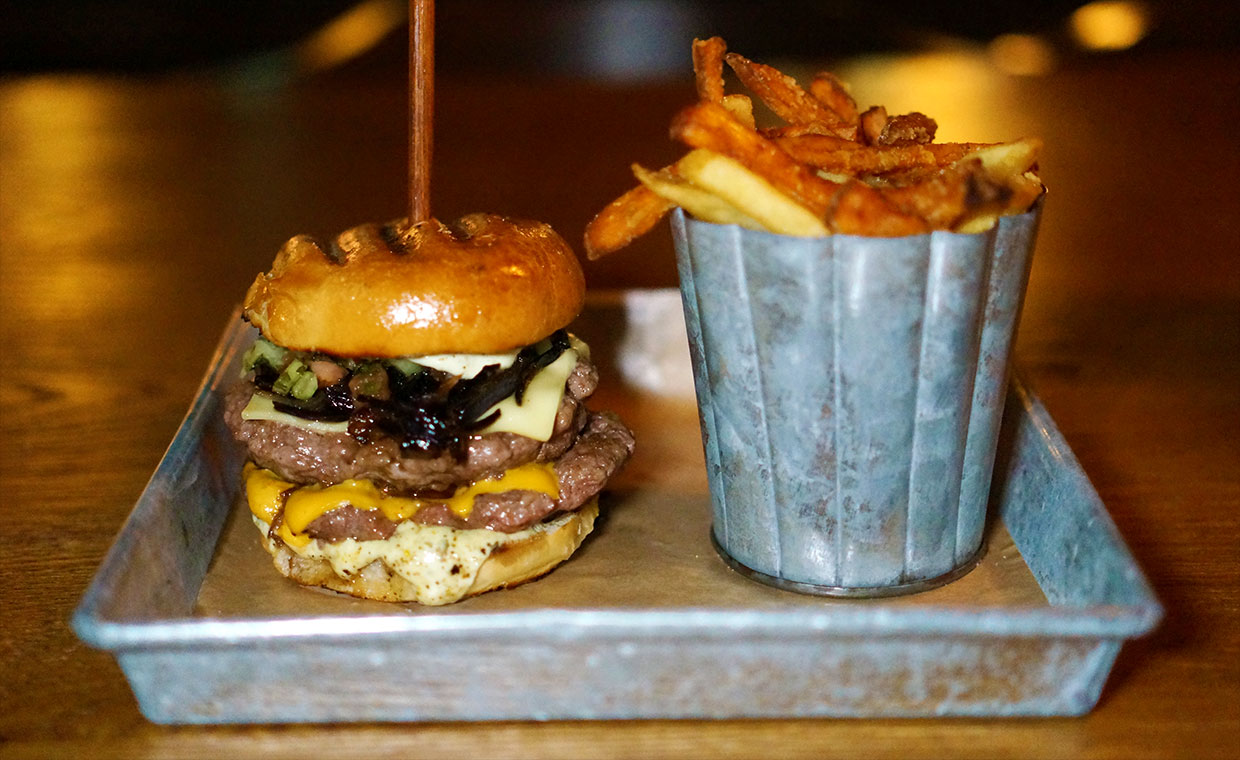 Poké Burger ligger en bit ifrån Alviks tunnelbanestation i Stockholm, och har en ganska stor lokal med loungeaktig känsla. Namnet anspelar på den andra delen av menyn – hawaiianska poke-skålar med ris och fisk. Som tur är består menyn av dessa två individuella maträtter, och inte en Frankensteinskapelse av dem bägge.
På burgarsidan finns i alla fall åtta olika hamburgare med blandade inriktningar; från enkla med rätt så vanliga ingredienser till stora där allt möjligt sätts in mellan bröden. Priserna varierar mellan runt 150 kronor till nästan 300 kronor.
Vi fastnade för deras The Hot Mama som lockade med lite hetta och enkelhet. Den hade en lagom stark jalapeño-majonnäs, karamelliserad lök, Israelsallad, cheddar och Queso de Iberico.
Brioche-brödet var ganska litet, vilket gav hamburgaren ett ganska kompakt utseende på tallriken. Det var lite torrt på insidan, men ändå ganska mjukt upp- och nedtill. Köttet var aningen hårt och helt genomstekt, men smakade ändå gott.
Israelsalladen bestod av hackade finhackade grönsaker, lite som en pico de gallo med olja och kryddor, och gav en intressant textur och smak. Queso de Iberico-osten, som de har på de flesta av sina burgare, gav även den en annan känsla med sin kompakta struktur.
Våra initiala förväntningar var inte jättehöga, men Poké Burger lyckades ändå överraska oss positivt med sina intressanta val av smaker och texturer.
In English
Poké Burger is a fairly large and lounge-like restaurant by the Alvik subway station in Stockholm, Sweden. Here they serve burgers and poke bowls (and thankfully not a combination of them both). Their burger menu consists of eight burgers, from simple things with fairly ordinary toppings to large burgers with a lot of different ingredients, with prices ranging between 150 and 300 SEK. We ordered their The Hot Mama with a nicely spicy jalapeño mayo, caramelised onions, Israeli sallad, cheddar and Queso de Iberico. The small brioche bun was a bit dry and made the burger look unnecessarily compact, and the patty was a bit overdone – even though it tasted good and had a nice structure to it. The diced and well-seasoned Israeli salad had an interesting texture and taste, and we also liked the mouthfeel from the Queso de Iberico cheese. All in all, Poké Burger's unusual toppings worked well together, and exceeded our expectations.