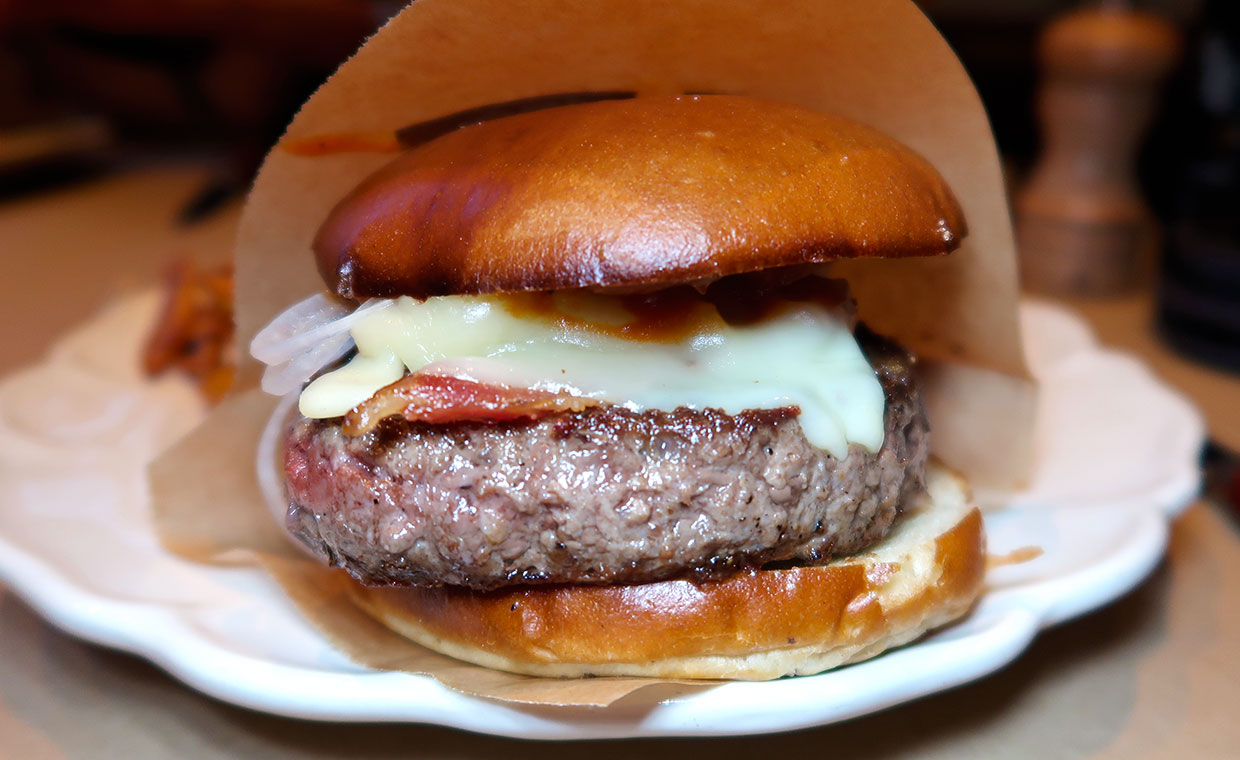 Vår första recension av Restaurang AG publicerades under våren 2015. Sedan dess har deras frontman Johan Jureskog både axlat rollen som programledare för tv-serien Världens bästa burgare samt öppnat dörrarna till burgarkedjan Jureskogs. Vi tyckte helt enkelt att det var dags att uppdatera recensionen och ta reda på vad som har ändrats under dessa fyra år.
Vi har alltid gillat Restaurang AG som restaurangkoncept. Skön stämning, professionell personal, högkvalitativa köttbitar och en genomtänkt dryckesmeny. Men när det kommer till burgare har vi haft svårt att förstå tankarna bakom vissa beslut och själva tillagningen.
Burgaren är ingen billig historia och kostar 225 SEK tillsammans med en portion pommes frites med tillhörande dippsås och egengjort ketchup. Burgaren serverades i en prydlig pappersficka vilket alltid är sympatiskt när man äter burgare med händerna.
Höjdpunkten var såklart själva köttet – mjukt, saftigt och med en härligt köttig smak. Det var stekt medium rare efter deras rekommendation, och hade en angenäm rosa kärna i mitten. Men den saknade nästan stekyta helt, och var lite väl mjuk. Och bortom köttet så led tyvärr resten av måltiden av flera problem.
Baconet var en sladdrig historia och Svarta Sara-osten var knappt smält. Brödet blev snabbt blött av köttsafterna på grund av den undermåliga rostningen, och eftersom alla varma ingredienser bara var snäppet varmare än rumstempererade så såg den kalla tomaten till att allt blev ljummet. Och även om den dubbelfriterade pommes fritesen såg gyllenbrunt vacker ut så var den överraskande mjuk och oljig.
Som ni förstår så var vi inte helt nöjda med burgaren hos Restaurang AG denna gång heller, och vi kan inte riktigt förstå hur denna burgare kan vara kvar på menyn hos denna anrika restaurang. Den behöver faktiskt ses över från grunden och få samma kärlek från köket som deras berömda köttbitar.
In English
We published our first review of Restaurang AG during the spring of 2015. Since then, their founder Johan Jureskog has taken on the roll as a tv host for a burger show and opened the fast-casual burger chain Jureskogs. So it felt fitting to update our review and find out what has changed over the last 4 years.
Restaurang AG's concept has always been a favourite of ours, with their amazing atmosphere, skilled staff, top-notch meat and a holistic drink menu. But on the other hand we've never really seen eye to eye when it comes to their burger, regarding both their ingredients and how they cook it.
Priced at 225 SEK (about 23 USD) with fries, homemade ketchup and a dip, this is no cheap affair. It came served in a paper pocket, sending a clear signal that this is a meal you need to eat with your hands.
The highlight of our meal was the meat itself – soft, juicy and with a deep meaty flavour. It came served medium rare after their recommendation, and had a nice pink centre. However, it almost lacked any char whatsoever, and was very soft throughout. And apart from the tasty meat, the rest our burger had several problems.
The bacon was far too soft, and the Svarta Sara cheese had hardly melted. The bun had hardly had been toasted on the inside, making it became super soggy from the meat juices. And since all the cooked ingredients were warm rather than hot, they quickly became luke-warm – and the cold tomato didn't help either. The double fried french fries were golden brown and looked super-tasty, but they were surprisingly soft and oily.
As you can see, we weren't that satisfied with the burger at Restaurang AG this time either, and we can't really understand why they've kept in on their menu in its current form. It deserves the same kind of love as their other meat dishes, and is overdue for a complete overhaul.