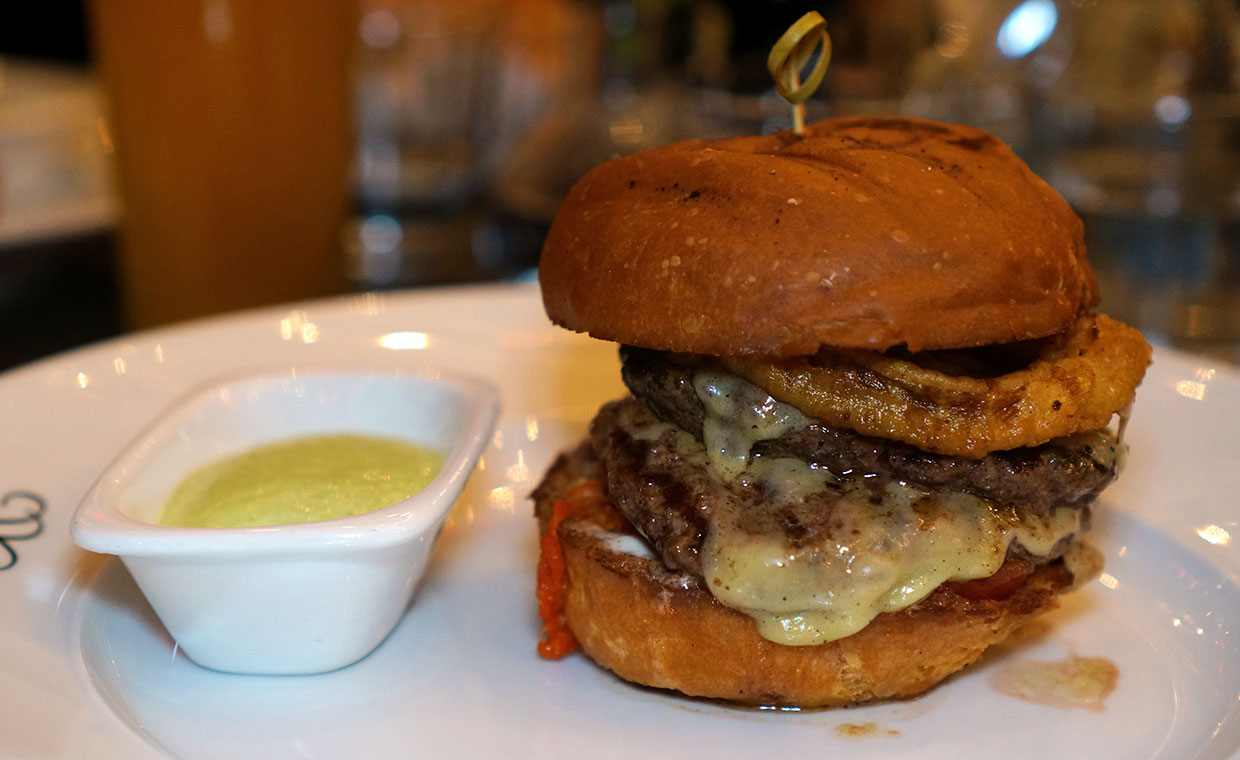 Riche är en institution som de flesta från Stockholm känner till då restaurangen öppnade redan 1893. Restaurangen är i brasseriestil, men de har även haft en burgare på menyn de senaste 20 åren vilket nog var iögonfallande när den kom. Lustigt nog så tog Riche bort burgaren från menyn kort efter vårt besök (och endast ett par dagar före publicering), men vi uppfyller vårt publicistiska ansvar och presenterar recensionen ändå – ifall de skulle få för sig att låta den göra comeback. För tiden har verkligen gått ifrån dem.
Vår Richeburgare var en dubbelburgare gjord på högrev med ost, sobrasada (en bredbar fläskkorv med paprika), tomat, jalapeños och en lökring. Denna serverades tillsammans med pommes frites och dipp för 225 kronor.
För att börja med något positivt så var pommes fritesen goda och hade en fräsch tillhörande dipp. Men där tog det roliga slut. Det ganska så intetsägande brödet var inte tillräckligt rostat, och det undre brödet var uppblött till en degig röra av den flottiga sobrasadan. Och trots att köttets stekgrad var okej och lite rosa så var det ofantligt torrt på insidan. Osten var mer tuggig än smältig och den friterade lökringen precis under det övre brödet gjorde burgaren instabil och svåräten.
Riche fortsätter såklart med sin ordinarie meny, och vi förstår faktiskt varför de tagit bort den. För 20 år sedan var den kanske en klassiker, men numera saknas tydligen expertisen som krävs för att hålla laga och komponera en bra burgare, särskilt för den saftiga prislappen. Vila i frid, Richeburgaren – du kommer inte att vara saknad.
In English
Riche is an institution that most Stockholm residents know of, since they've been open since 1893. This brasserie has had a burger on the menu for the last 20 years, making them one of the first high-end restaurants to take the dish seriously back in the day. Strangely enough, announced that they're retiring the burger from their menu shortly after our visit, but we're publishing it anyway, just in case they try to give it a comeback.
The Richeburger contained two chuck patties with cheese, sobrasada (a spreadable pork sausage with red peppers), tomato, jalapeño and an onion ring. It was served with french fries and a dip for 225 SEK.
Sure, the fries were nicely crispy and the dip had a nice freshness to it, but the good parts end there really. The bread was very plain and hadn't been toasted enough, which let the greasy sobrasada quickly dissolve the lower bun. The patties were pink in the middle, but both dry and tasteless. The cheese was more stringy than melty, and the fried onion ring under the top bun felt out of place and made the burger difficult to eat.
Riche will of course continue with their regular menu, but we understand why the burger has been retired. 20 years ago it might have been a classic, but in this day and age it's clear that they simply can't keep up. Rest in peace Richeburger – you won't be missed.