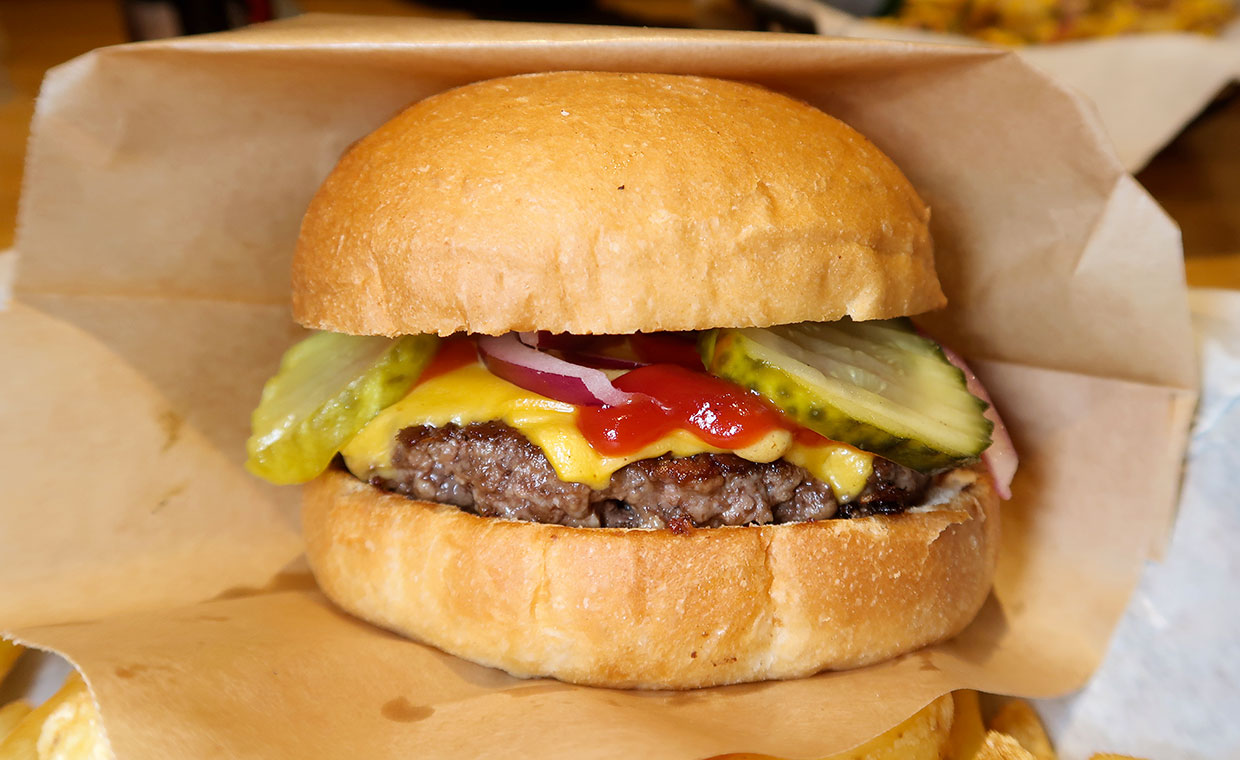 Sonjas Burgare har en enkel gatuköksrestaurang på östra sidan av Stockholm, nära Orminge Centrum (relativt nära Jett'z Burger, så konkurrensen är någorlunda hård). Det finns gott om sittplatser både inomhus och utomhus, när säsongen tillåter. Menyn rymmer åtta burgare plus lite annat smått och gott, och alla hamburgare går att få med kyckling istället för grovmalen högrev. Vi valde att testa en Klassiker med ost, lök, senap och ketchup. Den innehöll även saltgurka, vilket vi inte syntes på menyn men som ändå kändes helt rätt. Med pommes frites gick vår 160-gramsburgare på 90 kronor, och eftersom vi var där på lunchen ingick dessutom en dricka i priset.
Burgaren vi fick var förvånansvärt anonym. Köttet var klart godkänt. Smakrikt med en trevlig stekyta, om än aningen tuggigt. Brödet var dessutom mjukt och höll ihop bra. De övriga ingredienserna bjöd på klassiska smaker. Det här var verkligen en klassisk burgare, på både gott och ont. Ingenting stack ut och inget kändes fantastiskt, men det fanns heller inget något speciellt att klaga på. Även pommes fritesen var av vanlig grillkiosktyp, visserligen med en rätt trist och pappliknande kvalitet.
Sonjas Burgare levererar en lagom burgare till ett lagom pris som sannolikt kommer att göra dig lagom nöjd. Det kanske låter lite hårt, men vi hade hoppats på lite mer av ett nyöppnat burgarhak i Stockholm, med tanke på hur mycket kunskapsnivåerna har höjts de senaste åren.
In English
Sonjas Burgare have a small grill kiosk restaurant to the east of Stockholm, near Orminge Centrum (relatively close to Jett'z Burger, making for some stiff competition). They have plenty of seating, both indoors and outdoors – weather permitting. Their menu includes 8 burgers and a few other dishes, and all hamburgers can be ordered with chicken instead of coarsely ground chuck. We ordered a Klassiker burger, with cheese, onions, mustard and ketchup (plus pickles, which weren't present in the menu description but suited the burger perfectly). With fries, our 160 gram patty burger cost 90 SEK (9 USD). And since we visited them during lunch hours, a soft drink was included in the price.
The actual burger itself was surprisingly anonymous. The meat was tasty and nicely charred, but a bit chewy. The bun was soft and held everything in place, and the other ingredients added to the classic feel – for better or for worse. Nothing really stuck out or felt great. Thankfully, we didn't have any real complaints either. Even the french fries were of the classic grill kiosk variety, even though that meant that they were pretty boring.
Sonjas Burgare serve an adequate burger at an adequate price point that will leave you feeling … well, adequate. This might sound a bit harsh, but we had kind of expected a bit more from a new burger joint Stockholm, seeing as the quality level has risen so dramatically in recent years.