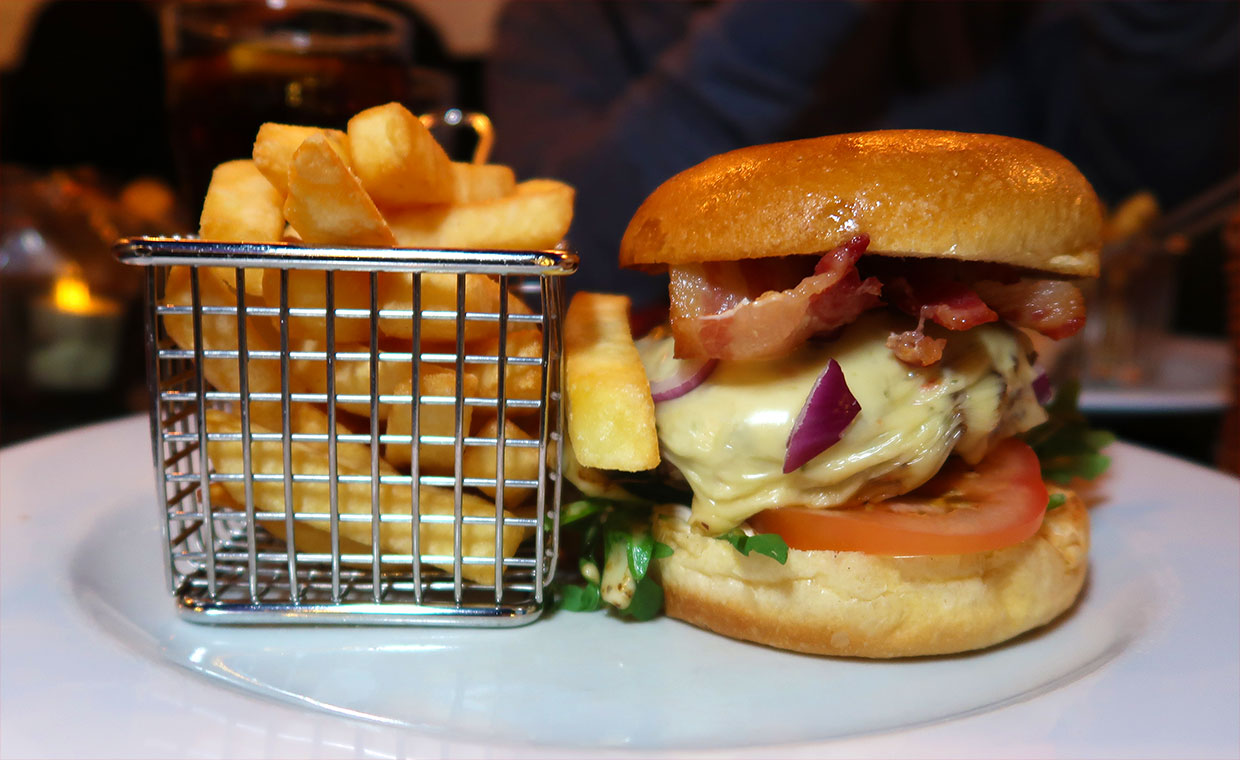 Tudor Arms är en typisk engelsk pub som finns att hitta på diverse gathörn lite varstans i Stockholm. Den största skillnaden är att detta är den äldsta i Stockholm, med 50 år på nacken och prisbelönt som den bästa brittiska puben utanför Storbritannien. Inredningen är i alla fall typiskt klassisk med brunt trä och grönt läder.  När det gäller burgare så har denna typ av pubar sällan tyvärr presterat särskilt bra, men efter ett tips från er läsare bestämde vi oss för att göra en egen bedömning.
Burgaren på menyn är en Bacon Cheeseburger med pommes frites och en lökring som tillbehör, för 189 kronor. På själva burgaren hittas bacon, ost, sallad, tomat och coleslaw.
Problemen var direkt märkbara när vi tog på brödet, då det var täckt av en hård skorpa. Salladen de hade valt var rucola, vilket sällan samspelar med övriga burgaringredienser på grund av sin starka smak. Att kalla köttpucken för en puck kändes nästan fel då den påminde mer om en boll till formen, och saknade nästan stekyta och smak helt. Baconet låg slappt och borde ha stekts hårdare både för smakens skull och för att vara krispigare än brödet.
Vi kan helt klart rekommendera stämningen på Tudor Arms och kommer gärna tillbaka, men deras burgare känns tyvärr lika påtvingad och trist som den brukar göra på traditionella pubar.
In English
Tudor Arms is a classic English pub in Stockholm. These aren't very uncommon, but they're the oldest one in the Swedish capital (celebrating 50 years in 2019) and have been awarded the best pub outside of England. The interiors are typically dark, with loads of wood and green leather. And to be honest we usually don't review pub burgers, but a tip from a reader compelled us to pay them a visit.
Their Bacon Cheeseburger with french fries and an onion ring costs 189 SEK (approximately 20 USD), with the burger containing cheese, bacon, rocket, tomato and a coleslaw. The first of many problems became apparent as soon as we touched the bun, since it was covered with a hard crust. The rocket's peppery taste didn't work well with the other ingredients either, and the round patty lacked any char, and didn't taste very much either. The bacon was a bit undercooked, and was much softer than the bun. We would have preferred it if the roles were reversed.
We love the cozy atmosphere at Tudor Arms, but their burger feels about as relevant on their menu as it does at most pubs. We'll most probably give it a miss next time we visit.