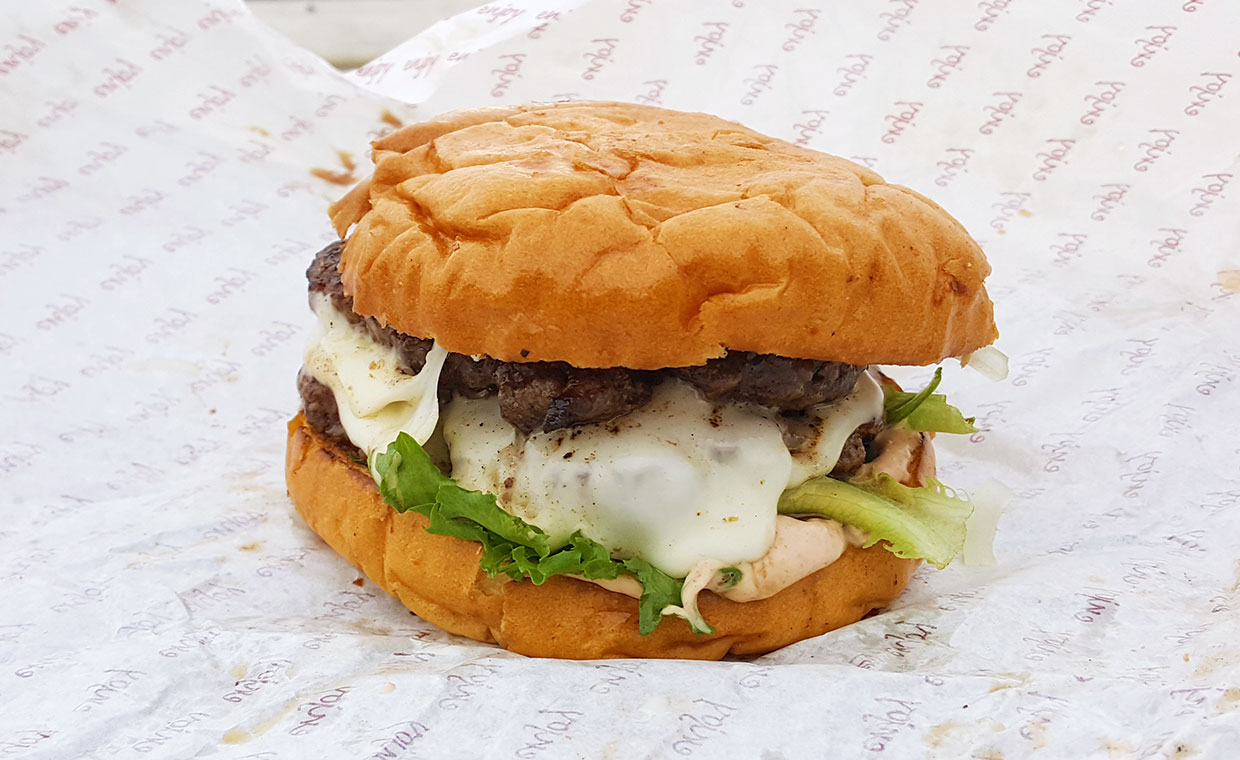 American Steakhouse Burgers är ytterligare ett tillskott till Uppsalas ständigt växande hamburgerställen. Deras foodtruck står i ett något oinspirerande industriområde (inte helt olikt Dylan's Grill på andra sidan av Uppsala), men låt inte det avskräcka dig.
På menyn finns sju olika burgare varav ett vegetariskt alternativ. Priserna ligger på 60 till 70 kronor för en 100-gramsburgare, samt 30 kronor extra för en extra köttpuck. Vi valde en dubbel Louisiana med bacon som dessutom kom med sallad, egeninlagd gurka, tomat, gul lök, american cheese och deras egen dressing.
Köttet var mycket saftigt och varsamt tillagat på kolgrillen. Inga klagomål här inte! Brödet var fluffigt och mycket gott och lyckades dessutom hålla kvar köttsafterna på ett föredömligt sätt. Ostens krämighet och smak passade perfekt, och den egeninlagda gurkan bidrog med lagom sälta. Och vi vet inte vad de har gjort med sitt bacon, men det var bland det bästa vi har smakat på en burgare i Sverige – vilket säger en hel del!
Trots sitt ganska intetsägande namn är American Steakhouse Burgers en mycket prisvärd foodtruckburgare som definitivt står sig i Uppsalas tuffa konkurrens! Och sedan april står de även i centrala Uppsala – så nu finns det inga ursäkter att inte besöka dem.
In English
American Steakhouse Burgers are yet another addition to the ever growing burger scene in Uppsala, Sweden. The cheap burgers cost 60-70 SEK for a single 100 gram patty and another 30 SEK per extra patty. We ordered a double Louisiana with extra bacon, containing 200 grams of chargrilled beef, lettuce, bacon, house pickles, tomato, onions, american cheese and dressing. The beef pattys where extremely juicy and perfectly cooked on the chargrill. The bun was soft, tasty and did an amazing job containing all the burger juices. The cheese, pickles and the rest of the condiments were good too, but the real star was the bacon. It tasted amazing, and was some of the best we've had on a Swedish burger. And they'll be opening a second food truck in central Uppsala soon as well, so don't worry if you haven't been able to make the trip to their faraway location.