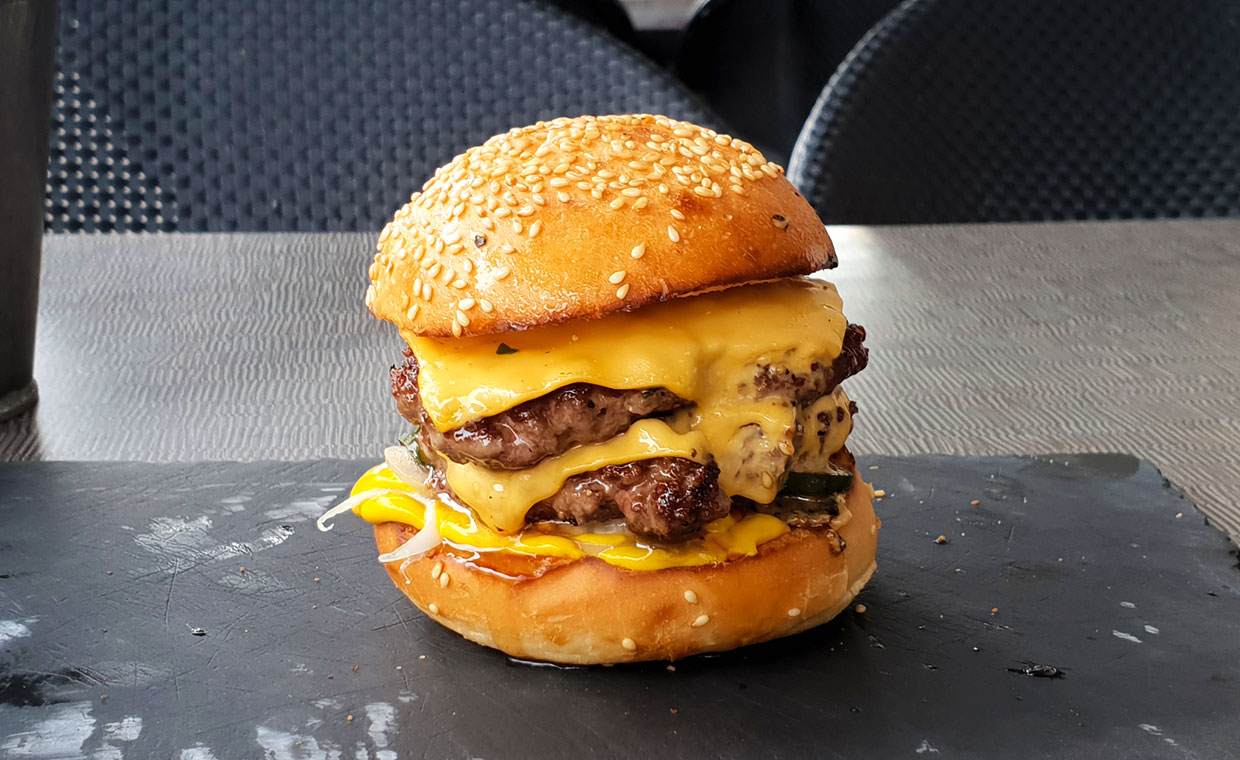 Grilleriet Burgers finns i Växjö och Kalmar, och har tillagat kvalitetsburgare sedan 2015. Menyn består av tio olika burgare, varav en vegetarisk och en vegansk; så här finns verkligen något för alla. Deras egen köttblandning består av 70 % högrev och 30 % bringa, och de bakar sitt eget bröd – något som såklart anstår ett burgarställe av dignitet.  Vårt val föll på en "Mustard Burger" med 2 st. 85-gramsköttpuckar, cheddar, silverlök, dillpicklad gurka, söt senap och en het ketchup. Den kostade 145 kronor utan tillbehör.
Utseendemässigt så var hamburgaren väldigt inbjudande. Köttet var otroligt saftigt, smakrikt och tillagad vackert rosa precis som vi beställt den. Det märktes direkt att de använder nymalet kött av mycket hög kvalitet. Brödet var lätt rostat men ändå mjukt och följsamt med en härligt smörig smak. Cheddarosten var god och kändes som ett steg upp från den standardiserade "fulcheddarn" som de flesta hamburgerrestauranger använder. Deras egeninlagda pickles var en riktig höjdare och med sötman från senapen och den något starka ketchupen så fick burgaren en fin harmoni. Trots bristen på utsvävningar så konstaterade vi att den var allt annat än tråkig. Vi testade även deras "Karl Johan" med dubbla köttpuckar, gruyère-ost, karljohanssvampsmajonnäs och råfriterad lök. Den var om möjligt ännu bättre med rejäla umamismaker, samtidigt som den stack ut lite från standardburgarna.
Grilleriet Burgers är inte en billig restaurang, men vi kan inte göra annat än att utnämna dem till ett av södra Sveriges absolut bästa burgerställen, i hård konkurrens med Garage Bar i Höganäs. Grilleriet är definitivt värt en omväg för hamburgerälskare, och vi ser redan fram emot vårt nästa besök.
In English
Grilleriet Burgers in Växjö and Kalmar first opened their doors in 2015. They have a solid menu with ten different burgers (including vegetarian and vegan options), costing 129-149 SEK. They grind their own meat (a 70% chuck and 30% brisket blend) every day, and bake their own buns. We ordered the "Mustard Burger" with 2 x 85 g patties, silver onions, cheddar, sweet mustard, dill pickles and spicy ketchup. The burger looked amazing and the flavours didn't disappoint either. Cooked perfectly pink, it oozed juices and tasted satisfyingly meaty. The lightly toasted but still fluffy bun was buttery, the homemade dill-pickle was delicious and the hot and spicy mustard and ketchup created an amazing dining experience. Wow! This is one of the best burgers we've had in the in south of Sweden. Grilleriet are well worth a detour if you're nearby, and we're already looking forward to our next visit!