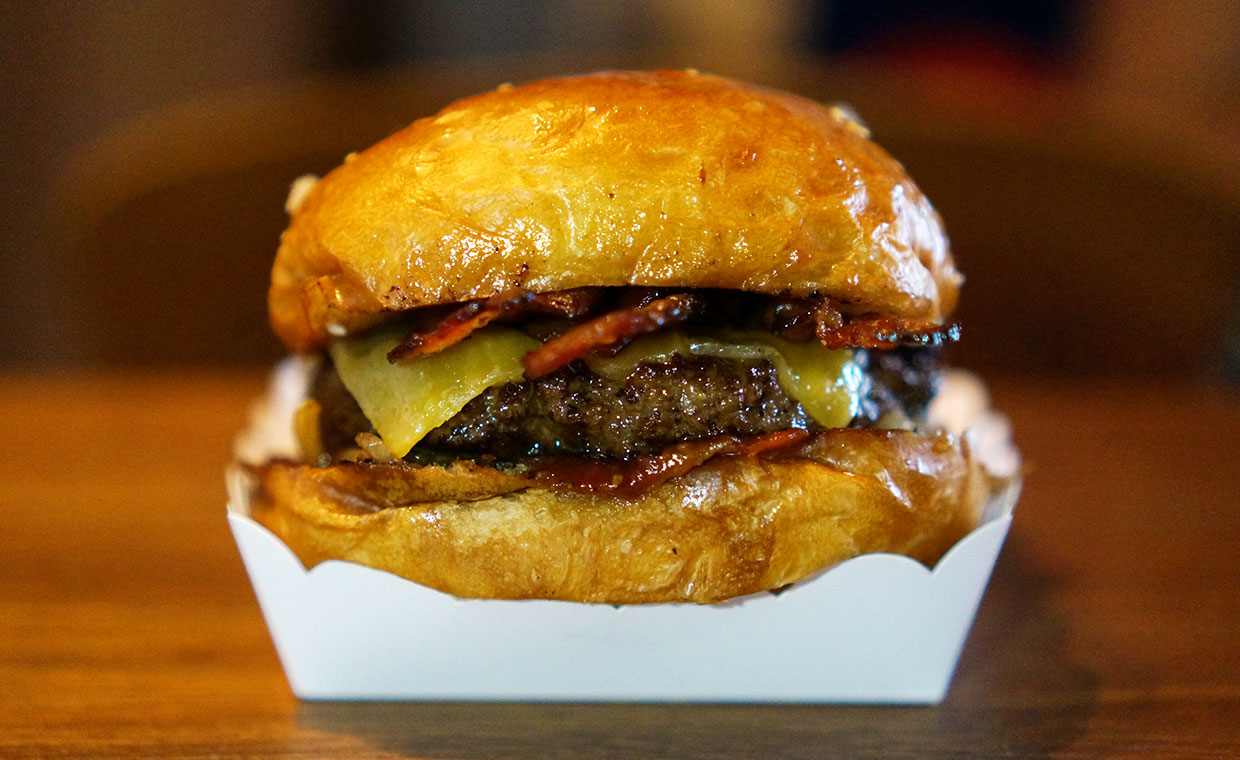 Daniel Thaiger är namnet på en foodtruck och en restaurang i Bangkok. Mark Falcioni från Kalifornien öppnade en liten röd foodtruck som och döpte den efter sin äldsta son när han kände avsaknaden av bra burgare i Thailands huvudstad. Trucken blev känd för att ha Bangkoks bästa burgare och har sen dess expanderat till en permanent restaurang, och det var den som vi besökte.
Menyn innehåller tre burgare som alla innehåller wagyu-biff eller lammkött. De första två var traditionella – cheeseburgare med eller utan bacon som serveras i ett briochebröd med tomat, sallad, grillad lök och deras egen Thaiger-sås. Cowboy-burgaren innehöll varken tomat eller sallad, men hade dubbla mängder bacon, samt jalapeños och barbecuesås. En Cowboy med wagyu-biff var deras dyraste val, och kostade 310 baht, mostvarande 80 kronor.
Visuellt var brödet oväntat mörkt, men smaken var ändå både fluffig och söt. Köttet var ganska saftigt och smakrikt, men den var lite väl tillagad trots att vi beställde den medium efter kockens rekommendation. Baconet var krispigt och smakade gott, och den något söta såsen var ordentligt rökig och god. Även osten och den grillade löken passade bra, och det är just dessa distinkta smaker som gör Daniel Thaiger väl värt ett besök om du är sugen på en god burgare i Bangkok.
In English
Daniel Thaiger is a foodtruck and a restaurant in Bangkok, Thailand, that was named after the founder's oldest son who missed the burgers from California. The They serve a cheeseburger, bacon cheeseburger (with tomato, salad, grilled onions and their own Thaiger Sauce) and a "Cowboy" burger (without salad or tomato, but with more bacon, jalapeños and a bbq sauce). Our first impression was a bit sceptical due to the unexpectedly dark brioche bun, but it was both fluffy and sweet. The meat was juicy, but slightly overcooked despite being the recommended medium. Thankfully everything else was excellent – crispy and tasty bacon, sweet and smokey sauces, creamy cheese and flavoursome grilled onions. We really liked all of these distinct flavours, and can highly recommend a visit if you're in Bangkok and want a good burger!