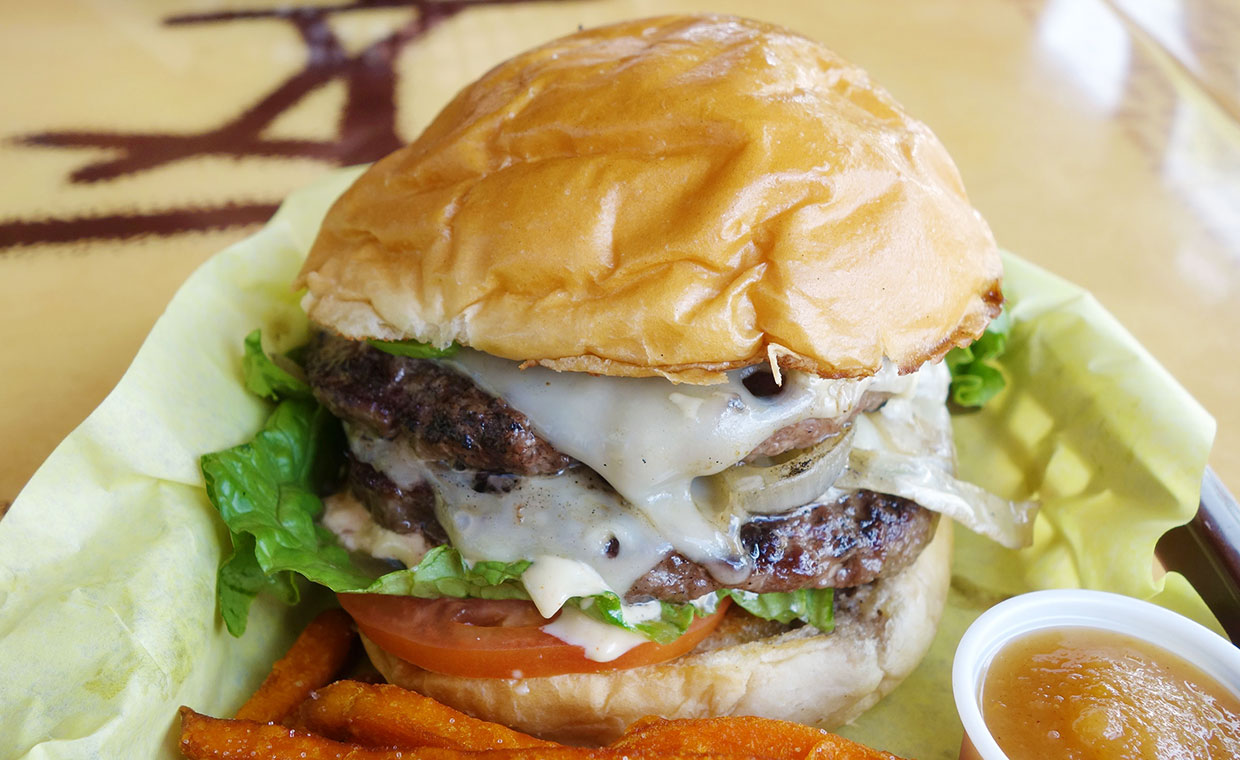 Precis som Burgers and Things så fick Mahaloha Burger ett besök av Johan Jureskog i tv-programmet Världens bästa burgare, men de bjöd oss på en mycket mer angenäm upplevelse. Vi besökte deras restaurang i Kailua, som var mycket mindre hektisk än de två i shoppingcentren Ala Moana och Royal Hawaiian Center.
Vi beställde en dubbel Avocado Swiss-burgare med två 125-gramspuckar av lokalt nötkött samt avokado och schweizerost, och det visade sig bli en positiv överraskning. Vi beställde vår burgare medium rare, men de tunna köttpuckarna var tyvärr väldigt well done. Som tur var så var de ändå saftiga och bjöd på mycket smak, förmodligen tack vare att de grillats. Det smakade ungefär som en lyxig Whopper från Burger King.
Briochebrödet var gott, men alldeles för mjukt, vilket ledde till att måltiden förvandlades till en svåräten geggig röra framåt slutet. Kanske bidrog även allt kladd till Whopper-känslan.
Sötpotatisen var föredömligt goda och krispiga, och tack vare den relativt låga prissättningen lämnade vi restaurangen nöjda, mätta och belåtna. Mahaloha Burger är helt klart en av de bättre hamburgerrestaurangerna på Hawaii.
In English
Mahaloha Burger have three locations on Oahu, Hawai'i, and we visited their small Kailua location. We ordered our double Avocado Swiss burger with two quarter pound patties, avocado and swiss cheese medium, but they were definitely well done. Thankfully the patties were juicy and tasty, and the burger tasted a bit like a high-end Whopper – probably thanks to the meat being grilled. The brioche bun was tasty, but far too soft. And together with the other juicy ingredients, the entire meal turned into a sloppy mess toward the end. But at least it tasted good, and the same thing could be said about the crispy sweet potato fries. After quite a few bad burger experiences on Hawai'i, we left Mahaloha Burger both happy and satisfied.