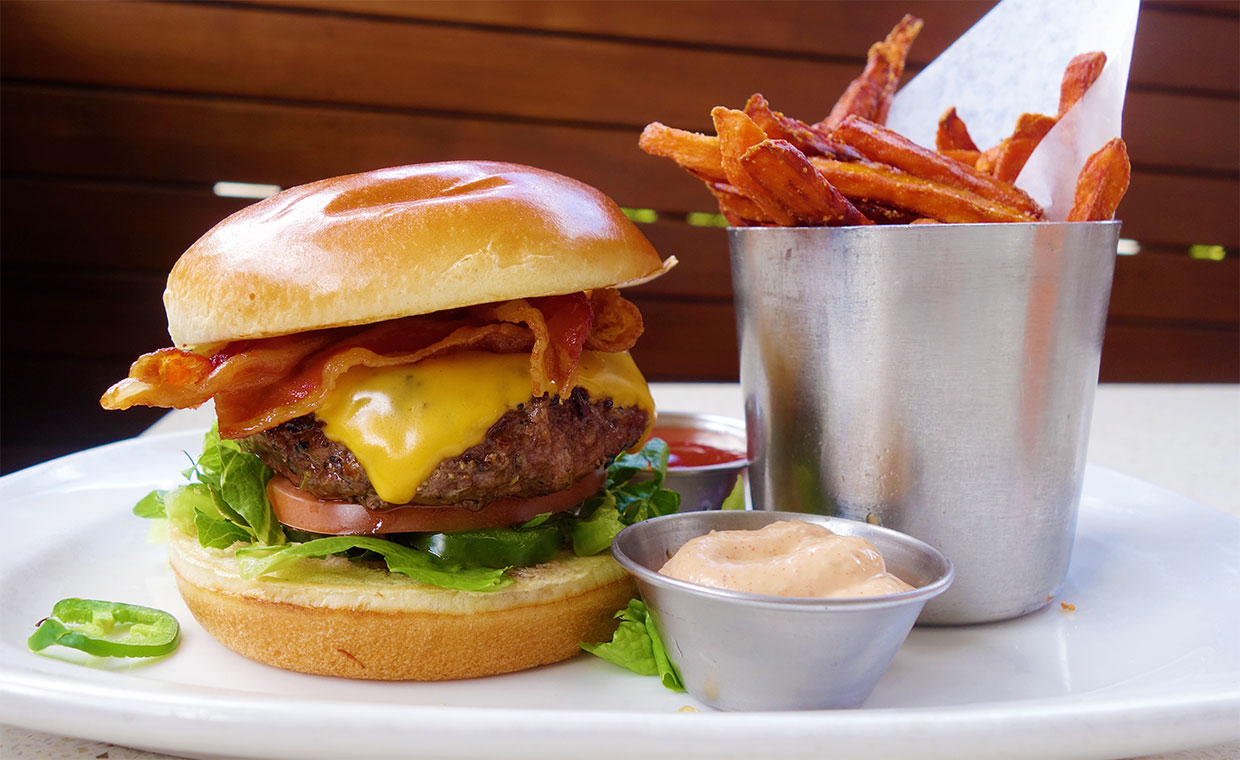 Läs våra åsikter om "Impossible Burger"
The Counter är en amerikansk burgarkedja som har spridit sig över stora delar i världen. Inte nog med att de finns i Europa och Asien – de har till och med expanderat till Afrika. Vi besökte deras restaurang på Oahu, en bit utanför Hawaiis huvudstad Honolulu, och möttes av en imponerande lista med alternativ.
Här finns nämligen över en miljon olika burgarvarianter, då du själv får fylla i ett formulär där du väljer fritt bland sju olika typer av protein, 14 ostar, 23 såser, 37 toppings och sju olika brödtyper. Vi kunde därför välja exakt vad vi ville ha; nämligen en 150-gramsburgare i briochebröd, med american cheese, sallad, tomat, jalapeños, äppelrökt bacon och barbecuesås. Till detta beställde vi även sötpotatispommesfrites.
Vårt första intryck var inte så positivt. Briochebrödet var knappt uppvärmt och köttet var rätt hårdstekt på utsidan, så de första tuggorna var torra och tråkiga. Men sen blev det bättre. Vi hade beställt köttet medium rare, och trots den hårda ytan så var köttpucken saftig i mitten, och dessutom välkryddad och smakrik. Deras färska jalapeños var knapriga och heta, och de fyra skivorna bacon för 1,5 dollar var salta och krispiga.
Sötpotatispommesfritesen var så där exemplariskt knapriga som vi ville ha dem, men den medföljande pepparrotsaiolin var inget vidare. De var dock goda med barbecuesås, så det var nästan tur att den serverades vid sidan av och inte i själva burgaren.
The Counter serverar en klart godkänd burgare, och samarbetet med Impossible Burger gör dem väl värda ett besök.
In English
The US burger chain The Counter has expanded all over the world, and we visited their Hawaii location just outside of Honolulu. With over 1 million combinations, we picked some of our favourite ingredients; a 1/3 lb medium rare beef patty in a brioche bun, with american cheese, lettuce, tomato, jalapeños, apple smoked bacon and barbecue sauce, with a side of sweet potato fries. Our initial enthusiasm was dashed somewhat by the unheated brioche bun and the slightly hard patty, but it got better after a few dry and chewy bites. The meat was nicely pink in the middle, and had a great taste. We especially liked the crunch from the fresh jalapeños and the bacon slices. The sweet potato fries were excellent as well, and even though we weren't blown away by The Counter we definitely recommend a visit – especially to their US locations where they serve The Impossible Burger.