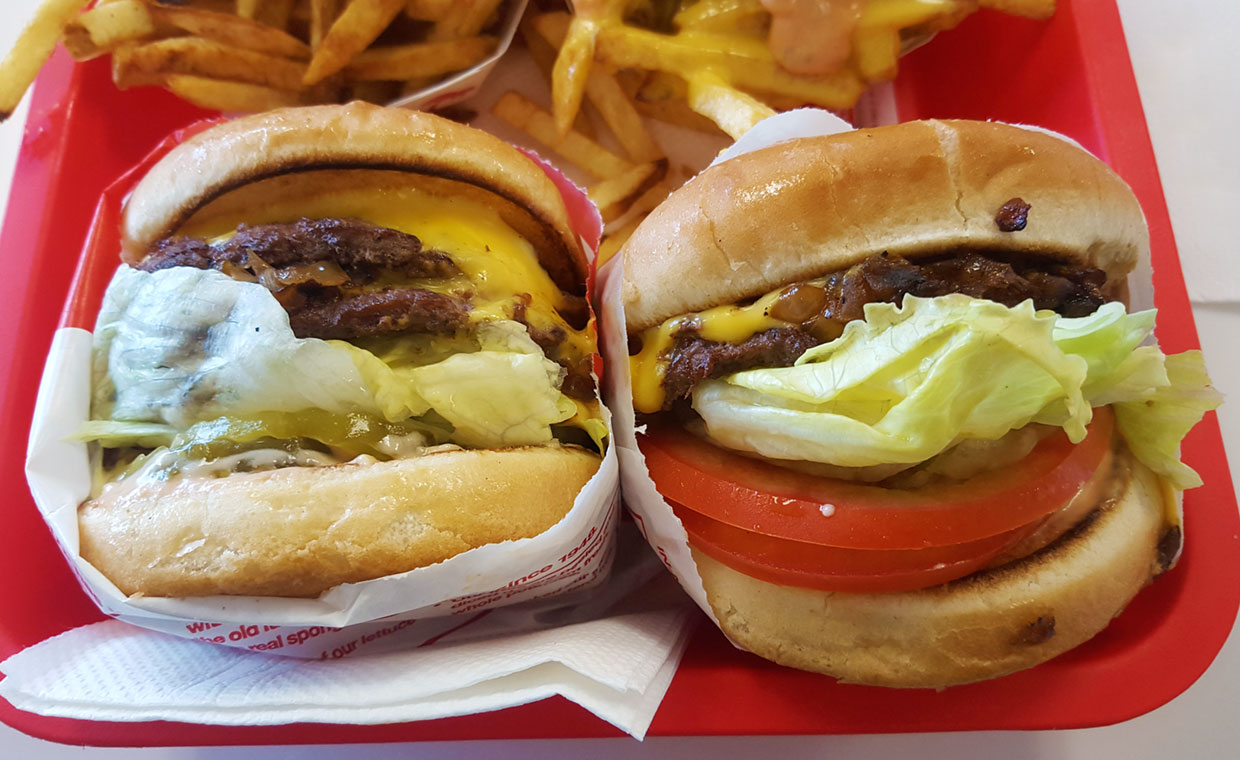 In-N-Out är en storslagen kedja från Kalifornien som startade 1948 och som säljer kvalitetsburgare på USA:s västkust. De har idag fler än 300 restauranger, och allt kött mals dagligen och såväl grönsakerna som brödet är dagfärska.
Eftersom det inte är varje dag man besöker ett sådant mytomspunnet burgarmecka beställde vi en "Double-Double Animal  Style" från deras inte särskilt hemliga meny, och fick en dubbel cheeseburgare med extra dressing, dillpickles och stekt lök, samtidigt som köttpuckarna penslats med senap innan de stekts. Burgarna såg helt fantastiska ut – inte helt olikt reklambilderna i lokalen.
Den första tuggan bjöd på sann burgarharmoni, där köttet trots sin ringa tjocklek var saftigt och fullpackat med smak. Salladen var krispig och den kraftigt röda tomatskivan smakade betydligt mer än de urvattnade tomaterna vi blivit tyvärr vant oss vid. Den hemliga dressingen påminde visserligen mest om en klassisk hamburgerdressing, och den klassiska amerikanska osten passade väl in smakmässigt. Brödet var dessutom luftigt med lagom stuns och ordentligt uppvärmt på stekbordet.
Kombinationen av otroligt färska ingredienser, nymalt kött och ett riktigt bra bröd gör In N Out till en riktig vinnare bland gäller snabbmatsburgare. Diskussionen om de är bättre än Shake Shack pågår fortfarande för fullt, men prismässigt är In-N-Out svårslaget i och med att vår meny med pommes frites och läsk endast kostade 6,70 USD (cirka 60 kronor). Missa dem inte om du befinner dig på den amerikanska västkusten!
In English
In-N-Out is an epic Californian burger temple that opened in 1948. They now have more than 300 locations and their menu is still amazingly simple with fresh meat, vegetables and buns. We ordered a "Double Double Animal Style", i.e. mustard fried double cheeseburgers with extra sauce, dill pickles and fried onions. It tasted amazing, and the patties were packed with flavour despite being so thin. Everything felt fresh, and the bun was nicely toasted. It's hard to say if In N Out serve a better fast food burger than Shake Shack, but price-wise they're a clear winner and they're an unmissable stop if you're on the west coast!