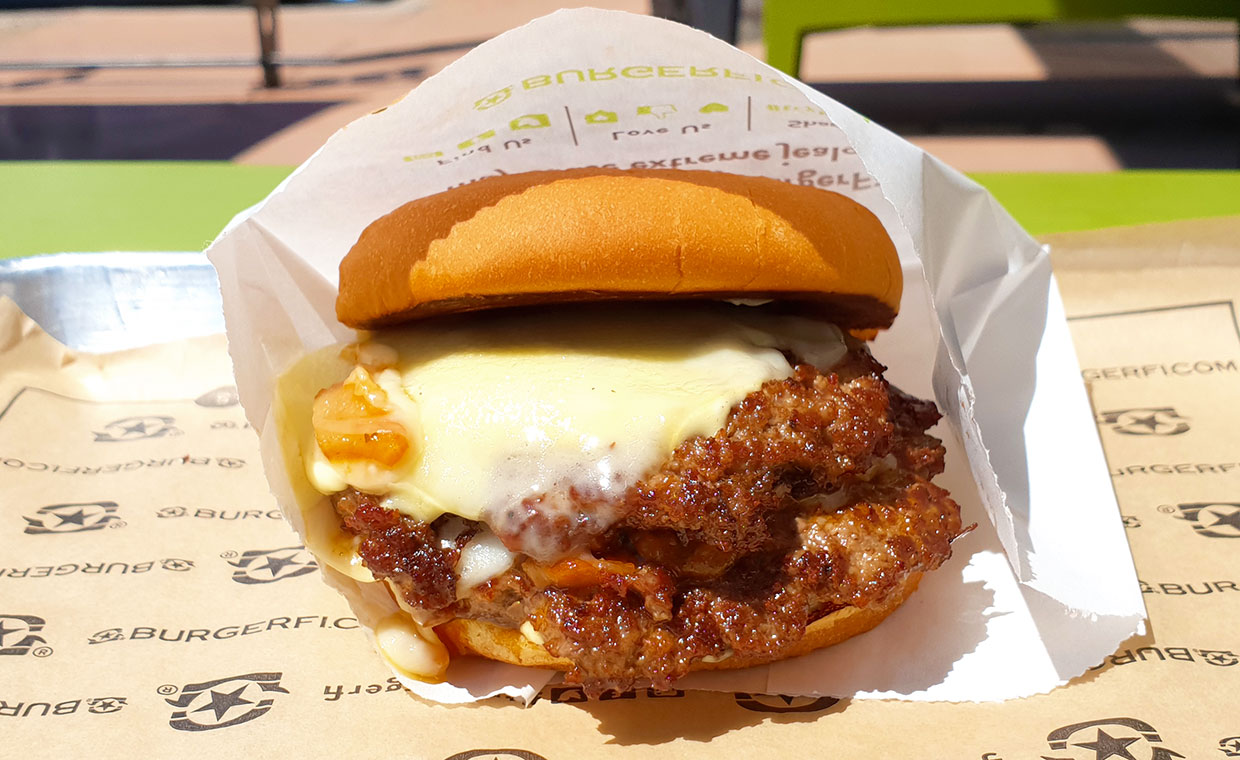 Burger Fi öppnade sin första restaurang under 2011. Sedan dess har de expanderat till fler än 100 restauranger i USA, och de har även tagit sig utanför landets gränser.  De använder endast tillsatsfria ingredienser och Angus-kött av hög kvalitet, något som alltid uppskattas på snabbmatshak. Vi har tidigare hyllat både Shake Shack och In-N-Out Burger som stjärnor på snabbmatshimlen, men BurgerFi har faktiskt visat sig vara strået vassare.
Våra val vid recensionstillfället föll på den spännande The CEO (med dubbla köttpuckar av wagyu och bringa, samt baconsylt, tryffel-aioli och lagrad schweizisk ost) och en Cheeseburger (med dubbla puckar av Angus-kött, samt dubbel amerikansk ost, sallad, tomat och dressing) för cirka 6 USD vardera. Hamburgarna såg faktiskt lite halvdant monterade ut när de anlände, men våra smaklökar fick en rejäl åktur redan från början.
Köttet var fantastiskt smakrikt och otroligt saftigt, särskilt på The CEO. Det perfekt fluffiga brödet var lite frasigt på insidan, och gjorde ett formidabelt jobb med att hålla köttsafterna under kontroll. Tryffelaioli tenderar ofta att ta över rent smakmässigt, men i The CEO var den utmärkt avvägd. Den passade dessutom riktigt bra med den smakrika osten och den smått rökiga och småsöta baconsylten.
Vi tycker att Burger Fi serverar extremt goda hamburgare, och det är nästan lite svårt att förstå att detta är en kedjerestaurang. De har verkligen bevisat att de står sig mot konkurrensen, och är ett självklart val nästa gång du hittar dem.
In English
Burger Fi opened their first restaurant in 2011, and have already expanded to more than 100 restaurants in the United States, and have even opened several international locations. The only use additive-free ingredients and high quality Angus beef, which is always appreciated in a fast-food burger. We have hailed both Shake Shack and In-N-Out Burger as premium fast-casual burger stars, but BurgerFi are actually a step above them.
We recently sampled their The CEO (with double Wagyu and brisket patties, bacon jam, truffle aioli and aged swiss cheese) and their Cheeseburger (with double Angus patties, double American cheese, lettuce, tomato and burger sauce) for about 6 USD a piece. Neither burger looked great in their packaging, but they tasted amazing. The meat was super juicy and exploded with flavours, and the soft, toasted bun handled everything with ease. On the CEO the well-balanced truffle aioli worked great with the flavoursome cheese and the sweetly smokey bacon jam.
Burger Fi serve extremely tasty burgers, and we were a bit blown away that they are a restaurant chain. They've definitely proven that they can handle the competition, and are an obvious choice next time you come across them.