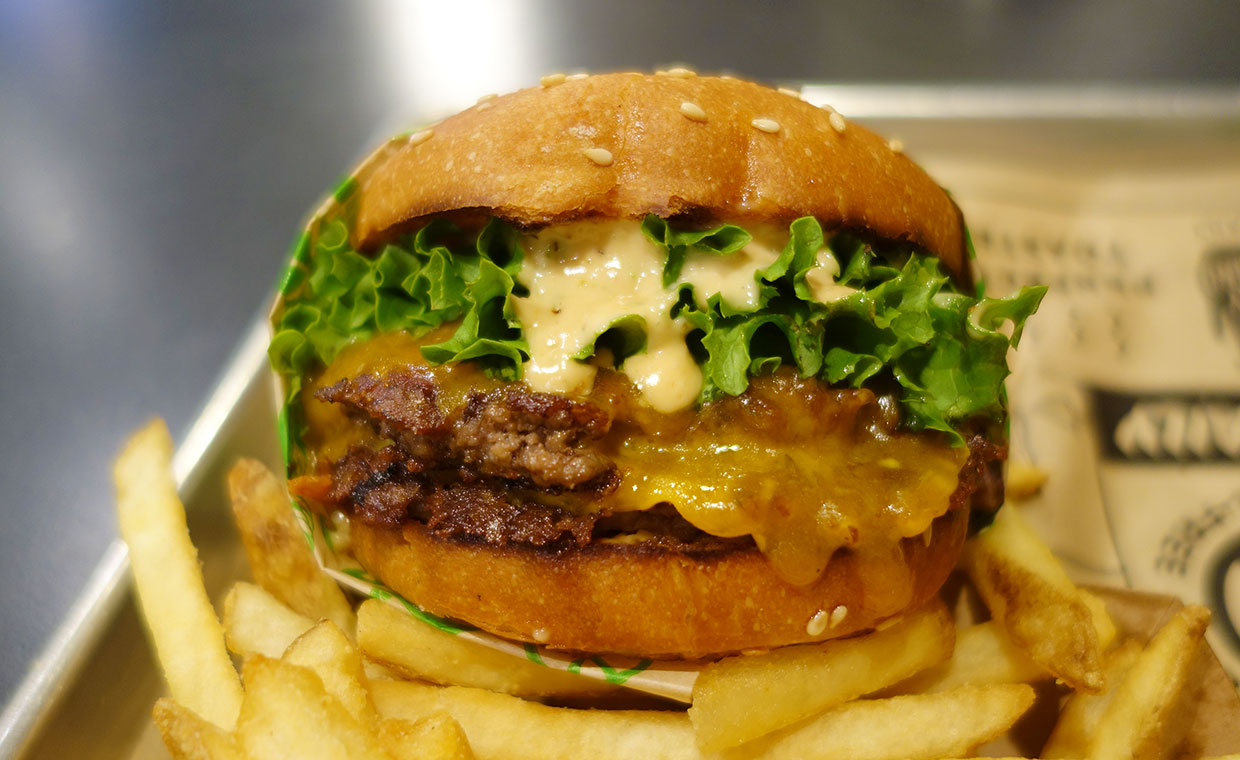 Super Duper Burgers har fler än 10 snabbmatsrestauranger i San Francisco med omnejd, och har blivit en lokal favorit med en stor skara följare. Vi besökte deras restaurang i närheten av Union Square, där kön ringlade sig lång. Menyn var föredömligt kort, med endast ett egentligt val: deras Super Burger – en dubbelburgare på totalt 225 gram kött och deras egen dressing. Vi valde även till ost, samt en portion pommes frites, och priset landade på cirka 11 dollar totalt – alltså en bit under hundralappen.
Vi gillade verkligen köttet, som var mediumstekt som utlovat och som smakade riktigt gott trots att det saltats lite för mycket. Även osten var aningen för salt, och den var dessutom tråkigt hårdsmält som ett lock över köttet. Brödet påminde lite om det på Five Guys – och var rätt tuggigt även om det höll ihop bra.
Deras pommes frites var riktigt goda; och var både matiga och smakrika. De passade dessutom perfekt med den goda senapen och ketchupen från Sir Kensington's – ett uppköp från de traditionella kondimenten från Heinz och French's. Vi uppskattade även den fria tillgången till pickles.
Super Duper Burgers når kanske inte upp i samma klass som snabbmatsfavoriterna In N Out och Shake Shack, men San Francisco-borna har all anledning att vara stolta över sin kedja.
In English
Super Duper Burgers have over 10 restaurants in and around San Francisco, and we visited one of their popular locations near Union Square. We chose the only viable option on their short menu – a Super Burger with 2 four ounce patties with cheese, and some fries. We really liked the patty, which was nicely pink and filled with taste – despite being a bit too salty. However, the cheese was too salty as well, and didn't melt very nicely. The bun was a bit chewy and reminded us of Five Guys, but at least it held together well. Other pluses were their delicious fries, the unlimited amount of pickles and the condiments from Sir Kensington's. We don't really feel that Super Duper Burgers manage to reach the same levels as In N Out or Shake Shack, but San Francisco still ought to be very proud of their mini-chain.