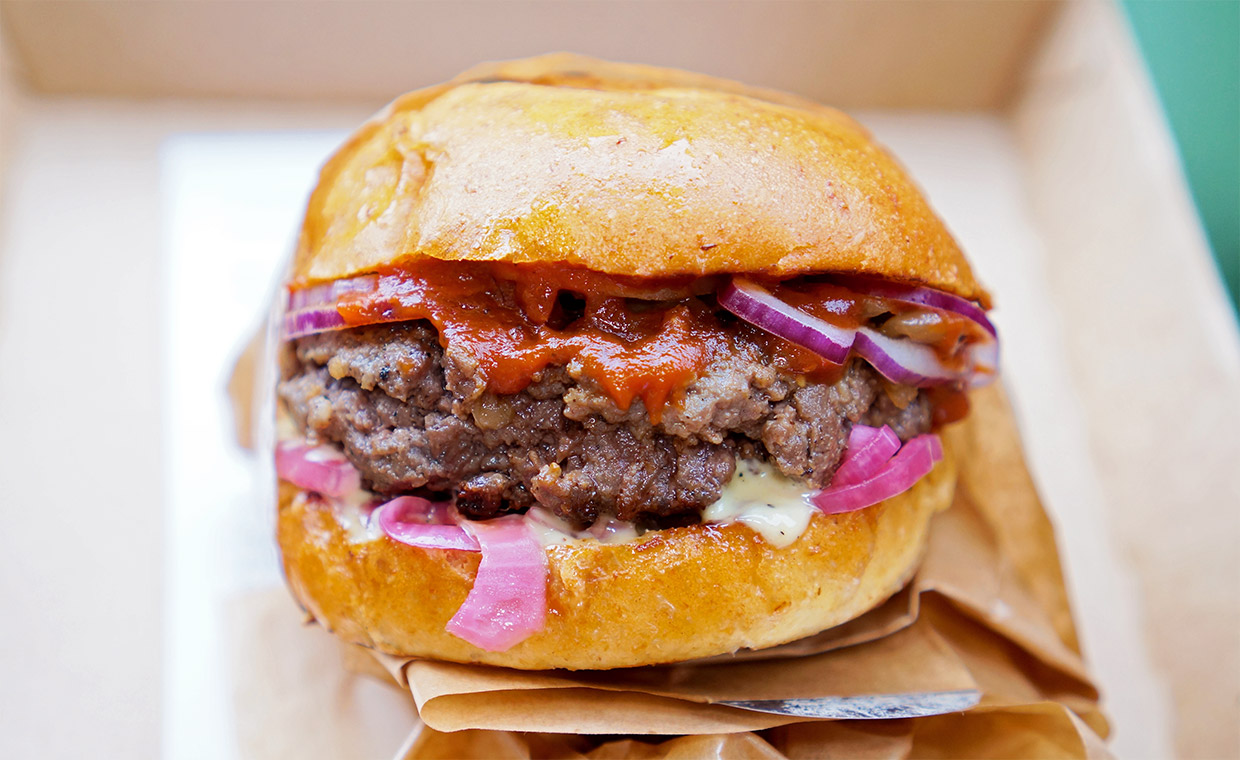 Gastrologik öppnade 2011 i centrala Stockholm, och 2019 fick de sin andra Michelin-stjärna. Under en helg i maj 2021 serverade deras bakficka Ateljé Gastrologik sin första burgare, och även om den inte finns på menyn regelbundet så behövde den recenseras för att ge en måttstock till eventuella uppföljningar.
En del av upplevelsen på en restaurang som Gastrologik är berättelsen om maten, och tillsammans med hamburgaren medföljde ett kort som berättade om rödkullastuten Boris som stod för allt kött, samt även ingående detaljer om bröd och tillbehör. Boris The Burger kostade 185 kronor inklusive en portion pommes frites, och innehöll egengjord ketchup med tomatgarum, majonnäs med rostat biff-fett, senap, en sås på fermenterade kycklingvingar, gul lök confiterad i biff-fett samt rå röd lök. Detta mellan bröd bakat med ölandsvete. Köttet hade hängmörats i tre veckor för att sedan malas inför varje servering.
Köttet hade en djup och rik köttsmak i den rätt tjocka köttpucken, där vi verkligen kände att hängmörningen fått smakerna att blomma ut. Den var fint stekt med en lätt rosa kärna och lagom saftighet. Denna köttsmak togs sedan väl emot av löken, ketchupen och de övriga såserna, vilket skapade en väldigt snyggt balanserad blandning av smaker. Däremot var brödet lite för mjukt för ändamålet, och i kombination med såserna och löken blev hela burgaren lite för enhetlig, mjuk och kladdig. Vi saknade lite mer textur som skulle ge ingredienserna lite mer utrymme.
I skrivande stund vet vi inte om Ateljé Gastrologik kommer att göra något liknande igen, men detta var i alla fall den bästa lyxrestaurangburgaren vi har testat hittills i Sverige. Det var visserligen långt ifrån Minetta Tavern-nivå, men ändå ett stort steg framåt för denna kategori i Stockholm. Vi kommer definitivt att göra ett återbesök nästa gång de serverar en burgare på menyn.
In English
Gastrologik opened in 2011 in central Stockholm, and were awarded their second Guide Michelin star in 2019. During a weekend in May of 2021 their smaller sibling Ateljé Gastrologik served their first hamburger, and even though they don't serve it regularly we decided to review it in case it reappears in the future.
One of the charms with upscale restaurants such as Gastrologik is the stories they tell about the food, and our hamburger was accompanied by a note about the beef from the Swedish Red Polled ox called Boris, plus details about the bun and other ingredients. Boris The Burger cost 185 SEK (22 USD) with French fries, and included homemade ketchup with tomato garum, mayo with roasted beef drippings, mustard, a sauce made from fermented chicken wings, beef-dripping confited yellow onions and raw red onions. It came served in a bun baked with Öland wheat, and the beef itself had been dry-aged for three weeks and was ground before each serving.
The meat had a deep and beefy flavour that worked great in the rather thick patty, which really helped the flavours blossom. It was excellently cooked with a slightly pink and nicely juicy centre, and these flavours were complemented well by the onions, the ketchup and the other sauces – giving the burger a well-balanced mix of flavours. We did find that the bun was too soft and anonymous, and everything felt a bit too samey and soft. We would have liked to have seen some more texture that helped the different ingredients stand out.
At the time of publishing, we don't know if Ateljé Gastrologik will serve more burgers in the future, but this was the best high-end hamburger we've tried so far in Sweden. Sure, they've got a far way to go before reaching Minetta Tavern's level, but this really filled a quality gap in Stockholm and we look forward to revisit them the next time they offer a burger on their menu.