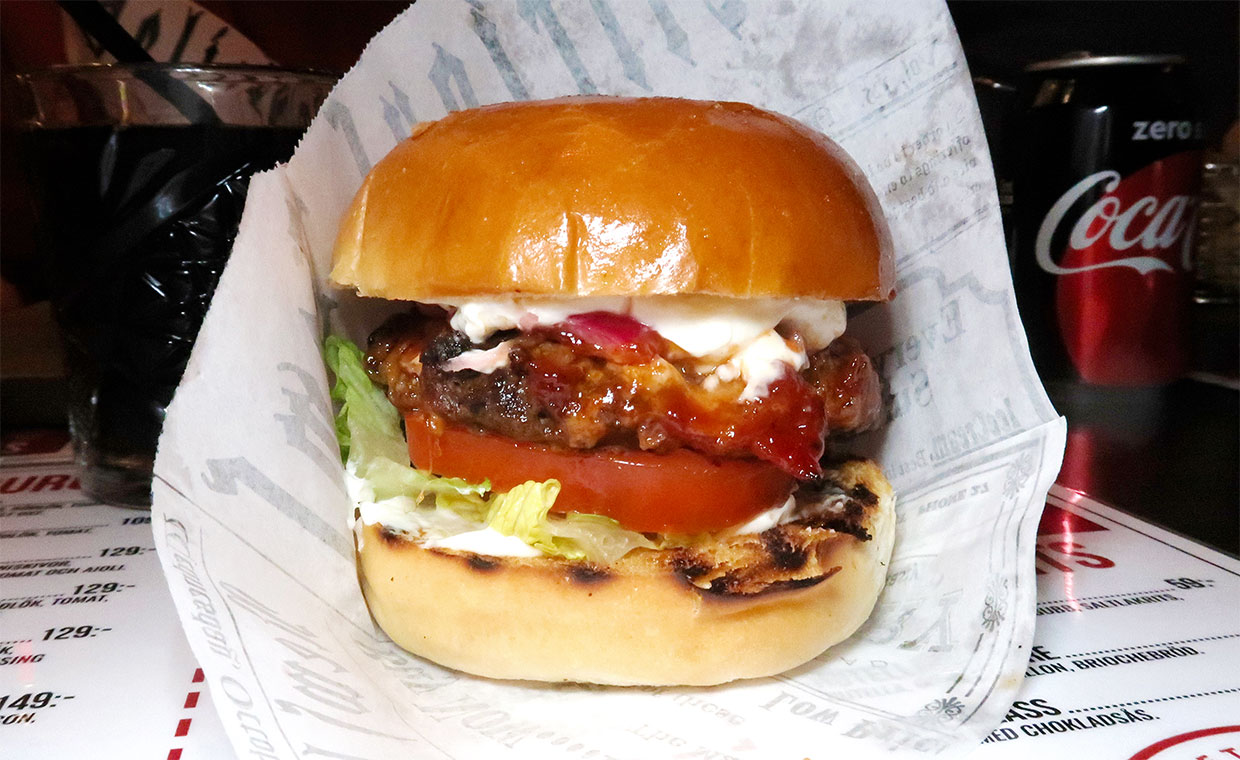 I Upplands Väsby mellan Uppsala och Stockholm ligger Brutal Burgers, som huserar i Burger Bistrons gamla lokaler. Deras meny är rätt lång och täcker in allt från en vanlig cheeseburgare på 160 gram för 109 kronor hela vägen upp deras Brutal's Extreme Choice med 480 gram kött med alla möjliga toppings för 259 kronor. De har även en veckoburgare som snarare känns skapad med slumpgenerator än med eftertanke (en julburgare med senapssill, prinskorv, kallrökt lax, rödbetssallad och majonnäs, någon?).
Vi valde ett mellanting och beställde deras The Bacon & BBQ, med bacon, picklad rödlök, majonnäs, barbecuesås, ost, sallad och tomat för 129 kronor, inklusive pommes frites. Menyn nämner deras dagsfärska brioche, men det hade nog legat ute lite för länge då det var torrt och föll isär på utsidan. Köttblandningen på högrev och bringa kändes dock genomtänkt och var smakrikt med helt okej struktur, och var nog det bästa med burgaren. Till exempel så var BBQ-såsen enbart söt och tillförde knappt någon annan smak än socker, medan det hårda baconet gärna kunde ha stekts lite mindre. Pommes fritesen imponerade inte nämnvärt, men det var åtminstone lite sting i deras egentillverkade chipotlemajonnäs för 19 kronor.
Brutal Burgers namn syftar mer på kvantitet än kvalitet. Här har de snarare fokuserat på brutalt stort än brutalt gott, för rent smakmässigt når de inte högre än helt okej. Kanske inte värda en omväg, men ändå klart godkända om du är i Upplands Väsby.
In English
Brutal Burgers are located in Upplands Väsby, between Uppsala and Stockholm, where they've been serving burgers in Burger Bistron's old restaurant. Their extensive menu covers everything from a regular 160 gram cheeseburger for 109 SEK (11 USD) to a Brutal's Extreme Choice with 480 grams of beef and loads of toppings for 259 SEK (28 USD). They also have a weekly burger that's a bit crazier than we'd hoped for (for example their Christmas burger with herrings in a mustard sauce, mini sausages, smoked salmon, beetroot salad and mayo).
We opted for the middle road, and ordered a The Bacon & BBQ, with a 160 gram patty, bacon, pickled red onions, mayo, BBQ sauce, cheese, lettuce and tomatoes for 129 SEK (13 USD), including an order of fries. Their menu mentioned a freshly baked brioche, but it must have been left uncovered since it was dry and brittle. The chuck and brisket meat blend was nicely ground and flavoursome, and was probably the best part of the meal. The BBQ sauce was just sweet and the bacon was a bit too crisp for our liking. The accompanying fries were quite boring and salty, but we did like their chipotle mayo for 19 SEK (2 USD) which packed a nice punch.
Brutal Burgers' name relates more to their quantities than their overall quality. They may have opted more for brutally large burgers rather than brutally good ones, but they're actually alright. Brutal Burgers are worth a visit if you're in the Upplands Väsby area at least.