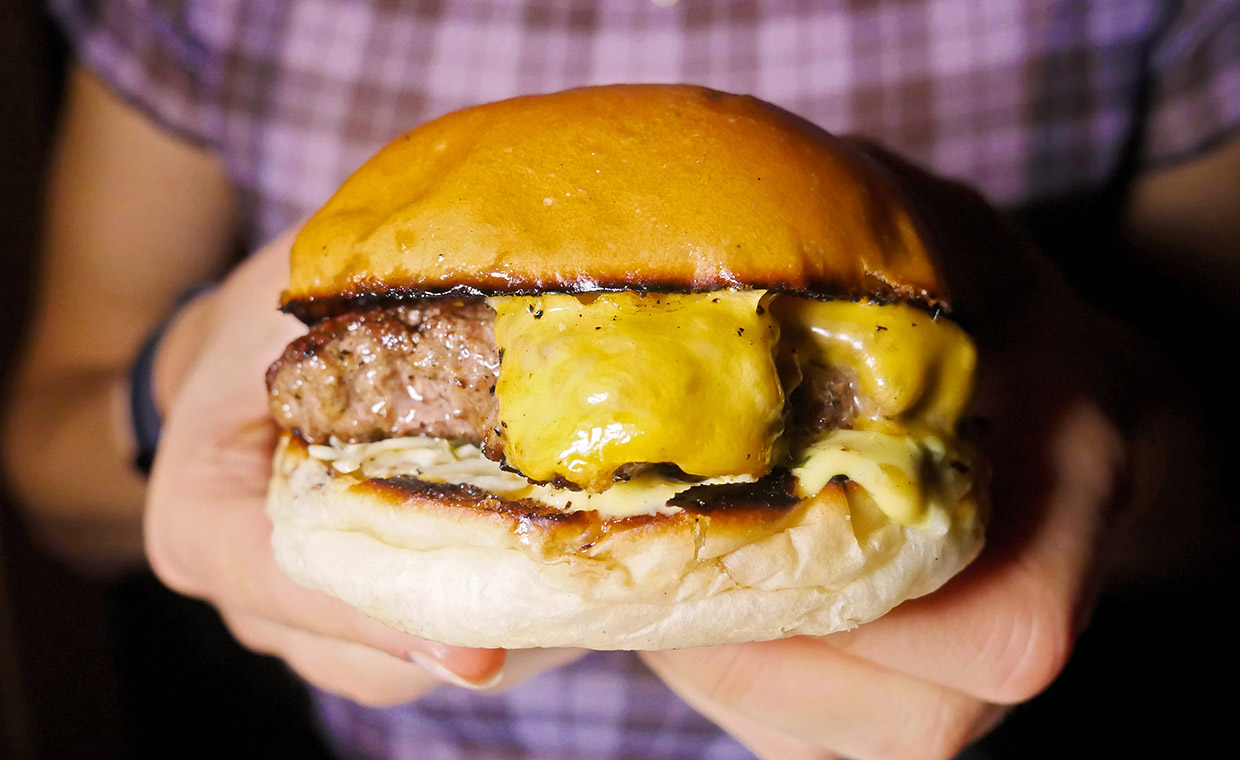 Eat Lagom har länge varit en favorit hos oss på Burgerdudes. Vi recenserade dem redan under National Burger Day 2017 i London, och året därpå var de gäster på vår burgarfestival Stockholm Burger Fest 2018. Så vi blev såklart väldigt glada över att de nu grillar och röker mat på Hackney Church Brew Co. De har inte alltid hamburgare på menyn, men all mat vi har ätit hos dem har alltid varit helt underbar.
Detta var första gången vi åkte ut till deras lokal i Hackney i östra London. Lokalen ligger i en tegelbyggnad med stora glasfönster och inger en otroligt mysig känsla. Vi beställde en Smokehouse Burger för 9 GBP (100 SEK) samt lite annan mat och öl. Burgaren bestod vid detta besök av en enkel puck hängmörat kött, ost, dill- och senapsmajonnäs samt en dillcoleslaw, och såg väldigt enkel ut när den serverades på en vit assiett.
Hamburgaren låg stabilt i händerna, och det gick verkligen att känna hur saftig den var. Brödet lyckades vara både mjukt och fluffigt samtidigt som det lyckades stå emot det otroligt möra och saftiga köttet. Smakerna var otroligt välbalanserade med perfekt sälta, pepprighet och konsistens. Varenda tugga var euforisk, med djupa smaker som kändes näst intill ofelbara. Efter första tuggan gled en servitris lägligt förbi för att fråga hur det smakade, varpå vi på ren instinkt beställde ytterligare två hamburgare direkt. Det spelade ingen roll att vi även beställt in annan mat från övriga menyn – hamburgaren var helt enkelt så god!
Eat Lagom levererar en av de absolut bästa hamburgarna vi ätit och vi är bara otroligt tacksamma över att kocken Elliot Cunningham fortsätter att skapa kulinariska mästerverk som dessa.
In English
Eat Lagom have been one of our favourites here at Burgerdudes for quite some time now. We first reviewed them after our visit to National Burger Day 2017 in London, and invited them as our guests at Stockholm Burger Fest 2018 the following year. So we were of course overjoyed to hear that they now regularly serve fire-cooked and smoked dishes over at Hackney Church Brew Co. The burger isn't always on the menu, but everything we've ever eaten there has always been amazing.
This was our first visit to their restaurant in Hackney, located in the East London. The large brick building has huge glass windows, and feels really cozy. We ordered their Smokehouse Burger for 9 GBP (12 USD) with some other food dishes and beers. This time the burger contained a single dry-aged beef patty, cheese, a dill and mustard mayo plus a dill coleslaw. It came served on a white plate, and looked really unassuming.
The burger felt great in our hands, and we could really feel how juicy it was. The bun managed to be soft and fluffy whilst still managing to handle the super tender and juicy meat. Flavourwise, everything was excellently balanced with perfect seasoning and consistency. Every bite was euphoric, with deep and practically impeccable flavours. We had just taken our first bite of our burgers when the waitress passed us and asked if we needed anything else, and we instinctively ordered two more burgers. It didn't matter that we had ordered other dishes – the burger was just too good!
Eat Lagom serve one of the best burgers we've eaten, and we are extremely grateful that chef Elliot Cunningham keeps on serving masterpieces such as these.