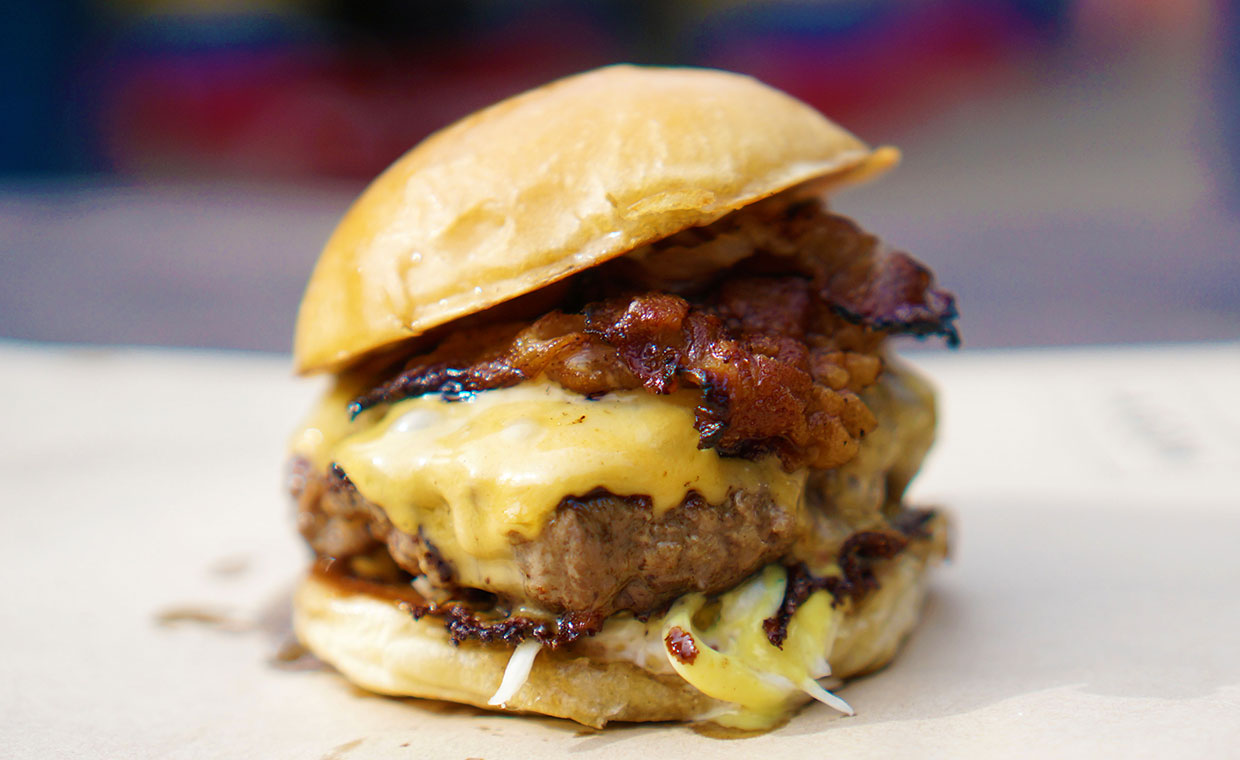 Den Londonbaserade grillrestaurangen Eat Lagom i Hackney Church Brew Co. har sina burgare på menyn av och till. Vi testade burgaren för första gången på National Burger Day 2017 i London, och vi ansåg att detta var den bästa burgaren som serverades under hela kvällen.
Eat Lagom drivs av en britt med koppling och kärlek till Sverige. Namnet är intressant för en Londonbaserad restaurang, men som svensk är det lätt att bli lite skeptisk när man stöter på ställen utomlands med svenskklingande namn.
Tänk vad lustigt att det kitschiga namnet "The Björn Borger" nästan gjorde att vi missade en av de bästa burgare vi ätit under 2017. För precis så bra var den. 60 dagars hängmörat kött, egenrökt Tomahawk-bacon på fläskrevbensspjäll, rökt amerikansk ost, "scandi-slaw" och majonnäs smaksatt med senap och dill. Vi var redan mätta när vi började äta, och undertecknad har nog sällan varit så arg över att magen inte klarade fler burgare just där och då. Allt var precis rätt, och dillen lyckades bryta av det feta, grillade och rökta på ett förvånansvärt bra sätt.
Vi är glada över att burgaren numera finns på menyn relativt ofta, men håll koll på deras Instagram för säkerhets skull. Men besök dem gärna även annars, då de har en helt fantastisk ordinarie meny.
In English
Burgers come and go on Lagom's menu, and are not always available. This review is based on the burgers they served during National Burger Day 2017 in London. Lagom was started by an Englishman called Elliot, with connections to (and love for) Sweden. Being Swedes ourselves, we were slightly sceptical to the name, but any worries we had were completely blown away once we got to try the punny named Björn Burger. This creation with 60 days dry-aged beef, Tomahawk rib bacon, smoked American cheese, "secret Scandi-slaw" and dill mustard mayo was near perfection and one of the best burgers we've had this year. The gimmicky sounding dill mustard mayo broke though the richness, and did a great job balancing all the smokey flavors. Lagom comes with our warmest recommendations, and you can check their instagram for information on when they have burgers on the menu. And if you read this Elliot, please do the world a favour and bring burgers back on the menu more often, dill or no dill.