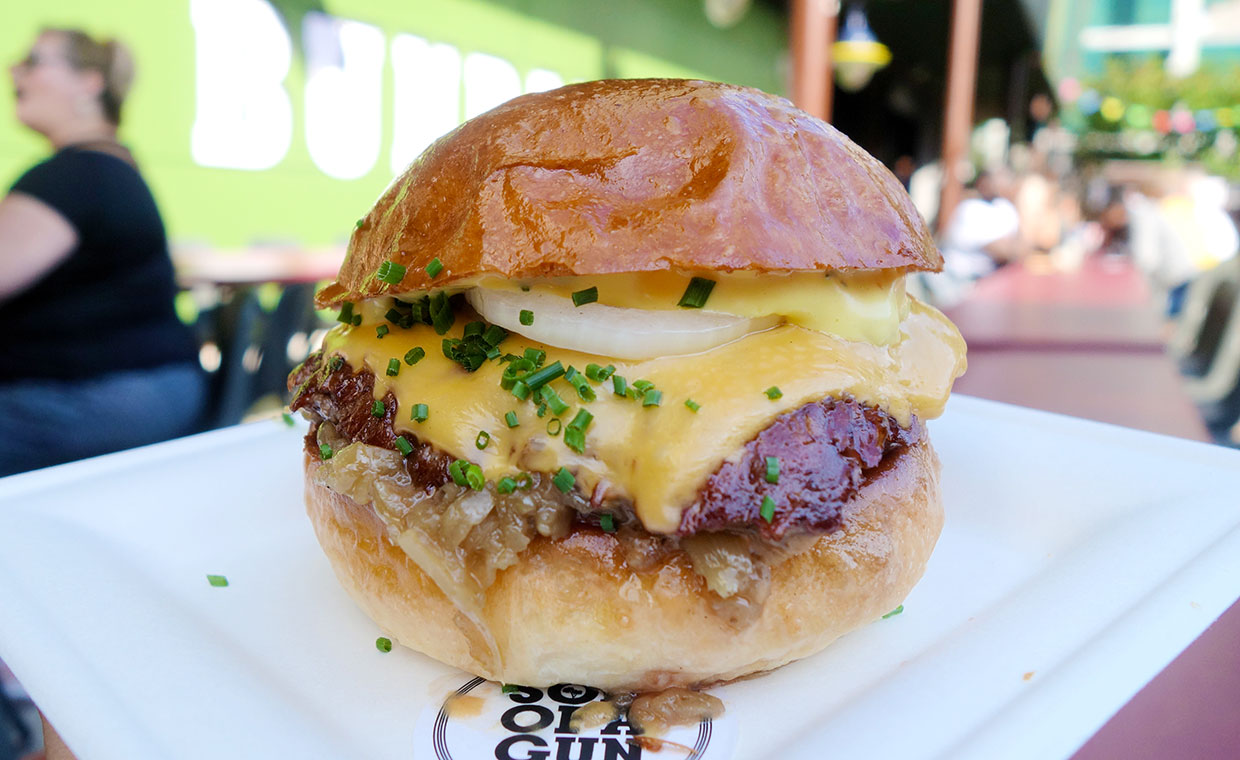 Zephyr Burgers har på senare tid blivit väldigt uppmärksammade i London för sina svulstiga hamburgare som har tagit inspiration från Kaliforniens matscen. För närvarande hittas de på matmarknaden Peckham Levels i södra London, men vi testade deras burgare på burgarfestivalen Bundance Burger Festival.
På festivalen serverade de en burgare som hette Son of a Gun. Med 78-dagars hängmörat Dexter-kött, konfiterad benmärg och lök, grillad och inlagd silverlök, american cheese, finhackad gräslök och bearnaisesås så lät det faktiskt helt fenomenalt på pappret. Men om alla dessa ingredienser ska fungera ihop så krävs precision och balans.
Och tyvärr så hade vår burgare alldeles för mycket feta smaker, och var alldeles för mjuk i konsistensen. Bearnaisesåsen, benmärgs- och lökkonfiten samt den otroligt djupa köttsmaken var otroligt intensiva i sig, och vi saknade något som skar igenom och bröt upp smakerna. Den picklade löken borde ha varit mycket syrligare och krispigare, och gräslöken tillförde inget alls. Dessutom så hade de medvetet dragit ned på stekytan på det hängmörade köttet, vilket gjorde allt ännu mjukare. Det smakade härligt, men då allt smälte samman till en enda mäktig röra så kände vi att detta var slöseri på ingredienser av så här hög kvalitet.
Det är uppenbart att Zephyr Burger har potential, då de använder riktigt fina råvaror. Köttet är fenomenalt och vi gillade även deras glaserade bröd. Men de levde tyvärr inte upp till sin fulla potential på festivalen. Vi får försöka testa deras ordinarie marknadsburgare i framtiden istället.
In English
Zephyr Burgers have been the talk of the town in London recently. Their massive burgers are inspired by Californian cuisine, and they can currently be found at the food market Peckham Levels to the south of London. We tried their hamburger at the Bundance Burger Festival in London's Hawker House.
At the festival they served a burger called Son of a Gun. And with 78 days dry-aged Dexter beef, bone-marrow and onion confit, griddled and pickled white onions, American cheese, chives and sauce bearnaise it sounded absolutely fantastic. But it takes precision and balance to get all of these ingredients to work together.
And unfortunately our burger was way too soft and greasy. The bearnaise sauce, confit and incredibly deep beef flavours were super intensive, and really needed something that cut through everything. The pickled onions should have been much crisper and vinegary, and we hardly noticed the chives at all. And they had intentionally griddled the beef at a lower temperature in order to give it a "steak-like crust", which just made everything even softer. Sure, the burger had a lot of flavours, but since everything blended together it felt like a waste of top-level ingredients.
It's obvious that Zephyr Burger have a lot of potential, with really great components. The beef quality is amazing and we also liked their glazed bun, but they didn't live up to their full potential at the festival. We'll just have to try their regular market burgers in the future instead.