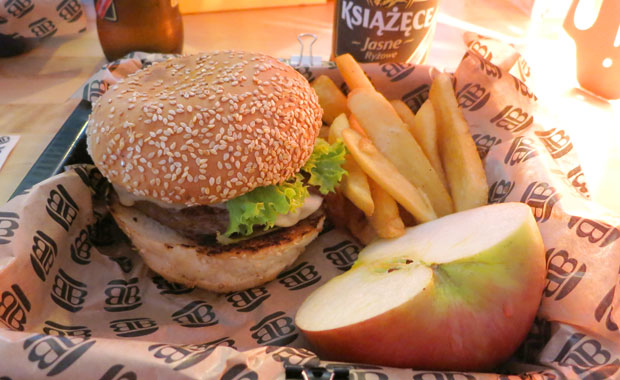 Bobby Burger är en kedja från Polen som har ett antal restauranger i Warszawa och Krakow med ett rätt bra rykte. Den fina utsikten mot kulturpalatset tvärs över gatan var tyvärr det bästa med en av deras lokaler i Warszawa.
Burgaren serveras med pommes, en valfri dressing på burgaren och ett halvt äpple. Men äpplet är nog det mest uppseendeväckande för resten kändes som köpta delar, inget speciellt även om det inte var direkt dåligt och den är ju snygg ihopsatt.
Prisklassen är lite svår att avgöra, antagligen lite dyrare för att vara en burgare där men översatt till kronor så hamnar den på samma nivå som en burgare på valfri större kedja här.
In English
This Waszaw and Krakow based chain delivers a picturesque but somewhat bland burger. We were perplexed by the sight of half an apple next to the fries, but this was alleviated by the amazing view from the restaurant itself.