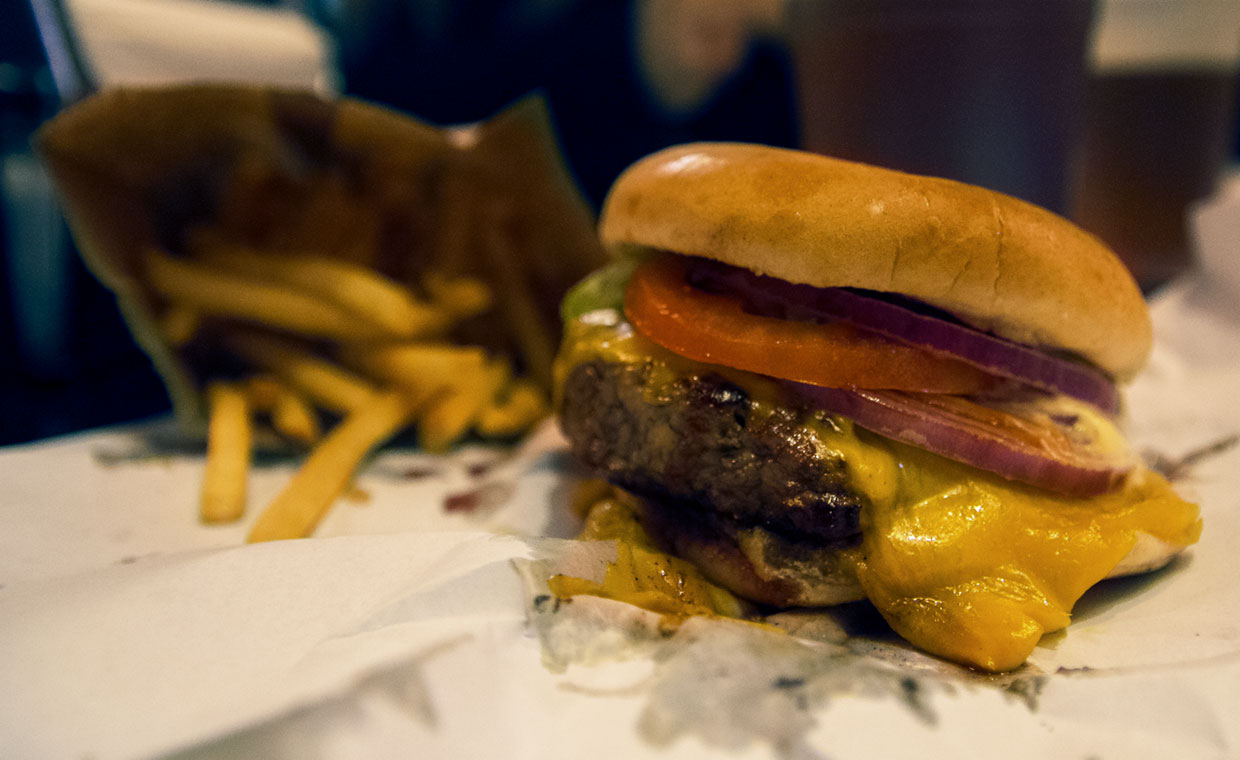 Innanför dörrarna till det lyxiga hotellet "Le Parker Meridien" i New York hittar vi Burger Joint. För den ovetande kan restaurangen vara omöjlig att få syn på, då det enda riktmärket du får är diskret skylt längs väggen. Men efter några steg förvandlas den lyxiga hotellmiljön till en mysig liten lokal med nerklottrade väggar och ett trångt litet kök.
Menyn är både enkel och effektiv, med valet att ta en enkel eller dubbel burgare med eller utan ost. Vi valde en enkel cheesebugare med "the works", alltså sallad, tomat, rödlök, inlagd gurka, ketchup, majonnäs och senap. Priset för en enkelburgare låg på 9 dollar, alltså under hundralappen.
Burgaren såg väldigt bra ut och låg bra i handen. Köttpucken hade perfekt storlek och en bra stekyta. Den var lagom saftig och alla ingredienser passade väl ihop, men den var knappt kryddad alls. Brödet var i alla fall fluffigt, bra stekt och smakade riktigt gott.
Burger Joints charmiga lokal, härliga stämning och goda burgare gjorde oss inte besvikna. Burgaren i sig var i princip vad vi hade förväntat oss av en god burgare i New York, och även om det smakar som det gör så är är främst värt ett besök för den sköna lokalen.
In English
Hidden inside the luxury hotel "Le Parker Meridien" in New York lies the charming Burger Joint. We ordered their single cheeseburger with "the works" which basically means everything you want on a burger. It tasted as good as it looks, with a soft and toasted bun and perfectly sized meat and crust. However, the patty was hardly seasoned at all. Worth a visit for the interiors alone, Burger Joint is worth your time – it's just not one of the top contenders in New York.