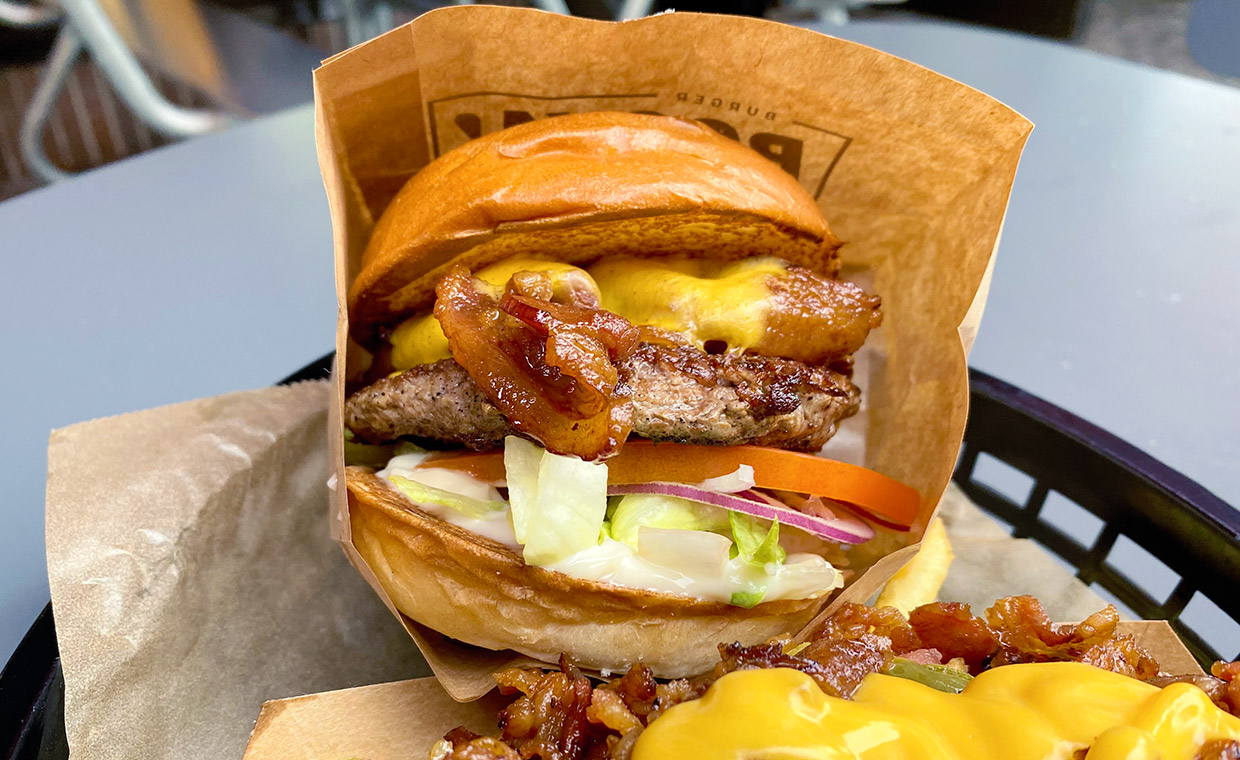 Booya! Burger Business öppnade i början av sommaren 2020 i centrala Linköping. I den fräscha lokalen serveras nio olika burgare, varav sju av dem med högrev (som dessutom kan bytas ut mot svensk grillost). Vi beställde en Mother Bacon med honungsmarinerat bacon, cheddar, tomat, rödlök, sallad och majonnäs för 105 kronor. Vi beställde även deras sötpotatispommesfrites för 35 kronor samt en Side Deluxe (pommes frites med smält cheddar, burgardressing, bacon, silverlök, tomat och jalapeños) för ytterligare 45 kronor.
Det första vi slogs av var det snygga och härligt uppvärmda brödet. Det såg ut som ett briochebröd på utsidan, men visade sig vara mer som ett lite torrt vetebröd. Köttet var tyvärr rätt platt och alldeles för finmalet, vilket ledde till att det varken var saftigt eller särskilt smakrikt. Det kändes även ganska litet och hade svårt att ta plats mot med de andra ingredienserna. Baconet var väldigt mjukt, men smakade gott och lite sött. De andra ingredienserna var bra, men det fanns inget som egentligen stack ut. Sötpotatispommesfritesen var goda och krispiga, men måltidens höjdpunkt var helt klart deras Side Deluxe. Den var verkligen fullastad med ingredienser, och baconet, osten och de heta jalapeñosarna lyfte verkligen rätten!
Booya! Burger Business har fått en bra start och serverar en klart godkänd burgare. Vi hoppas att de fortsätter att utvecklas och förbättra sitt koncept med tiden, för det finns ändå en hel del utrymme för förbättring.
In English
Booya! Burger Business opened in the centre of the Swedish city of Linköping in the beginning of summer 2020. The nicely decorated restaurant serves 9 different burgers, including 7 with chuck patties (which can be replaced with a Swedish halloumi style cheese). We ordered a Mother Bacon with honey marinated bacon, cheddar, tomatoes, red onions, lettuce and mayo for 105 SEK (12 USD). We also ordered their sweet potato fries for 35 SEK (4 USD) and a Side Deluxe (fries with melted cheddar, burger sauce, bacon, white onions, tomatoes and jalapeños) for 45 SEK (5 USD).
The first thing we noticed was the really good looking and nicely toasted bun. It looked like a brioche bun, but turned out to be more of a slightly dry wheat roll. The patty was quite flat and the beef was too finely ground, which resulted in it being quite dry and not very tasty. Since it was also rather small, it couldn't really stand out against the other ingredients either. The bacon was very soft, but had a nice and sligthly sweet taste. The other components were fine, but nothing really stood out. The sweet potato fries were crispy and tasted great, but the highlight of our meal was their Side Deluxe. It was filled to the brim with great flavours, and the bacon, cheese and spicy jalapeños really made it shine!
Booya! Burger Business are off to a good start, and serve a decent burger. And we look forward to seeing them continue to develop their concept over time, seeing as there's plenty of room for improvement.