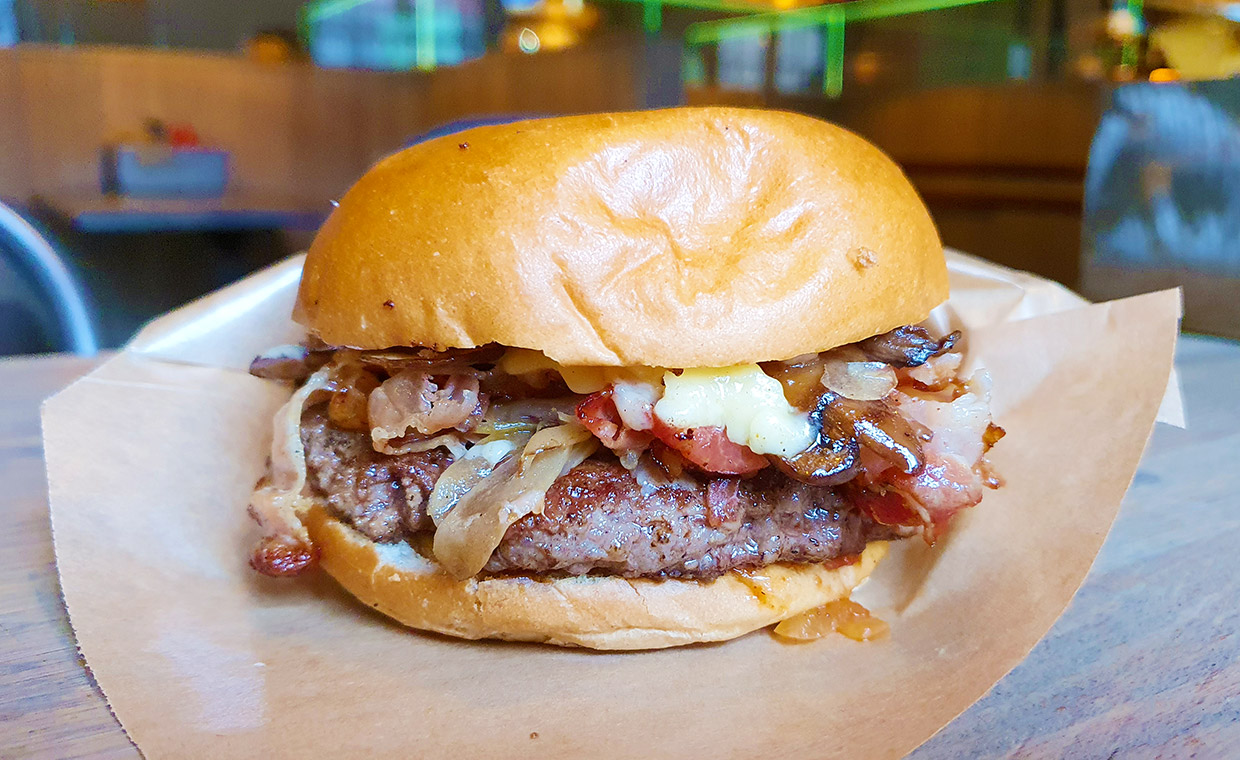 Grinded har serverat burgare sedan 2015, och ligger lite undangömda i La Fabbrica Del Gustos lokaler i Östersund. Vid vårt besök erbjöds fyra köttburgare, en kycklingburgare och två vegetariska varianter med halloumi respektive falafel. En enkel hamburgare kostar 99 kronor, och en dubbel kostar mellan 139 och 159 kronor. Vi beslutade oss för att avvika från vårt vanliga val av cheeseburgare och provade istället den spännande Bistro-burgaren, som bestod av amerikansk högrev, bacon, västerbottenost, relish, stekt lök, svamp och tryffelmajonnäs.
Burgaren såg klart godkänd ut när den anlände vid vårt bord, och faktum är att smaken faktiskt överträffade våra förväntningar. Köttet var saftigt och smakrikt och brödet från Gimonäs bageri i Umeå var fluffigt och höll inne alla köttsafter väl. Och de välstekta kastanjchampinjonerna tillsammans med tryffelmajonnäsen gjorde hamburgaren till en riktig umamibomb. Sältan från det knaperstekta baconet och den söta löken bidrog till en mycket fin balans i hamburgaren, och västerbottensosten var pricken över i:et. Relishen märkte vi däremot inte av alls, och det hade nog behövts lite mer syra för att bryta av alla de kraftiga smakerna – som var väldigt samspelta i övrigt.
Grinded är helt klart ett toppalternativ i Östersund burgarscen, och vi återvänder gärna för att testa resten av deras utbud.
In English
Grinded have served burgers in Östersund up in the north of Sweden since 2015, and are hidden away in La Fabbrica Del Gusto's restaurant. During our visit they had 4 beef burgers, 1 with chicken and two vegetarian options with halloumi or falafel. A single burger costs 99 SEK (11 USD), and a double burger will set you back between 139 and 159 SEK (16-18 USD). We decided to skip our regular cheeseburger order and instead opted for their enticing Bistro burger, made with American chuck roll, bacon, Västerbotten cheese, relish, fried onions, mushrooms and truffle mayo.
The burger looked pretty good, but we were really blown away when we took our first bite. The meat was really juicy and flavoursome, and the bun from Gimonäs bakery in Umeå was fluffy whilst still managing to keep everything together. The fried chestnust mushrooms worked with the truffle mayo to create some deep, rich umami flavours as well. We also appreciated how the salty and crunchy bacon was balanced out by the sweet onions, and the Västerbotten cheese just topped everything off. We didn't notice the relish at all though, which was a pity seeing as all these powerful (and otherwise well-balanced) flavours could have done with a bit of acidity to even everything out.
Grinded are definitely one of the best burger joints in Östersund, and we look forward to trying the rest of their menu.