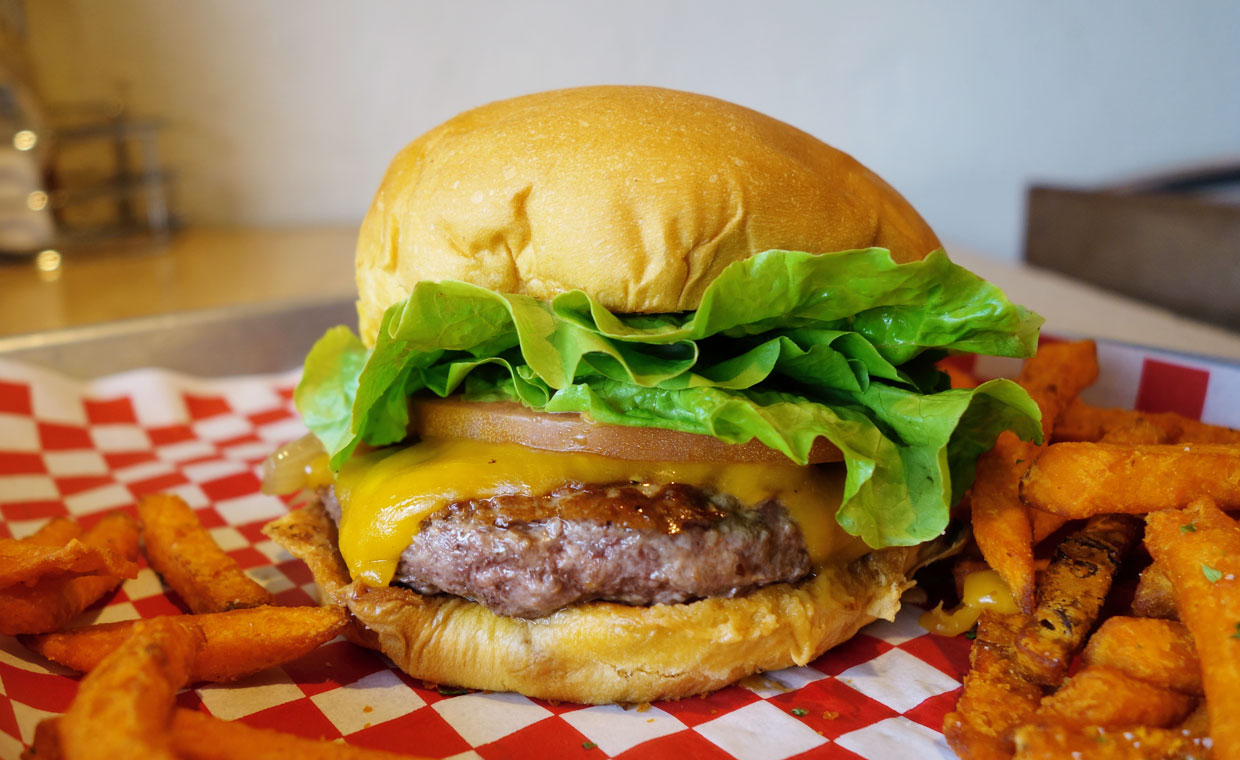 Honolulu Burger Company är en liten hamburgerrestaurang på den hawaiianska ön Oahu. De har även öppnat en restaurang i Osaka, men vi besökte deras lokaler i centrala Honolulu. De serverar endast lokalt och ekologiskt kött, och alla andra ingredienser är också lokala så långt det är möjligt.
Vi beställde en cheeseburgare på cirka 150 gram (en tredjedels pund) med ost, sauterad lök, tomat och chipotle mayo-dressing, samt sötpotatispommesfrites. Burgaren serverades i ett hawaiianskt sweet roll-bröd, som är en slags blandning mellan ett potatisbröd och ett briochebröd med en härlig stuns och en aningen söt smak.
De bad om stekgrad vid beställningen, och vi valde att få den medium rare. Köttet var saftigt och hade en fint rosa färg, men kunde ha smakat lite mer. Däremot var sweet roll-brödet utmärkt, och passade helt perfekt till burgaren. Det var saftigt, studsigt och härligt klämbart, och sög upp alla safter från köttet och de andra ingredienserna. Däremot var vi inte så imponerade av den sauterade löken som mest var kladdig. Det hade varit trevligt med mer än en tunn ostskiva, och det kändes snålt att de tog nästan två dollar för att få en till. Vi var helt sålda på pommes fritesen gjord på sötpotatis, men den medföljande dipsåsen var tyvärr lite för rinnig.
Honolulu Burger Company serverar helt klart den bästa burgaren vi åt på Oahu, och är en av Hawaiis bästa burgarrestauranger.
In English
Honolulu Burger Company is a small burger joint with restaurants in Honolulu in Hawaii and in Osaka in Japan. We visited their restaurant on Oahu, and ordered a 1/3 lb cheeseburger with cheese, sautéed onions, tomatoes and chipotle dressing in a Hawaiian sweet roll. The organic and locally sourced meat patty was served medium rare as requested. It was pink and juicy, but could have had a bit more flavour. The sweet roll was perfectly squishy, soft and sweet; almost like the ultimate mix between a brioche and a potato roll. And even though the onions were gooey and the amount of cheese didn't impress us, we really liked the burger and our side-order of sweet potato fries. Honolulu Burger Company served the best burger we had on Oahu, and are one of our favourite Hawaiian burger restaurants.