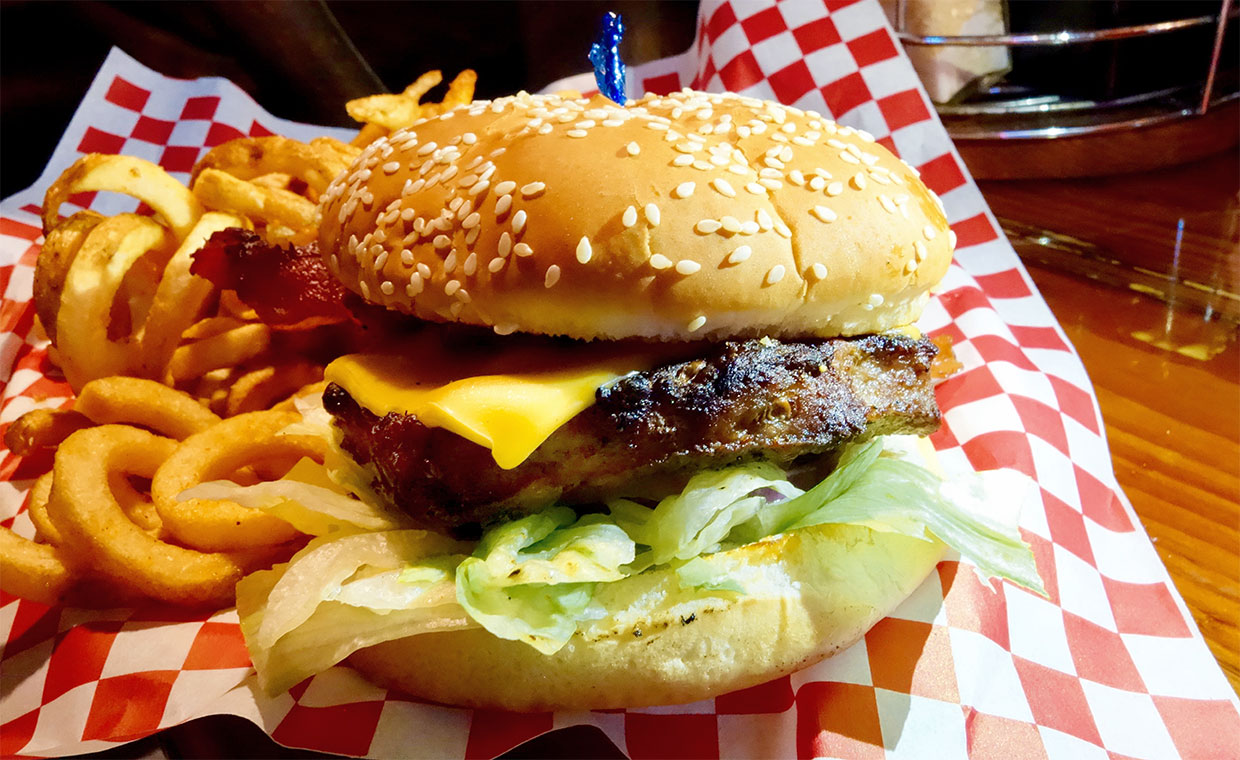 The Shack är en liten burgar- och sportbarskedja som öppnade sin första restaurang 1972 i Kalifornien, och som sedan har spridit sig inåt landet och till Hawaii. Vi besökte deras restaurang i Kailua på Oahu, som kanske är mest känd från den japanska tv-serien Terrace House.
Vi beställde en baconburgare med curly fries för 12 dollar (cirka 100 SEK). Prismässigt var det helt okej, men själva maten visade sig vara en riktig katastrof.
Det hårda och genomstekta köttet smakade knappt något alls, och serverades i ett sesambröd som inte hade värmts upp. På köttet låg en halvsmält skiva american cheese som inte lyckades göra burgaren vare sig krämigare eller godare. De enda positiva sakerna med deras burgare var den goda barbecuesåsen och det knapriga baconet, men de lyckades tyvärr inte lyfta totalupplevelsen.
I burgaren hittade vi även en tomat- och lökskiva som plikttroget lagts i mitten, samt lite vattnig isbergssallad på bottenbrödet. Och på tal om sallad så fick vårt sällskap en sidosallad i en halvsmutsig skål där diskmedlet inte sköljts av, och när detta påpekades fick vi endast ett par dollar borttagna från notan.
Vi vet att det sällan är lönt att förvänta sig särskilt mycket av sportbarer, men om man profilerar sig som en burgarbar som The Shack gör så förväntar vi oss avsevärt mycket högre kvalitet än så här.
In English
The Shack is a small burger and sports bar chain that started in 1972, and we visited their Kailua location on Oahu, Hawaii. The bacon burger with curly fries for 12 USD was reasonably priced, but the actual burger was awful with a hard, overcooked and flavourless patty served in a unheated sesame bun. The only things that we liked were the bacon strips and the barbecue sauce, but everything else – from the half melted slice of american cheese to the vegetables – was a complete disappointment.