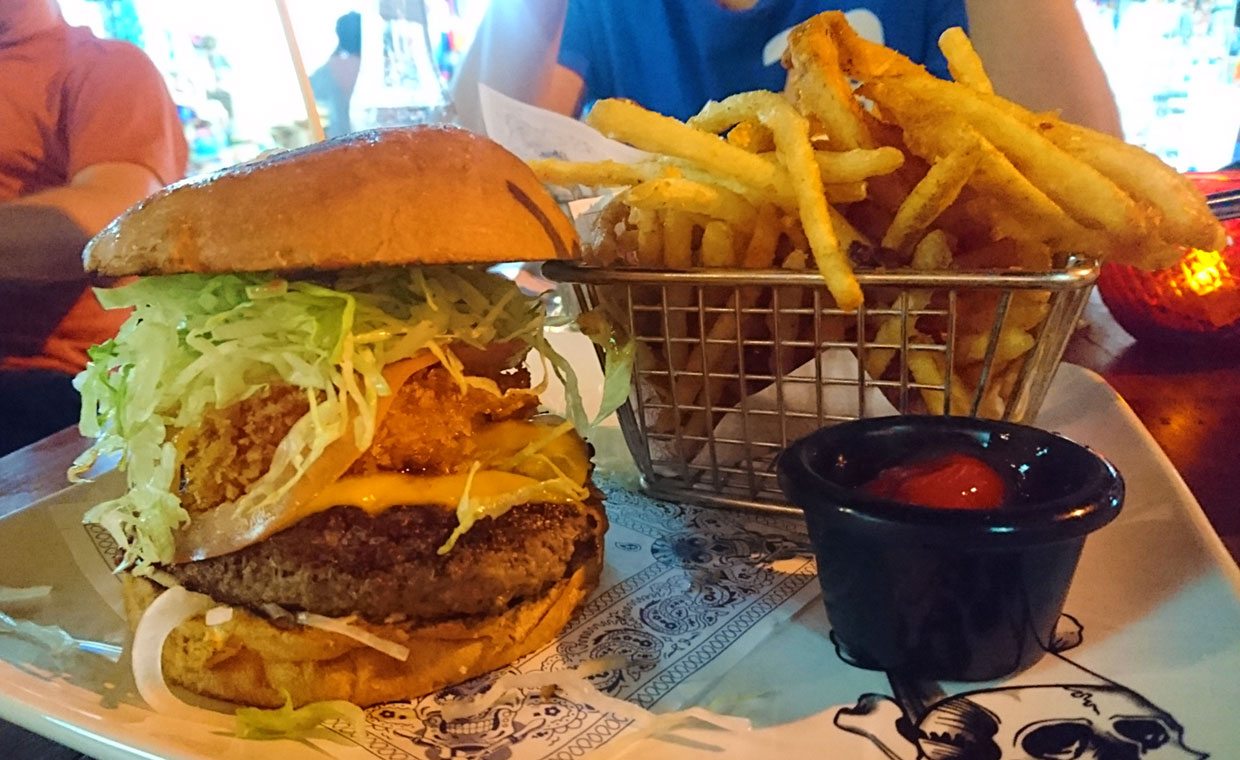 Guy Fieri är en amerikansk talkshowvärd och författare som har sadlat om och blivit restaurangägare, och som nu har restauranger över hela Nordamerika. Förutom signaturburgaren med mac & cheese innehåller menyn även en handfull andra valmöjligheter, och vi valde originalburgaren bestående av 100 % anguskött, vitlöksrostat briochebröd, ost, tomat, inlagd gurka, barbecuesås, isbergssallad och en lökring.
Det första vi noterade när den massiva burgaren serverades var att burgaren var en "kniv och gaffel-burgare" och helt omöjlig att äta med händerna. Och redan vid den första tuggan slogs vi av den distinkta sötman från barbecuesåsen som tyvärr tog över smaken från köttet och de andra ingredienserna. Det syntes tydligt att kocken hade skurit ett snitt i köttet för att bedöma stekgraden, men trots detta var det inte i närheten av mediumgraden som vi beställde. Trots detta var köttet inte särskilt torrt, men all smak hade ju som sagt redan slagits ut av den söta barbecuesåsen. Den stora mängden isbergssallad och den mosiga lökringen på toppen gav dessutom burgaren helt fel proportioner.
Brödet var åtminstone luftigt och lagom rostat, men vitlöken märktes inte av. Höjdpunkten var helt klart tillbehören, som bestod av tre olika typer av pommes frites – crisscut, twister och shoestring fries – som var krispigt friterade med en perfekt yta och en en härlig kryddning. Annars fanns det tyvärr inte mycket vi skulle vilja uppleva igen hos Guy Fieri's Kitchen & Bar.
In English
The talk show host turned restaurant owner Guy Fieri has restaurants all over North America. We skipped his signature mac & cheese burger and settled for a original burger with angus beef, vegetables, an onion ring and barbecue sauce in a garlic roasted brioche bun. The burger itself was massive – too big to eat with our hands – and the flavours from the sweet barbecue sauce took over from the first bite. The soggy onion ring and large amounts of salad made it difficult to eat, and to add insult to injury the patty was served well-done – despite us ordering it medium. We liked the bun despite the lack of garlic, and the sides were excellent with a mix of perfectly deep-fried and well-seasoned crisscut, twister and shoestring fries. Unfortunately, that was the only really good thing with Guy Fieri's Kitchen & Bar.